Chateau Smith-Haut-Lafitte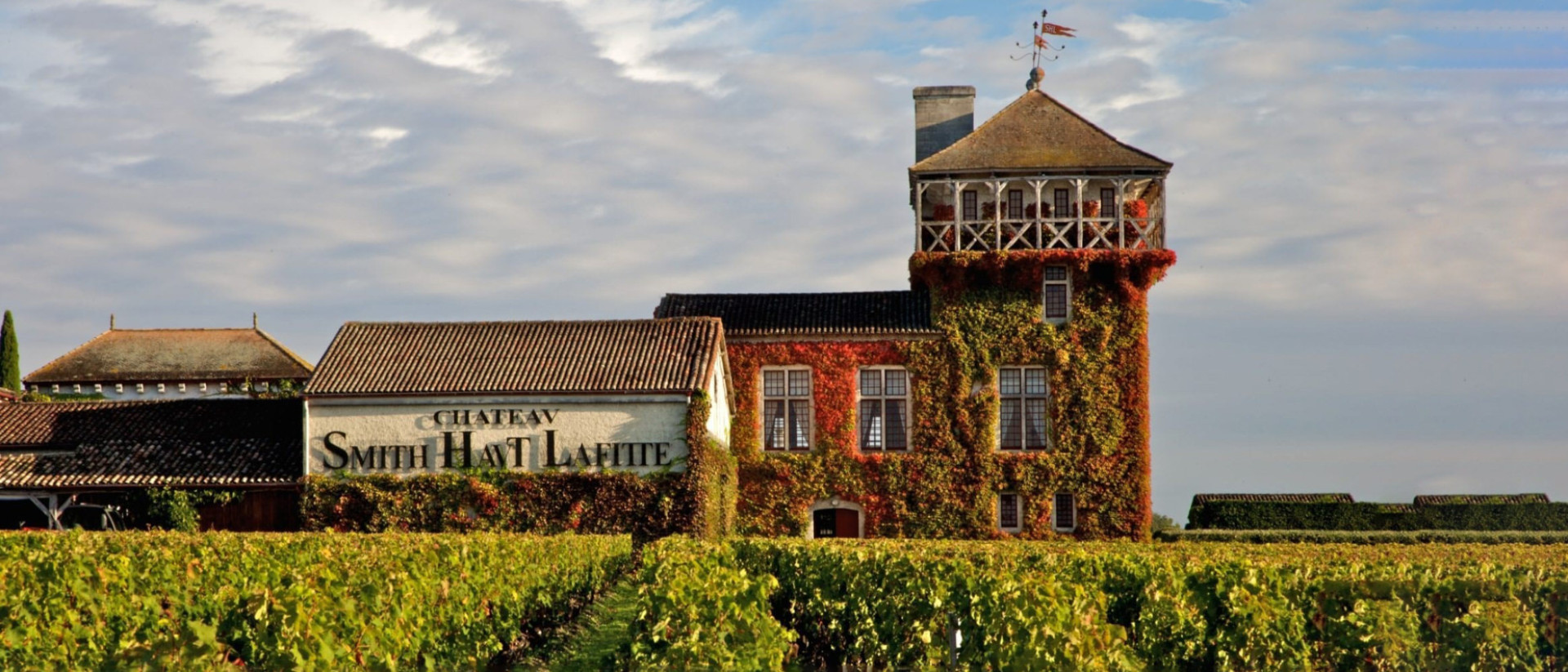 Producer profile
Florence and Daniel Cathiard
Annual Production (Grand Vin)
Robert Parker gave Smith-Haut-Lafitte 100 points for the 2009 vintage (the estate never having bettered 96 points before) and within a week, it had more than doubled in value. At the moment scores were released, Smith-Haut-Lafitte was the best value 100-point wine ever, a fifth of the price of the previous holder of that title, Pavie 2000.

The Cathiards really have been a saving grace to Smith-Haut-Lafitte, completely reversing its fortunes to become one of the most important estates in Graves, if not in the whole of Bordeaux, for connoisseurs, collectors and investors alike. Champion skiiers and former Olympians who made their fortune with supermarket and sporting goods businesses, Daniel and Florence Cathiard have lavished love and attention (and money) on the estate, renovating heavily and opening up an entertainment complex on the estate including a Michelin-starred restaurant and a spa, Les Sources de Caudalie, which offers 'Vinotherapie' spa treatments using grape skin extracts from the vineyards. From roughly 2000 onwards, once their changes had come into affect, both Smith-Haut-Lafitte and Smith-Haut-Lafitte Blanc have enjoyed wonderful success with the critics.
Their red Grand Vin has earned a wonderful average of 94 RPJ points post-2000 with its first 'perfect' vintage awarded 100-points in 2009. The Blanc has attained an average of 93 RPJ points and stands as one of Bordeaux finest dry whites. Following Parker's release of scores for the wonderful 2009 Bordeaux vintage, in which Smith-Haut-Lafitte attained 100-points, there was a surge of interest in the estate and it has appreciated by 202%. The 2010 was not far behind with a 98+ point score and the 2016 has been given a barrel score of 96 - 98 points. The transformation at Smith-Haut-Lafitte has been swift and remarkable, but the Cathiards are not resting on their laurels; in 2012 announcing a €3 million project to build a standalone winery for the second wine, Les Hauts de Smith.
Under the Cathiards, Smith-Haut-Lafitte is at the top of its game, arguably producing the best wines that have ever come out of these lands in more than 800 years of winemaking. Lowered yields, hand harvesting and optical sorting have allowed fresh, rich and concentrated characteristics to become imbued in both the white and red offerings at this estate. The white wines are rich with citrus fruit and peach and have a fresh and supple character. The 2009 was their best-ever, winning 98 points and in Robert Parker's words coming "close to perfection". The red grand vin is a full bodied and well-structured creation with rich and fleshy fruit and floral accents. Smith-Haut-Lafitte 2009 may well be the finest red wine ever produced on this estate and was the first example to be awarded 100 points from Robert Parker:
"The finest wine ever made by proprietors Daniel and Florence Cathiard, the 2009 Smith-Haut-Lafitte exhibits an opaque blue/purple color in addition to a glorious nose of acacia flowers, licorice, charcoal, blueberries, black raspberries, lead pencil shavings and incense. This massive, extraordinarily rich, unctuously textured wine may be the most concentrated effort produced to date, although the 2000, 2005 and 2010 are nearly as prodigious. A gorgeous expression of Pessac-Leognan with sweet tannin, emerging charm and delicacy, and considerable power, depth, richness and authority, it should age effortlessly for 30-40+ years. Bravo!"
Robert Parker Jr (100-points)
Today there is a real buzz around Chateau Smith-Haut-Lafitte. Notably, though the estate has a long history, until the modern era under the Cathiards it has not been particularly well known, nor have its wines been that highly regarded. Smith-Haut-Lafitte's history as a winery begins with the de Bosq family who planted the first vines here in 1365. It did not get its present moniker until a few hundred years later when the Scottish merchant George Smith purchased the estate in the 16th century, constructing the chateau and using his own merchant fleet to transport the wines back to Britain.
Around the time of the 1855 classification, the chateau and winery were in the hands of Lodi Duffour-Debergier, a former mayor of Bordeaux. The wines were distributed by Louis Eschenauer, whose merchant company was to eventually own the estate throughout much of the 20th century, but with little change to the unimpressive wines. In 1990 the run-down and neglected estate was purchased by Daniel and Florence Cathiard. In a little over twenty years, they have achieved remarkable things at the property; restoring the 16th century chateau tower, completely renovating two subterranean cellars and reforming the winemaking to organic principles, having thrown out the crude mechanical harvesting methods which had long been used here. But most importantly, they have transformed the wine, lifting it to a level transcending its rivals and becoming "the quintessential Graves".
An investment like no other
We make investing in fine wine as effortless as drinking it - combining human expertise, data-driven tech and a love for fine wine.



Wine from this producer: Smith-Haut-Lafitte