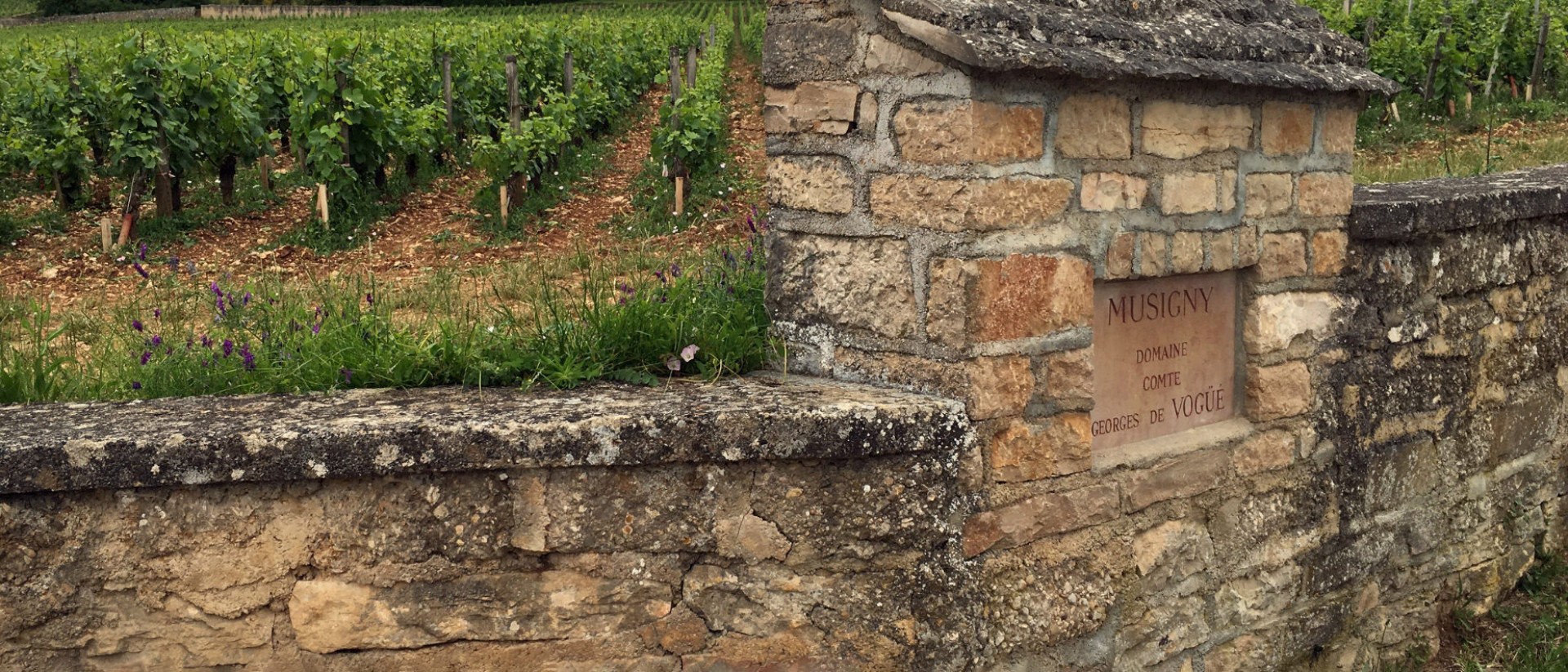 Producer profile
Claire de Causans and Marie de Ladoucette
Annual Production (Grand Vin)
The winemaking team installed here by Elisabeth de Vogüé have a 'no formula' approach, adapting the vinification process from vintage to vintage and even from parcel to parcel of vines.

The de Vogüé family can lay claim to being the oldest winemaking family in Burgundy, with roots going back more than 500 years and with more than 20 generations having worked on the Domaine. The 20th century part of their tenure began with Georges de Vogüé who was in the driving seat from 1925, until his death in 1987. For the most part, these were good years for the Domaine, although in the latter part of his life aggressive chemical treatments applied to his vineyards drew criticism and led to weaker vintages overall through the 1970s and 1980s, which though criticised as too diluted, still had hefty price tags.
Upon Georges' death he was succeeded by his only daughter, Elisabeth, who grabbed the bull by the horns and succeeded in turning things around through the hiring of a new winemaker, as well as sales and marketing team. In doing so, a new, gentler nature-led philosophy came to hold sway over the Domaine and this is continued today by the current owners - the granddaughters of Georges de Vogüé. They have continued their mother's work in bringing the wines of this relatively small estate to global prominence.
Think of Musigny, and one cannot help but make an immediate association with Domaine Comte de Vogüé who have made an indelible mark on the region over five centuries of winemaking. While Burgundy becomes an ever more important region for fine wine investment, a crucial name-check for Western and Far Eastern collectors alike with its wines showing a 23.7% increase overall in value over the last 12 months alone, Musigny is an appellation showing some of the most promising growth.
Within it, Domain Comte de Vogue is not only among the top producers, but is the largest - its two main competitors Leroy and Roumier each produce less than 300 cases per year. The effects of the changes made after the end of the Georges de Vogüé era, most notably the hiring of oenologist Francois Millet and Gerald Gaudeau as Chef de Culture are beginning to be felt.
A significant replanting operation means that vines are continuing to mature and exhibit ever more complexity. Investor confidence has also been restored by their efforts to keep yields low and create concentrated wines that can easily compete on the global stage and bring the Domaine back to its pre-1970s pre-eminence.
Alongside Domaine de Romaneé-Conti, de Vogüé has benefitted from significant broadening of the fine wine investment market. Collectors are now looking beyond Bordeaux for their wines and when it comes to Burgundy, de Vogüé is one of the essential names. The smaller production sizes in Burgundy make it very attractive to investors looking for short to medium term growth as demand is never met.
Bourgogne Blanc (100 cases)
Coming from young vines that were replanted following Elisabeth de Vogüé's accession, this white wine comes from the Musigny Grand Cru vineyard, the lower part of which de Vogüé own as a monopole. However, due to the youth of the vines, the Domaine do not label this a Grand Cru, opting instead for a generic Bourgogne Blanc label which perhaps belies the wine's quality. Currently the only Grand Cru white available from the Côte du Nuits, which could play well given the growth of interest in white Burgundies from the female Chinese investor market. This label has steadily grown to more than double in value over a five year period, now averaging over £300 per bottle.
Chambolle-Musigny 1er Cru 'Les Amoureuses'(160 cases)
The high limestone content of this Premier Cru vineyard produces a wine with a great natural balance of tannins and acidity- the Domaine completely eschew artificial acidification. It has a lightish colour which deepens with age and a remarkably long, finessed finish. Recent vintages are now being offered for upwards of £600 per bottle.
Chambolle-Musigny Premier Cru (500 cases)
Declassified juice from Musigny vines younger than 25 years, which up until 1995 was sold onto merchants and destined to become generic Musigny wine. Fresh and yet structured, this is a wine that ages well and a good option for those for whom 'Les Amoureuses' is too dear, it averages over £200 per bottle.
Bonnes-Mares Grand Cru (400 cases)
This is a darker, more powerful and masculine wine. Though the Grand Cru vines used to produce this label are quite close to those where grapes are grown for 'Les Amoureuses', this wine is has a distinct floral character with violets and peonies on the nose and yet possesses a dense, muscular character which mellows beautifully with age. Valued at around £380 per bottle on average.
Musigny Cuveé Vieilles Vignes Grand Cru (900 cases)
A truly exceptional wine from fantastic vineyards, Vieilles Vignes is the best known label in the Domaine Comte de Vogüé stable. There have been some truly legendary vintages such as the 1990, which, given the wine's complexity are only just coming into their prime. The 2005 was another unforgettable vintage for this Grand Vin, proving that quality is going from strength to strength and investors have since lifted it beyond the £600 average mark per bottle.
Chambolle-Musigny (400 cases)
The de Vogüé Chambolle Villages wine comes from a small plot on a bed of limestone and small rocks, with vines around thirty years old. Essentially, it is produced from declassified 1er cru wines blended into a cuveé, making this a superior villages-level wine, priced accordingly at around £150 per bottle.
An investment like no other
We make investing in fine wine as effortless as drinking it - combining human expertise, data-driven tech and a love for fine wine.