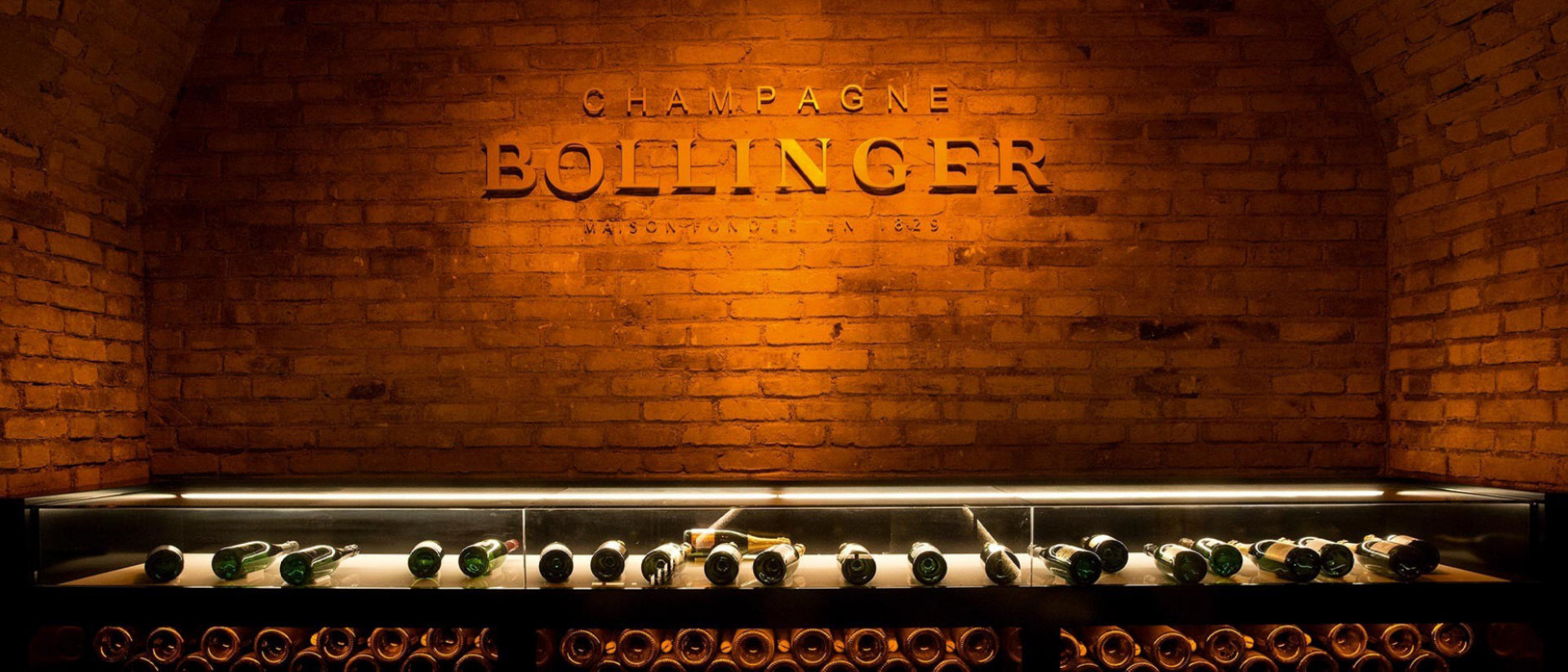 Producer profile
Annual Production (Grand Vin)
The house has used the James Bond franchise as a marketing device to great success, with the Bollinger name appearing in no less than five Bond movies.

Bollinger has roots in the Champagne region dating back to 1585, but it wasn't until 1829 that the house came to be known as it is today.
Jacques subsequently married the count's daughter, Charlotte, a smart move which – given Renaudin's lack of heirs – meant he inherited the property and became the sole owner. The property was then managed by the couple's sons, Joseph and Georges, and was then passed to Georges son Jacques in 1918. He and his wife Lilly expanded Bollinger's facilities by building new cellars, purchasing more vineyards and acquiring the assets of another Champagne house on Boulevard du Marechal de Lattire de Tassigny, where the company's offi ces are currently located. After Jacques died, Lilly took over, travelling the world to promote the brand, and is perhaps best known for her statement: "I only drink Champagne when I'm happy and when I'm sad. Sometimes I drink it when I'm alone. When I have company, I consider it obligatory. I trifl e with it if I'm not in a hurry and drink it when I am, otherwise I never touch the stuff unless I am thirsty." Her nephews Claude d'Hautefeuille and Christian Bizot succeeded her, and under their direction the house was modernised and expanded further. Then, in 2008, the position of managing director was passed outside the Bollinger family, to Jerome Philipon, who continues to oversee the company today. Total production for Bollinger estimated 2.5 million bottles, 1.25 of which are consumed in the UK.
As with many of the large Champagne houses, the production level from Bollinger is relatively high. investors should consider buying into the younger, more recently released vintages, as prices rise sharply for those that have been available on the market for some time. This is the case for their vintage production 'La Grande Annee', however there are only 1000 cases released of their longer matured R.D offering.
La Grande Annee
Formerly known as 'Bollinger Vintage', La Grande Annee is the house's prestige Champagne, only produced when the harvest reaches perfection, and offers aromas of toasted bread and brandied fruit, notes of exotic spices and rhubarb, and remarkable structure and length.
La Grande Annee Rose
The perfect blend of great Champagne and the best red wines of the region, from the same vintage, this salmon-coloured offering boasts red currant and almond aromas, spicy notes and flavours of great Burgundy Pinot Noir, culminating in a wine-like but lively finish.
Bollinger R.D.
Said to be James Bond's favourite Champagne, the R.D. offers aromas of ripe fruit, cocoa and nutmeg with a powerful but well-balanced palate and mineral finish, all enhanced by its exceptionally long maturation.
Vieilles Vignes Francaises
Made from vines grown the traditional way, following the 'provignage' method and worked by hand, this wine is produced in extremely small quantities and offers the intense characteristics of very mature vintages, with a round, creamy mouthfeel and saline, mineral finish.
La Cote aux Enfants
A rare find in Champagne country, this is a great pure Pinot Noir from the legendary Ay plot, offering notes of cloves, pepper, truffle, liquorice and chocolate, a velvety texture and a subtle balance.
An investment like no other
We make investing in fine wine as effortless as drinking it - combining human expertise, data-driven tech and a love for fine wine.