Domaine M&S Ogier D'Ampuis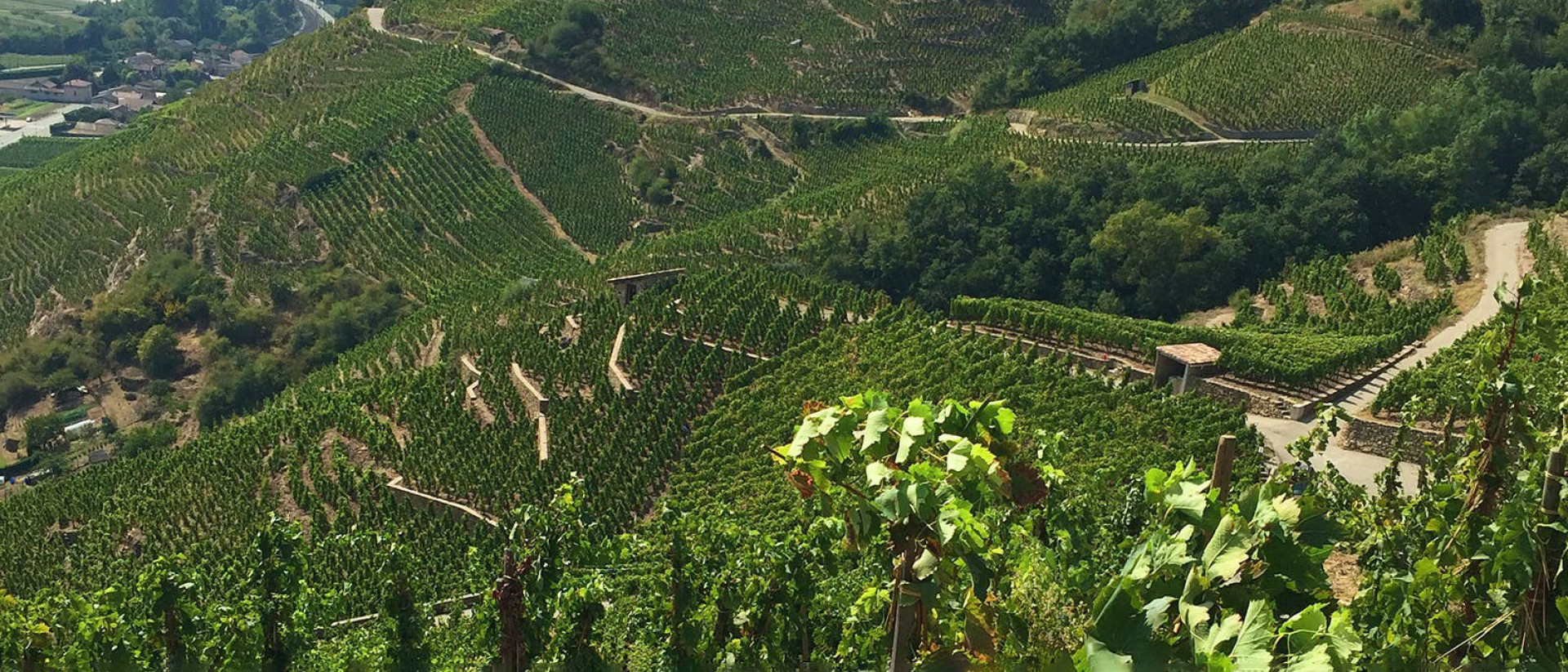 Producer profile
Annual Production (Grand Vin)
Stephane's commitment to properly interpreting the terroir means that every vintage is a little different in some fashion.

Côte-Rôtie has a rich winegrowing tradition that dates back to the Greek and Roman eras, but in more modern times many of the area's steep granite vineyards had been left to crumble, as negociants were the only wineries with the means to bottles wines.
Indeed, this was the case for Michel Ogier, who for a long time sold his entire crop, on the vine, to the likes of Chapoutier and Guigal. In 1980, however, he decided to make and produce his own wine, and invested a considerable amount of time and capital in his well-suited 2.5 hectare vineyard. By 1988 the domaine was importing its first cases of Ogier to the United States.
Thirty years later, and Ogier d'Ampuis has established a reputation that rivals even the grandest and longest-established producers of the region, thanks largely to the passion and talents of Michel's son Stephane, who joined the family business in 1997, fresh out of oenology school.
Widely regarded as one of the most promising and gifted producers of Cote Rotie, Stephane's wines remain true to tradition, but offer a modern polish. Under his management, the estate has expanded, new wines have been created and Ognier has been shepherded to new levels of quality and consistency.
"One of France's most brilliant small artisanal wineries… Ogier's wines just keep getting better and better, so if you haven't yet jumped on the Ogier bandwagon, it's time to do so." High praise indeed from formidable critic Robert Parker, and perhaps the reason the estate's wines are going from strength to strength on the investment landscape.
The Cote Rotie offers a more accessible way in to Ogier's wines, both in terms of cost and palate, as fans say their appeal generally lies in their silky elegance – something not often found in Cote Rotie offerings. The 2010 vintage in particular, scoring 95 points from Parker, is well worth investigating in, as is the 2005, also with 95 Points. Built to age, these are drinking now but will ahve a good 20+ years to go.
However, the estate's jewel in the crown is arguably the Belle Helene, which consistently scores highly and has demonstrated impressive investment growth – prices per bottle have on average more than doubled over the last five years. It's no surprise it's one of the most highly sought-after wines of the region. Hundred-point-scoring vintages such as the 2009 and 2010 command extremely high prices, easily upwards of £3,000 per case. Look at the slightly lower scoring vintages, however, such as the 98-point 2011 and the 96+ 2007, and you can jump on the Ogier bandwagon at a significant discount.
Domaine Stephene & Michel Ogier Côte Rôtie
The estate's flagship wine, this 100% Syrah blend is loaded with rich black fruits and a smoky, spicy palate, and offers a smooth, silky texture with a beautifully long finish.
Domaine Stephene & Michel Ogier Condrieu les Vieilles Vignes de Jacques Vernay
This 100% Viognier blend has scored highly with critics, rating among the top 10 most highly-rated white wines in the region (the 2015 vintage, was awarded 97 points by Parker), and boasts an exotically perfumed bouquet of poached pear, honey, lemon zest and orange marmalade.
Domaine Stephane & Michel Ogier Cote Rotie Cuvee Belle Helene
Named for Michel's wife, the Belle Helene began life as something of a viticultural experiment but is by far the biggest critic pleaser among the estate's portfolio, scoring a perfect 100 Parker points no less than three times since its inception. Only around 150 cases per year are produced of this full-bodied Syrah blend.
Domaine Stephane & Michel Ogier Cote Rotie Lancement
Another top-scoring offering from Ogier, the Cote Rotie Lancement consistently comes in at the high-90s mark, displaying notes of red fruits, smoked bacon, spices and smoky minerality, with a full and intense mouthfeel.
An investment like no other
We make investing in fine wine as effortless as drinking it - combining human expertise, data-driven tech and a love for fine wine.