Cult Wines, the leading global fine wine investment advisor, has announced the opening of a new Singapore office as it continues to see increasing demand for investing in fine wine among local and regional-based clients.
Rapidly increasing demand for fine wine as portfolio diversifier amongst local and regional investors.
Expansion into Singapore and Southeast Asia part of strategy to accelerate growth in Asia.
Cult Wines sees revenues in Asia increase 84% YoY, reaching £20m / S$35.8m for the year ending 30th August and accounting for 38% of global sales.
Report highlights how fine wine outperforms equities and gold during periods of economic uncertainty.
Cult Wines' Singapore opening further strengthens the firm's growing presence across Asia, having established offices in Hong Kong and Shanghai in 2016 and 2017 respectively. The new office marks Cult Wines' foray into the burgeoning Southeast Asian market, to meet the surge in demand for investment-grade fine wine among buyers based in Singapore, Thailand, Indonesia, Malaysia and the Philippines.
A network of partnerships with leading global and regional banks, private wealth managers and investment advisors has been key to Cult Wines' growth. In Singapore, Cult Wines has established relationships with a large number of private banks and wealth managers over several years, which have proved to be very successful for the end clients of these institutions.
Tom Gearing, Managing Director of Cult Wines said, "The launch of a new office in Singapore underlines the success we have had in building an investor base here and the tremendous growth potential we're seeing throughout the wider region. With proven expertise of the fine wine market and in portfolio construction, Sam and his team are well-positioned to ensure the business goes from strength to strength, providing local and regional investors with access to fine wine investment opportunities.
"With its low correlation to asset classes such as equities and bonds and track record of capital appreciation, investment grade fine wine is not just a passion asset but a proven portfolio diversifier."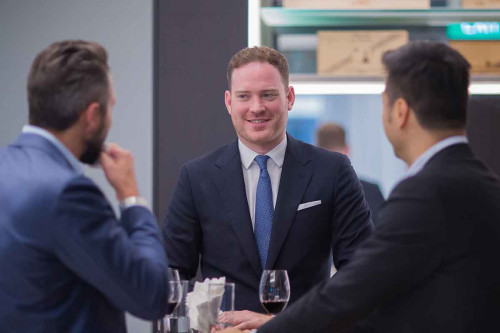 Steve Knabl, COO and Managing Partner of Swiss-Asia Group added, "We have partnered with Cult Wines for a number of years in Hong Kong and more recently in Singapore. Increasingly, our clients are looking to diversify into alternative assets, and investment grade wine is becoming ever-more popular as an asset class. Cult Wines has impressed us with their high levels of customer care and analytical approach in view of maximising client returns."
For the financial year ending 30th August, Asia was Cult Wines' fastest growing region, with revenues rising by 84% to £20m / S$35.8m. Within this, the South East Asia sub-region grew by 100% with double and treble figure increases across Singapore, Thailand, Indonesia, Malaysia and Philippines.
Fine wines that are considered to be investment-grade are increasingly being seen as a stable, defensive asset class, and recent research by the company highlights how the asset has consistently outperformed equities and gold during periods of economic uncertainty. The report also reveals distinctive qualities that protect investors from some of the risks inherent in an equity-based portfolio.
Founded in 2007, Cult Wines has over 1,700 clients across over 70 countries and has managed assets of over GBP 90m (S$161m). In the year ending August 30th 2018, Cult wines achieved a turnover of £52m.
Achieving consistently strong investment performance has been central to Cult Wines' growth. In the year ending 31st August the Cult Wine Investment Performance returned 6.35%, outperforming the Liv-ex recognised benchmark, which returned 2.37% over the same period.
The company has been awarded several prestigious awards including the Queens Award for Enterprise: International Trade in 2017.