From left, Singapore Office Manager Sam Mudie, Senior Portfolio Managers Ivy Lim and Cris Lu, and
South East Asia Associate Sales Director - Nicolas Laurent.

Cult Wines Opens Singapore Office
Cult Wines, the leading global fine wine investment advisor, has announced the opening of a new Singapore office as it continues to see increasing demand for investing in fine wine among local and regional-based clients.
Rapidly increasing demand for fine wine as portfolio diversifier amongst local and regional investors.
Expansion into Singapore and Southeast Asia part of strategy to accelerate growth in Asia.
Cult Wines sees revenues in Asia increase 84% YoY, reaching £20m / S$35.8m for the year ending 30th August and accounting for 38% of global sales.
Report highlights how fine wine outperforms equities and gold during periods of economic uncertainty.
Cult Wines' Singapore opening further strengthens the firm's growing presence across Asia, having established offices in Hong Kong and Shanghai in 2016 and 2017 respectively. The new office marks Cult Wines' foray into the burgeoning Southeast Asian market, to meet the surge in demand for investment-grade fine wine among buyers based in Singapore, Thailand, Indonesia, Malaysia and the Philippines.
A network of partnerships with leading global and regional banks, private wealth managers and investment advisors has been key to Cult Wines' growth. In Singapore, Cult Wines has established relationships with a large number of private banks and wealth managers over several years, which have proved to be very successful for the end clients of these institutions.
Sam Mudie has been appointed General Manager of the new office and will be relocating from Cult Wines' London headquarters, where he has spent six years as Senior Portfolio Manager.
Tom Gearing, Managing Director of Cult Wines said, "The launch of a new office in Singapore underlines the success we have had in building an investor base here and the tremendous growth potential we're seeing throughout the wider region. With proven expertise of the fine wine market and in portfolio construction, Sam and his team are well-positioned to ensure the business goes from strength to strength, providing local and regional investors with access to fine wine investment opportunities.
"With its low correlation to asset classes such as equities and bonds and track record of capital appreciation, investment grade fine wine is not just a passion asset but a proven portfolio diversifier."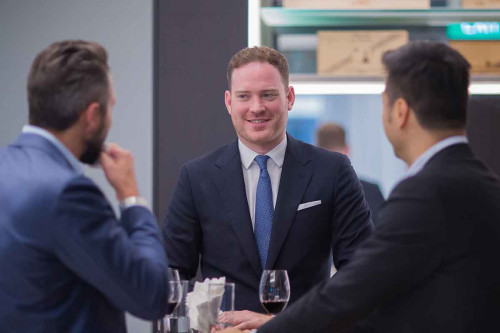 Steve Knabl, COO and Managing Partner of Swiss-Asia Group added, "We have partnered with Cult Wines for a number of years in Hong Kong and more recently in Singapore. Increasingly, our clients are looking to diversify into alternative assets, and investment grade wine is becoming ever-more popular as an asset class. Cult Wines has impressed us with their high levels of customer care and analytical approach in view of maximising client returns."
For the financial year ending 30th August, Asia was Cult Wines' fastest growing region, with revenues rising by 84% to £20m / S$35.8m. Within this, the South East Asia sub-region grew by 100% with double and treble figure increases across Singapore, Thailand, Indonesia, Malaysia and Philippines.
Fine wines that are considered to be investment-grade are increasingly being seen as a stable, defensive asset class, and recent research by the company highlights how the asset has consistently outperformed equities and gold during periods of economic uncertainty. The report also reveals distinctive qualities that protect investors from some of the risks inherent in an equity-based portfolio.
Founded in 2007, Cult Wines has over 1,700 clients across over 70 countries and has managed assets of over GBP 90m (S$161m). In the year ending August 30th 2018, Cult wines achieved a turnover of £52m.
Achieving consistently strong investment performance has been central to Cult Wines' growth. In the year ending 31st August the Cult Wines Index returned 6.35%, outperforming the Liv-ex recognised benchmark, which returned 2.37% over the same period.
The company has been awarded several prestigious awards including the Queens Award for Enterprise: International Trade in 2017.
Singapore Team
Sam Mudie
Director of South East Asia
Direct Phone:
+65 6909 8171
Sam joined the Cult Wines team in the Summer of 2013, having previously been working as a Portfolio Manager for a competitor. He holds a BSc in Property Agency and Marketing and achieved a Distinction in an additional wine industry module. In October 2013, he was awarded the title of Ecuyer in the Confrerie des Compagnons Goustevin de Normandie and has more recently been asked to reform the London chapter that has been dormant for almost two decades. With over five years under his belt as Senior Portfolio Manager in the London HQ, the offer to move to Singapore in 2018 to set up and manage the new office was hard to pass on. Taking pride in being the only chap in the office with little interest in Football; he instead focuses his attention on "proper sports" such as Rugby, Shooting, and Skiing; and takes general well-being and fitness seriously. When it comes to wine, Sam's finds it hard to pass on a good Brunello but as he spends much of his spare time in London and Singapore's top restaurants and wine bars, he's equally happy taking guidance from Sommeliers on their recent discoveries.
Kazuaki (Kaz) Takabatake
Commercial Director APAC
Direct Phone:
+65 6909 8699
Kaz joined Cult Wines in October 2019 as Commercial Director, APAC, having gained over 20 years of experience in various in-depth and broad-based functional, professional and managerial appointments within the Financial and Financial IT sectors, working for firms such as Yamaichi International and Industrial Bank of Japan-based in London before moving to Singapore in 2000 to set up Asian operations for a UK based ISV (Independent Software Vendor). He has been in Singapore for nearly 20 years and spent the last few years running major online FX firms such as Saxo and OANDA prior to joining Cult Wines.

Major categories of work experience and responsibilities ranging from Trading & Sales, Strategic Business Planning and Development, Financial Analysis, Planning / Budgeting and Reporting, and Regional Management.
Kaz holds the WSET Level 3 Award, an advanced level qualification for professionals working in the wine industry. In his spare time, he is an avid cyclist and can often be found competing in mass participation events in Singapore and other parts of Asia.
Nicolas Laurent
South East Asia Associate Sales Director
Direct Phone:
+65 6909 8172
Having watched Cult Wines from a distance since 2015, at hearing news of our Singapore venture Nicolas seized the opportunity of joining us in September 2018 as South East Asia Associate Sales Director, moving away from his four-year posting as Le Club FICOFI Advisor in Singapore, looking after 40+ UHNW Members of the world's most exclusive wine club, by invite only. There he developed an impressive and extensive knowledge of investment-grade wines through regular events held for clients, and in sourcing them the finest and rarest wines produced anywhere in the world. Prior to that, he spent a combined two years and a half at Wine Connection in Singapore, and Bureau Stephane Fouquet in Bordeaux, as a Wine Speaker and Wine Broker respectively. He holds a Master's Degree in International Business from KEDGE Business School in Bordeaux, and in 2015 he achieved his WSET Level 3 with Merit. When he does not practice tennis, golf and running, his interests include contemporary art, (fine) dining, cigars, whisky, timepieces, vinyls, and travelling the world. When in Singapore, he likes to mingle with other members of Straits Clan and FrenchFounders. Coming back to wines, and aside from work, Nicolas is driven by his curiosity, and he loves to share bottles (ideally magnums!) from the Beaujolais, Jura and Loire Valley regions, as well as of the new wave of quaffable Californians and Australians.
Nicolas Monroy
Senior Portfolio Manager
Direct Phone:
+65 6909 8173
Nicolas joined Cult Wines in October of 2019, having spent the previous six years at J.P. Morgan Private Bank, advising ultra-high net worth clients and family offices in Silicon Valley and Latin America. During his time at JPM, 'Nico' worked in both the New York and San Francisco offices, and it was during his time in the Bay Area where he truly fell in love with California wine country. While wine is a relatively recent passion, finance has been a long-time interest of Nico's - he has his B.A. in Finance and International Relations, and an M.B.A from Duke University. In recent years, he's deepened his expertise in portfolio management and impact investing; and studied blockchain technology and potential business applications.
Outside of work, Nico is lives for cycling, coffee and football - he proudly wore face paint and his Colombian jersey to the last two World Cup's in Brazil and Russia, and is counting down to Qatar. When it comes to wine, Nico has had lifelong love affair with pinot noir but admits that sangioveses are rapidly gaining more and more space in his home cellar.
Julie Delaporte
Head of Business Development – South East Asia
Direct Phone:
+65 6909 8175
A Swiss national, Julie studied in the most prestigious hospitality business school, Ecole Hôtelière de Lausanne, where she discovered her passion for both Finance and relationship management. Having spent 5 years at a Swiss Private Bank managing UHNW clients, prior to joining a large Family Office and completing her Masters in Wealth Management, Julie brings her global expertise and experience to Cult Wines, expanding the company's network of partnerships with financial institutions in South East Asia.
Growing up in a Swiss wine-loving family, her passion, ambition and curious personality lead her to Cult Wines Singapore, where she was able to combine her interests in finance, alternative investments and relationship management. Personally, Julie is a successful sportswoman, as a double European champion showjumper and a past member of the Elite Swiss National Team.
Julie counterbalances her epicurean side with her love of the outdoors – not surprisingly for a Swiss, ski touring, hiking and climbing are her favourites. In her spare time, Julie enjoys travelling and loves to discover the local wines wherever her travels may take her. That being said Burgundy remains her number one choice, and natural wines are taking more and more space in her heart.
Kenny Lim
Portfolio Manager
Direct Phone:
+65 6721 9481
Kenny joined the Cult Wines team in November 2019, coming from Morgan Stanley as an Assistant Private Banker, catering to the UHNW segment in Private Wealth Management. Well-known to have one of the strongest research teams and highest AUM requirements in the private banking space, Kenny tapped on these resources to expand his investment knowledge. Having been part of the highest-grossing team in Morgan Stanley Singapore also helped increase his exposure to the UHNW client segment, particularly in the Indonesia region. His previous employers were UBS Private Wealth Management and OCBC Bank.
Kenny holds a Bachelor degree in Accounting and Finance from Leeds Business School in the UK. He is a passionate badminton player and would whip up Thai and Cantonese cuisines during his free time. He hopes that through Cult Wines, he can cultivate and deepen his recent passion in wine and discover the best wine pairings for various exotic Asian cuisine.
Download our guide
The Cult Wines Fine Wine Investment Guide will teach you all you need to know about the world of Fine Wine, from expanding your knowledge to making your first investment.