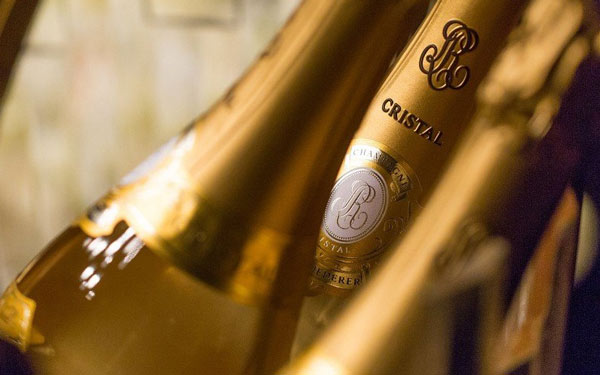 Cristal to use record number of vineyard plots in flagship label
Confidence in the 2018 Champagne vintage has prompted Louis Roederer to use a record number of vineyard plots in its flagship label. Cristal brut is traditionally taken from a maximum of 45 vineyards, but the 2018 vintage will be drawn from 57 sites.
According to Jean-Baptiste Lecaillon, the group's chef de caves and executive vice president, this will be the first time in his 20-year tenure with the house that more than 45 plots have been used.
The additional plots include Chardonnay sites normally reserved for Roederer's Blanc de Blancs. As such, the 2018 vintage will have a slightly higher proportion of Chardonnay – 43% compared to the usual 40%.
Lecaillon said fans could expect a "unique Cristal" when it is eventually released after several years of aging.
Optimism for Rioja 2018 despite weather woes
Rioja's 2018 vintage has been classified as 'good' despite last year's unpredictable weather in the region. The Plenary Committee of the Regulatory Board of Rioja DOCa made the classification following the analysis of 5,245 samples.
The vintage was marked by inclement weather conditions, leading to uncertainty in the vineyard and threats of mildew. The board said that this meant extra diligence was required to maintain the health of grapes. Nonetheless, the vintage has been found to be an "indisputable and honest reflection of the character of the vintage", as stipulated by the board's quality control processes.
The committee said the 2018 vintage has a slightly lower alcohol content than previous years, but there was a "redefined quality of the reds" and a "great quality" in the whites.
Bollinger taps into its own forests for oak barrels
Champagne Bollinger will use oak harvested from its own forest in the Cotes des Blancs to ferment the juice from this year's vintage.
Bollinger cellar master Gilles Descotes explains that three trees from the 130-hectare forest were felled in 2016, each more than 100 years old and able to produce enough staves to make 10 barrels. The staves have been seasoned over the past three years, and Descotes expects to have in the region of 20 to 30 barrels for this year's harvest.
All of Bollinger's premium wines are fermented in oak barrels, but no existing barrels use new staves as they can impart strong flavours. However, Descotes said that as the new barrels will only account for around 1% of the oak used to ferment the wine, they will therefore have little perceptible impact on taste.
Sales of English and Welsh wine reach new records
Sales of English and Welsh wine rose 6% to reach a record four million bottles in 2018, prompting the Wine and Spirit Trade Association (WSTA) to call for stronger government support for Britain's homegrown wine industry.
According to WSTA data, UK consumers bought more bottles of fizz produced in England and Wales than they did sparkling wines from Australia, the US and Germany combined. Winemakers have described 2018 as a "game changer".
There are now more than 500 commercial vineyards in Great Britain. The area under vine in England and Wales has increased by 160% in the past 10 years to reach 2,888 hectares, with a further two million vines due to be planted this year.
Miles Beale, chief executive of the Wine and Spirit Trade Association said: "The government needs to do more to support this emerging British success story and the Chancellor can and should start bringing down his excessively high duty rates after he unfairly singled out wine for a duty rise in his last Budget."
Scientists put sommeliers' brains under the spotlight
Researchers are studying the brains of young sommeliers to help better understand the potential links between brain health and an acute sense of smell.
A recently-published study revealed that 25 sommelier students outperformed an untrained control group at identifying a range of aromas within just two months of education.
Lead author Johannes Frasnelli, from the University of Quebec, said that the study's findings backed up the theory that sommelier students make excellent models to study brain health in relation to olfactory performance.
"We know from previous research done in other fields that the brain benefits from active studying and the brain areas processing smell are also responsible for memory, emotion, learning and reward. Olfactory training improves the brain capacity."
Existing studies have shown that wine professionals have a physically thicker entorhinal cortex – the brain's memory hub – which is the first area to be compromised by neurodegenerative diseases such as Alzheimer's.