Before national lockdowns and travel restrictions tightened, our Head of Fine Wine Lukasz Kolodziejczyk managed to spend a few weeks in Burgundy last year and is one of a small group of professionals to have firsthand and on field experience of the vintage. Over the coming weeks we will be putting a spotlight on top Burgundy producers and highlights from Lukasz's trip to the Cote d'Or. This is the fourth profile of our Burgundy spotlight series featuring Domaine Tortochot.
Domaine Tortochot - Burgundy 2019 En Primeur Producer Profile
A pure, classic expression of Gevrey-Chambertin will always be a wonderful thing. And Domaine Tortochot consistently delivers some of the best examples thanks to the skilled guidance of Chantal, the fourth generation of the Tortochot winemaking family.
Chantal takes great pride in her craft, focussing on the harmony between terroir and nature. She converted the Domaine's 12 hectares of vines to organic practices, receiving official certification from the 2013 vintage onwards. Her oenological expertise and closeness to the vineyard has helped the Domaine adapt and thrive amid changing climatic conditions in recent years.
But the adaptations have never been about changing the style of the wines. It is the 'perfect' terroir that Chantal and her team at Tortochot want to magnify by remaining committed to a traditional style of Gevrey Chambertin that is fruit-forward with powerful tannins and uplifting acidity. Although this style may require longer before the wine reaches its best, the patience comes with reward. Tortochot's wines have become synonymous with both quality and value.
In addition to perfecting Tortochot's viticulture and winemaking, Chantal is a proud member of the association "Femmes et Vins de Bourgogne" (women and wine in Burgundy) and strives to promote female equality in the wine industry. In more ways than one, Domaine Tortochot is a leader in the region and should be on everyone's must-have list.
2019 Vintage:
Chantal describes the 2019 as 'a vintage full of nuances and contrasts.' A mild winter and dry spring presented challenges, and heatwaves during the summer resulted in some water stress. However, rain in August provided some relief and the vines held up very well overall. They were able to schedule the harvest in mid-September.
"The final analyses (at harvest time) showed stable acidity and phenolic compound parameters with a balanced sugar content in the juice. The varietal aromas were very much present." – Chantal Tortochot
Wines:
Tortochot's four village appellations provide a perfect space to experiment with different non-chemical substances when tending the vines. With such innovations, these village offerings showcase poise, balance, and freshness even in younger vintages.
The five premier crus are true examples of the terroir. Les Lavaux Saint Jacques is deep and earthy, while aux Charmes typically brings a more robust and muscular form. Les Champeaux is lighter and fruitier with floral notes.
Tortochot boasts a diverse selection of four grand crus. Many consider Mazis Chambertin as a star that exhibits all of Chantal's traditional fundamentals of power, balance and finesse. Moving away from Gevrey Chambertin, the Domaine owns seven rows in the Clos Vougeot grand cru site that add some diversity to the Domaine's wines with a unique, complex expression for this vineyard. As with all of their wines, we view this as a great value option compared to some of their more illustrious neighbours.
Below is a list of Tortochot's wines as well as an analysis of the average prices and average total return of a select group since release. Most vintages have delivered double-digit returns since release but some mixed performance from the 2016 releases, which hit the market at a timing of falling prices, have moderated the average figures.
5-year average prices and returns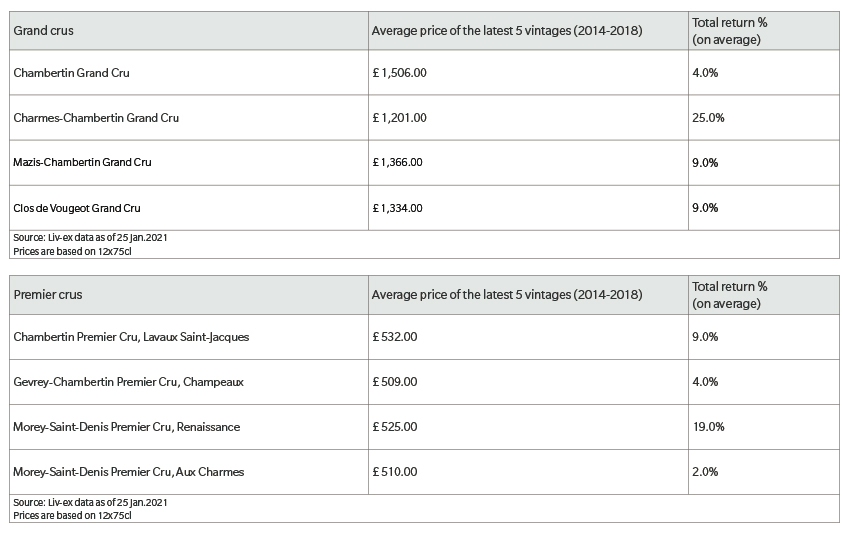 Domaine Tortochot's wines
Village-level
• Gevrey-Chambertin Les Jeunes Rois
• Gevrey-Chambertin Les Corvées
• Gevrey-Chambertin Champerrier Vieilles Vignes
• Gevrey-Chambertin Vieilles Vignes
Premier cru
• Gevrey-Chambertin Les Sentiers
• Gevrey-Chambertin Aux Charmes
• Gevrey-Chambertin Cuvée Renaissance
• Gevrey-Chambertin Lavaux Saint Jacques
• Gevrey-Chambertin Les Champeaux
Grand crus
• Chambertin
• Charmes-Chambertin
• Mazis-Chambertin
• Clos de Vougeot