Fine wine markets stayed hot through the dog days of summer with a 1.29% return in August, as measured by the Liv-ex 1000. The continued recovery in major economies provides the foundation for fine wine's strength in 2021. Potential concerns about inflation amid some supply chain difficulties could also be boosting demand for real assets such as wine. September new releases also generated attention for several new world and Italian wines, helping the Rest of World and Italy post the highest August growth figures.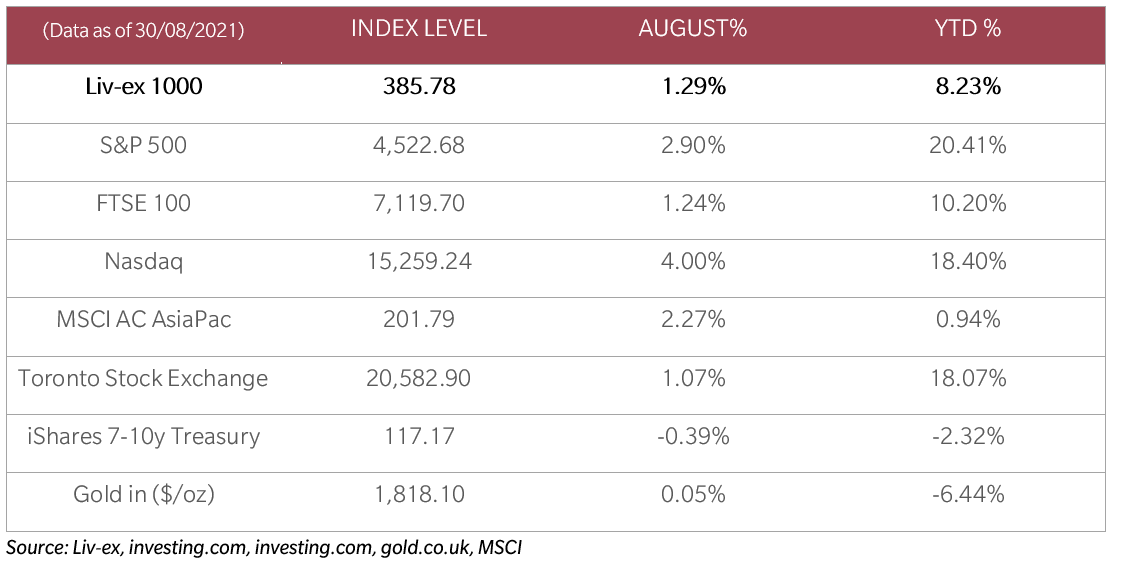 Equity markets also turned in positive returns amid ongoing economic growth alongside accommodative monetary and fiscal policies in many countries. Developed markets once again outperformed most emerging markets as regulatory changes in China has held back Asian markets in recent months. However, Chinese markets rebounded in late August.
US Treasury yields edged higher in August amid the mostly positive appetite for risk assets. However, the moves were contained as there are some signs the recovery in developed markets is peaking. Major central banks appear in no hurry to tighten policies as supply chain disruption in several economies could complicate the near-term outlook. US headline CPI inflation remained higher at 5.4% but core CPI fell marginally, adding support to the view that inflationary effects could be transitory.
Fine wine regional breakdown
All regions of the fine wine market posted positive returns in August. The Rest of World 60 surged to a 2.53% monthly gain. The ROW60 was late to join the wider fine wine rally that has taken hold since spring 2020 but has made up for lost time with a very strong run over recent months. Several emerging market regions benefitted from anticipation of a string of new releases of the 2018 and 2019 vintages in September.
Italy 100 will also see September releases including Tuscans Solaia 2018 and Masseto 2018. The Italy 100 posted a strong 1.57% gain in August as the region makes up for a slow start to 2021.
Champagne 50 continued its impressive run going back to mid-2020 with its 1.45% August rise bringing its running 12-month return to 13.44%.
The widespread strength of fine wine at the moment was illustrated by the fact that Burgundy 150's 0.69% monthly gain was the lowest regional figure in August. However, this was enough to keep the Burgundy 2021 year-to-date return near the top among Liv-ex regional indices.