26 August 2022
The fine wine outlook in a troubled economy
Defensive regions and wines can help maintain stability
Key points:
Despite the deteriorating economic backdrop, fine wine has performed well in 2022 and demand remains strong
The pace of growth could ease in the coming months, but we see reasons why fine wine can remain a stable store of value and potentially outperform wider markets
Certain wines and regions, such as Italy, have displayed defensive track records in the past and could make attractive options in the current environment
The global economy could be heading into a winter of discontent. It's well-publicised now that inflation rates have hit multi-decade highs in many major economies. Sky-high energy costs and rising food prices are fuelling serious cost-of-living concerns for many people, which may only get worse in the winter.
Despite the summer bounce in stock markets, volatility is expected for the foreseeable future. Central banks have responded to the rising inflation with higher interest rates, which may only deepen the economic slowdown.
How has fine wine performed?
So far, the drinkable alternative asset has performed admirably, with the Liv-ex 1000 index maintaining its streak of positive monthly gains (23 through end of July) even during the market volatility in the spring. Fine wine's year-to-date returns (+11.6%) still sit comfortably above most equity markets even after the latter's summer recovery.
Fine wine outperformed during downturns
Liv-ex 1000 performance vs S&P 500 and FTSE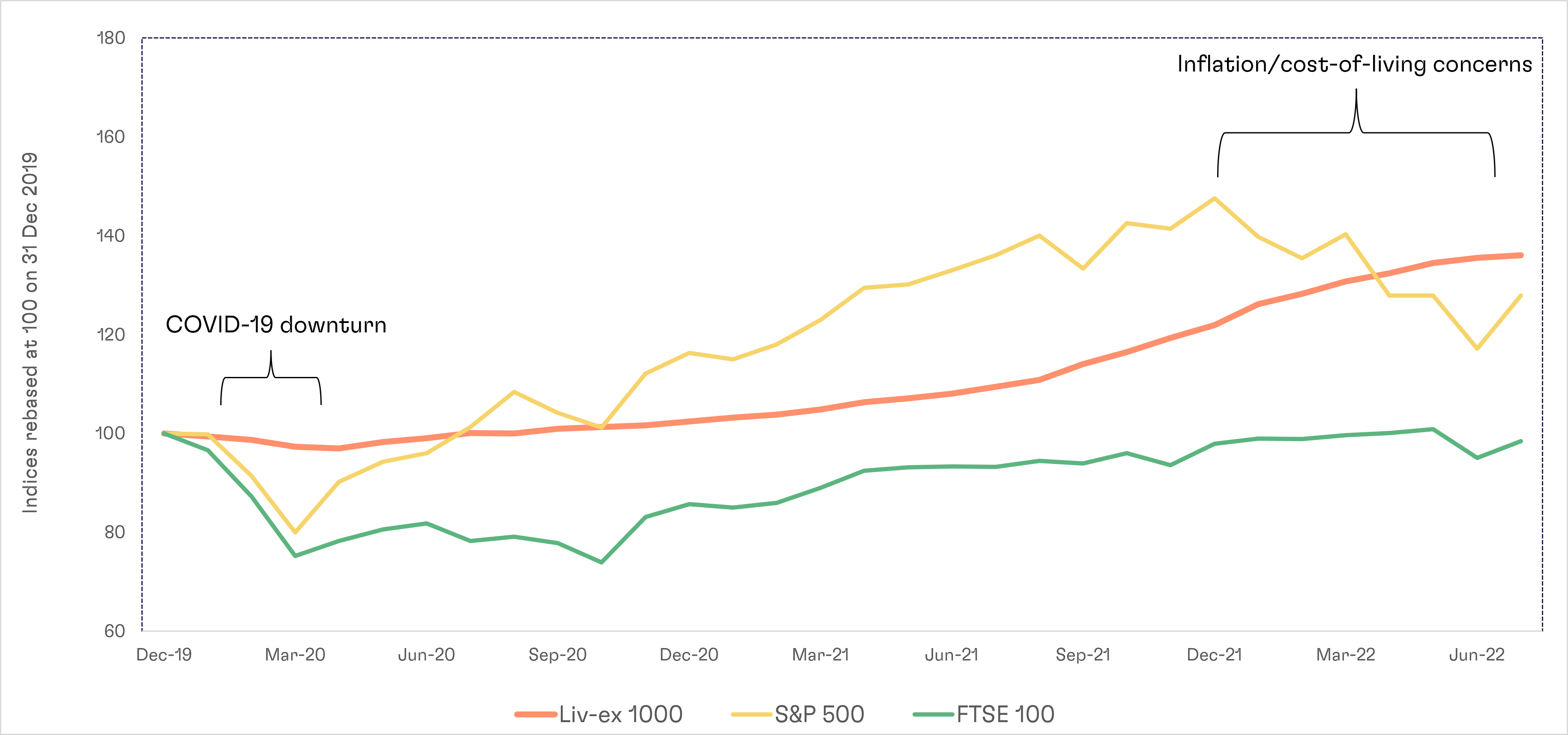 Source: Investing.com, Liv-ex 1000 as of 31 Jul 2022. Past performance does not guarantee future returns.
However, the pace of price appreciation has eased in recent months – June and July were the smallest monthly gains for the Liv-ex 1000 this year (0.8% and 0.4% respectively). Part of the slowdown may simply stem from lower liquidity during the summer months, but increased caution from fine wine buyers may also be a factor.
What is the fine wine outlook?
Even if a recession hits, we believe fine wine can remain a relatively stable investment compared to other assets. Part of this stems from its track record during the COVID-19 outbreak in spring 2020. At its 2020 low at the end of April, the Liv-ex 1000 had only dropped 3.1% compared to double digit losses in most equity markets.
And the current macroeconomic concerns may have less of a direct impact on fine wine compared to the COVID outbreak, which spurred an unprecedented shock to the global economy including extended hospitality sector shutdowns.
Internal wine market fundamentals are currently positive with the supply-demand imbalance driving prices higher still in place. The availability of iconic wines from core regions remains low while fine wine merchants have been reporting record sales in 2022, a sign that demand is still strong. As a consumer product and a collectible, many view fine wine as good option during times of inflation.
How to build a fine wine portfolio for a recession.
Even if fine wine can remain stable, investors may want to prepare for some possible spill over into the wine market's performance.
With this in mind, the top end of the market, such as Iconic Burgundy Grand Cru where supply-demand imbalances are the sharpest, should remain good long-term options. Even if the pace of growth eases in this winter, the big return potential among these difficult-to-source wines can overcome any short-term slowdowns.
But a stable portfolio should contain a diverse cross section of wines across regions and price points, especially during periods of uncertainty as demand could shift. Italy forms an excellent example of a region that demonstrated defensive characteristics in the past and could prove particularly useful in the coming months.
Italy's defensive track record
Pricing data from Liv-ex as of 31 July 2022. Past performance is not a guarantee of future returns.
Italy's positive performance even when other regions are declining stems from its diversity, which provides investors many options in terms of vintages and producers. Top performing wines (Wine Searcher data) during the January 2019 – April 2020 period included Aldo Conterno Barolo (+83%*) and G.B. Burlotto Barolo Cannubi (+59%*). During the July 2011 to Dec 2015 period, Italian wines such as Bruno Giacosa Barolo (+119%*), Roagna Barbaresco Paje Crichet (+91%*), and Giuseppe Rinaldi Cannubi San Lorenzo – Ravera (+87%*) all delivered strong price gains despite a slow period for fine wine overall driven by price consolidation in Bordeaux.
While these trends are not guaranteed to continue, many Italian wines currently offer attractive relative value compared to Burgundy and Bordeaux, which could help provide a cushion.
Rhone is another region with a stable track record. Top wines from the likes of Chateau Rayas also performed very well during the above periods.
Ultimately, the best way to position a fine wine portfolio to weather an economic slowdown is keep a long-term time horizon. Fine wine's inverse supply curve (supplies decrease with time due to consumption) means that the return potential over a longer time horizon should overcome any temporary blip.
Italy Investment Report 2022
Now could be the right time to invest in Italy. The diversity of Italian wines and attractive relative value make this historic wine region a particularly appealing investment in the current backdrop. In this report, we delve into our outlook for Italy and summarise the trends in different sub-regions of one of the world's greatest fine wine countries.
Footnote and disclaimer:
*Pricing data from Wine Searcher based on average prices of all available vintages from 2000 onwards.
Past performance is not indicative of future success. Returns were calculated in GBP and may vary depending on exchange rates. Any investment involves risk of partial or full loss of capital. The Cult Wine Investment Index is a hypothetical tool. The results depicted here are not based on actual trading and do not account for the Cult Wine Investment annual management fees. There is no guarantee of similar performance with an investor's particular portfolio.