24 January 2023
Annual market review: Fine wine continued to deliver market leading performance in 2022
Our newly launched Cult Wines Global Index forms a benchmark measurement of the global fine wine market. The Index is made possible through our partnership with Wine-Searcher, which allows us to analyse 200K global prices every month to give you a fully independent, in-depth view of current wine prices. Together with our Cult Wines Regional Indices, the Cult Wines Global Index improves transparency of fine wine pricing trends to form the most comprehensive view of the global market. Here, we report how the Indices ended 2022 on a positive note.
Fine Wine Market Snapshot - December 2022
Fine wine markets remained healthy into the year's end despite the ongoing economic concerns and volatility in wider financial markets. Throughout the year, fine wine prices maintained an upward trajectory, displaying relative immunity to a volatile macroeconomic environment. Fine wine finished the year with a 20.54% annual return, as measured by the Cult Wines Global Index outperforming both traditional financial assets and alternative assets like Gold, which ended the year with a 1.55% return.
Macro Market Snapshot - December 2022
The positive returns for fine wine contrast with steep losses in many global equity and bond markets, with some equity indices posting their worst years since the Global Financial Crisis. Traditional 60-40 portfolios suffered from volatility amid multi-decade inflation highs, soaring energy prices, deteriorating economic growth and geopolitical tensions. Demand for fine wine remained healthy throughout the challenging 2022, and many investors will likely continue to seek real assets such as fine wine in 2023 and beyond as inflation remains elevated in many countries.
2022 was a difficult year for the S&P 500, as the index was down 18.11% - its worst year since 2008's -38.49%
The FTSE 100 eked out a modest gain, ending the year 4.70%
An early Q4 recovery in both stocks and bonds stemmed from an easing of inflation in the US

*Fine wine = Cult Wines Global Index; **US Treasury Bonds = iShares 7-10y US Treasury Bond Index
Volatility = Rolling 3-year standard deviation of monthly returns
Source: Wine-Searcher, Investing.com as of 31 December 2022. Past performance does not guarantee future results.
Italy and US deliver strong returns in final month of the year
The Cult Wines USA Index enjoyed a late-year surge with a 2.62% jump in December on its way to a 15.99% annual mark. This was driven by:
US heavyweights like Dominus, Mayacamas, and Verite's Le Desir
Increased visibility of high-quality fine wine in Oregon and lesser-known AVAs in California
Following USA, the Cult Wines Italy Index returned a gain of 0.94% in December, after taking a back seat in 2022 to Burgundy, Champagne and the USA. Italy's improvement at the end of the year stemmed from:
Excellent wine quality
Good value in the current market
Bordeaux prices declined slightly. This most established segment of the market has seen slower performance over the past year. Cult Wines Rest of World Index also edged lower in December.
Cult Wines Indices Performance Figures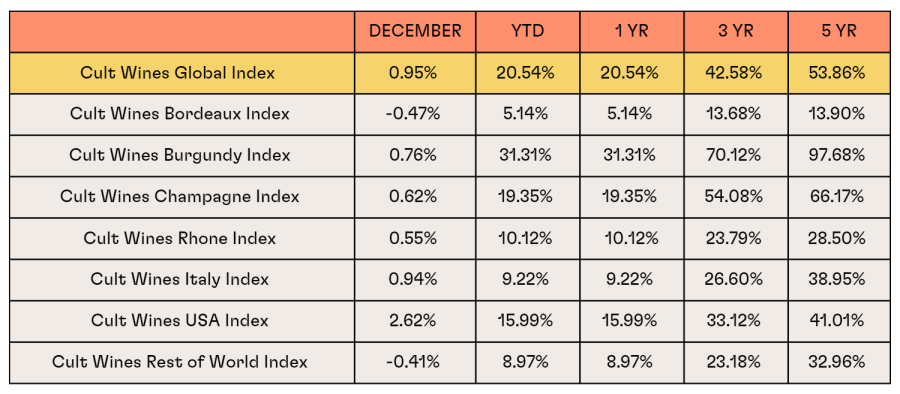 Source: Pricing data from Wine-Searcher as of 31 Dec 2022. Past performance is not a guarantee of future results.
Champagne ends strong but Burgundy remains king of 2022
Cult Wines Burgundy Index's 31.31% annual gain made it the top performing region in 2022. Seasonal buying before the holidays may have helped keep the momentum going in Champagne which posted a 19.35% annual mark, second only to Burgundy.
Cult Wines Global Index and Regional Indices Q4 and 2022 returns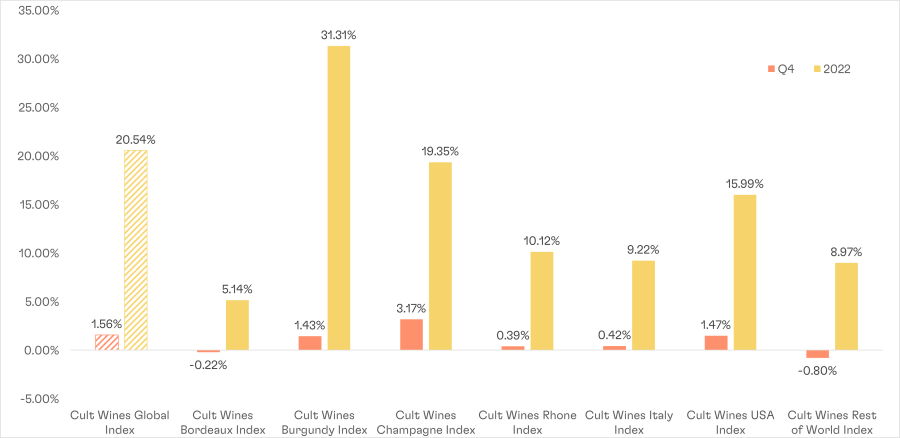 Source: Wine-Searcher as of 31 Dec 2022. Past performance is not a guarantee of future results.
---
The Cult Wines Global Index can be viewed on CultX.com, the next generation digital trading platform at CultX.com/indices.