*Map Source: Compte Liger-Belair
Domaine du Comte Liger-Belair, La Romanee
Originally founded in 1815 by the first General Liger-Belair, Domaine du Comte Liger-Belair has taken on different forms over the past 200 years as a result of family disagreements, France's complex inheritance laws and conflicting priorities. Having been dismantled during the 1933 Vosne Romanee auction (the estate lost ownership of La Tache to DRC), the Priest Just Liger-Belair was able to purchase La Romanee, Les Chaumes and Aux Reignots in order to keep them in the family.
Up until 2002, the grapes were originally sold on to négociants and bottled under various labels, and then from the 70s, Domaine Bouchard Pere et Fils bottled the flagship Grand Cru, La Romanee, under their label. From 2002 onwards, Louis Michel decided to take over the family domaine and once again bottle the family wines under their own label.
Almost 20 years on, the Domaine produces 15 cuvees spread over the villages of Vosne-Romanee, Flagey-Echezeaux, Nuits Saint Georges and Vougeot. three of their climats are monopoles (a "cru" belonging to or managed by a single Domaine).
Their flagship wine is the La Romanee which occupies an enviable two-acre plot of land next to Romanee-Conti. Romanee-Conti consistently ranks as the most expensive wine in the world (based on the average list price via wine-searcher) and it is no surprise to see La Romanee from Liger-Belair now placed up at 12th in the list.
Key Points:
The Flagship wine from Domaine du Comte, Liger-Belair
La Romanee is a monopole vineyard that is situated directly next to Romanee Conti.
Extremely low production; less than 300 cases produced each year
Average 5 year growth of 133% across all vintages (2002-2013)
200-year family history within the estate which has returned to previous glory.

Resurrected by current winemaker Louis-Michel, who is the 7th Comte of the Liger Belair family.

CW Comte Liger Belair Index showing +180% since August 2014
Extremely restricted supply with strict agency distribution on first release

Careful buying strategy into back vintages still yields significant returns

Average value ratio of 0.27 versus Romanee Conti (vineyards are only separated by a small path)
The key to buying La Romanee now is the relative value in comparison to other the top level Burgundy producers. Although Louis-Michel has only been making wines since 2002, they are already being compared to DRC and Leroy, and the fact that he was tutored by Henri Jayer this should be no surprise.
The La Romanee vineyard is situated directly next to Romanee-Conti (see map) so it is only natural that collectors and critics alike have begun to compare the two wines.
The table below shows the average price ratio between the two, which still stands at an average of 0.27 and signifies good value is still present in La Romanee versus its older, more established neighbour.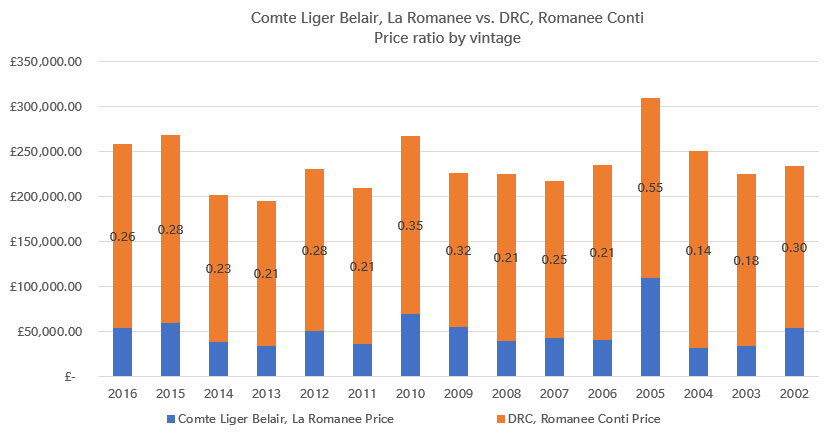 *the Price Ratio is the loose measure of value between two wines.
The chart above displays the price ratio between Liger Belair, La Romanee and DRC, Romanee-Conti. Best value vintage with a ratio of 0.14 is the 2004 (both scored similarly at 93 & 94 respectively from Allen Meadows). The worst value vintage at a 0.55 ratio is the 2005.
It is also important to note that the annual production of Romanee Conti is 600 cases per year, and in contrast 300 cases are produced by Liger Belair. the increased scarcity coupled with the lower prices have continued to accelerate the growth rates of La Romanee ahead of Romanee Conti. The table below shows the 5-year performance rates for each monopole, with the La Romanee outperforming the average 5 year return by 33%.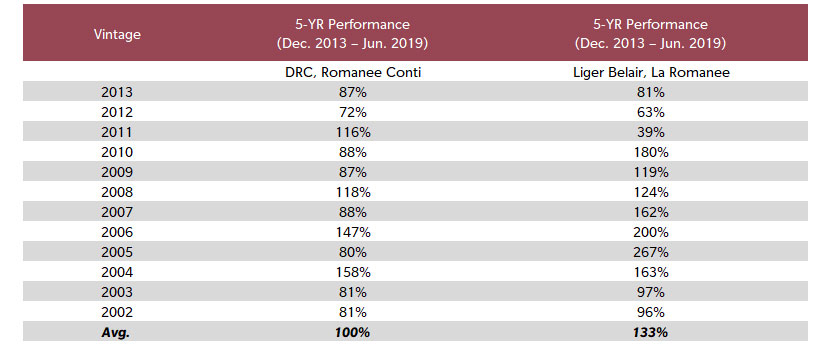 *data taken up to 2013 vintage to show 5 year growth