Wine Advocate (WA): revisiting Bordeaux 2010
For wine investors, critic score is an important source of information about future growth expectation, especially with Bordeaux which has a long history of scoring and ratings by multiple wine critics. However, no one has influenced the wine market more than US critic Robert Parker (RP) from the Wine Advocate.
Parker's 100-point scoring system has long been considered as one of the most influential factors for Bordeaux as a quality benchmark. He started covering Bordeaux in 1978 and particularly since the landmark 1982 vintage, his influence on the wine market has been virtually unchallenged for 35 years. However, the retirement of Robert Parker may have led to a decreased correlation between The Wine Advocate scores and prices. Do the WA score & reviews still have the same impact on price without Robert Parker, especially with a benchmark vintage such as 2010?
To find out more, we reviewed the price changes of the Bordeaux 2010s that were recently re-scored by The Wine Advocate. In this review, we also took explicit account of opinions from other important wine critics, such as Vinous's Neal Martin, in assessing the market's reaction to rescoring.
Both 2010 and 2009 are considered as exceptional Bordeaux vintages and were highly applauded by not only wine critics but also experienced wine collectors. A year ago, we reviewed the rescoring for Bordeaux 2009 following the 10-year on tasting. Now, it is time to discover what the market reaction is to this year's Bordeaux 2010 horizontal tastings.
The 2010 vintage was released in 2011 and bottled in 2013. At the time, Parker awarded seven wines the perfect 100 points. In 2020, Bordeaux 2010 were re-scored by many wine critics including Lisa Perroti-Brown, who succeeds Parker (amongst others) at The Wine Advocate. There have been some changes in the ranking and scores. To sum up, a total of 10 wines were awarded the perfect 100 point.
Neal Martin (NM) published his scores on 10-year Bordeaux 2010 tasting
In April 2020, Neal Martin published his tasting results for the Bordeaux 2010 horizontal tasting, which took place in February. In the report, he describes 2010 as a fascinating and highly revered vintage for Bordeaux.
Please see the summary below for scores of the top-scoring Bordeaux 2010s from WA (LPB) and Vinous (NM)- we have compared their current prices to prices prior to the score announcement. It is worth noting that Chateau Latour 2010 was considered the wine of the vintage, consistently scored 100pts by these three influential wine critics. Despite perfect scores, Latour's 2010's market price has come down by 2.4% since the rescoring. The market price of Latour 2010 now is at £10,375 per case, 5.6% lower than its Ex-London release price, according to Liv-ex.
List of selected Bordeaux 2010 wines: WA scores and Vinous scores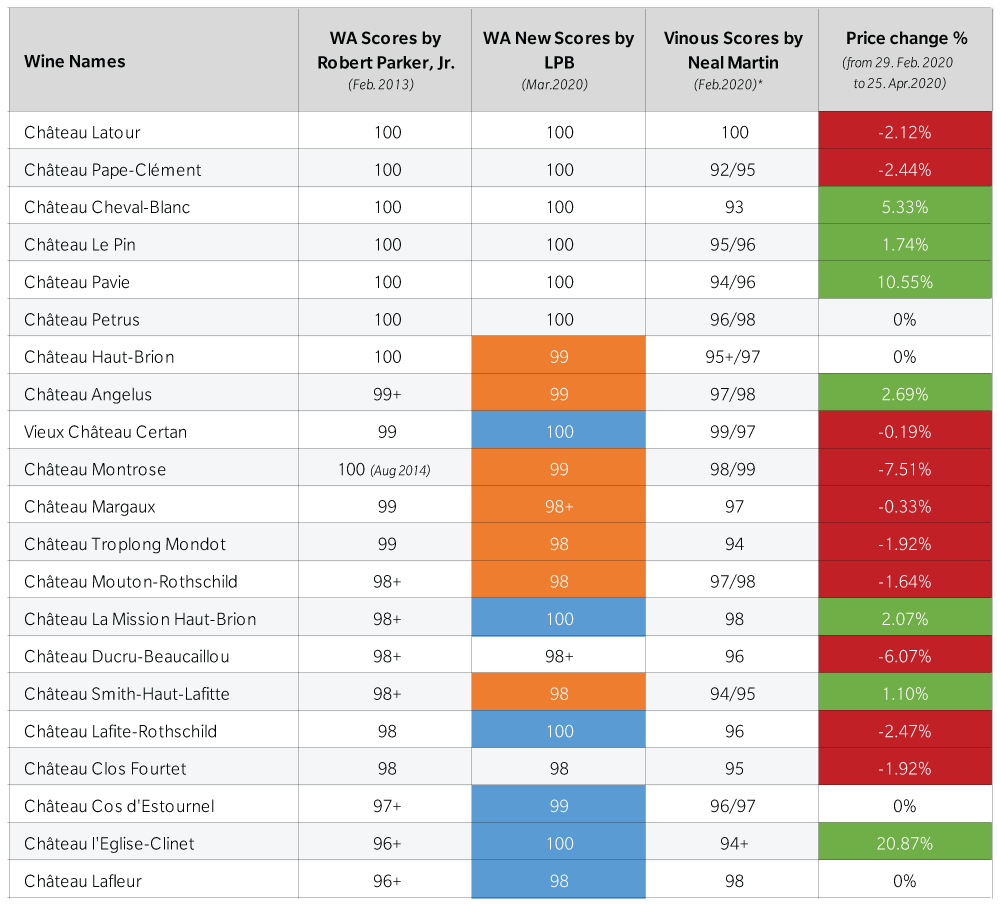 *Feb.2020 - Neal Martin attended two "10 year on Bordeaux 2010" horizontal tastings and scored different bottles. We provided both scores.
Please note that wines that have been upgraded are highlighted in Blue, while wines that have been downgraded are highlighted in Orange.
Robert Parker scored Chateau Montrose 99 points in Feb 2013, but upgraded the score to a perfect 100 points in August 2014.
From the table, there are a few wines that have seen their prices greatly improved due to the upgrade. For example, the most notable one is Chateau L'Eglise Clinet, which was upgraded to 100 points by LPB, has jumped over 20% in price since the rescoring. However, based on the above, it is reasonable to conclude that the new scores from WA have had limited impact on the market irrespective of some significant score moves.
One could read this in two ways: 1) the fine wine scoring system has yet to find its mark following Parker's exit from the game, and the influence of the WA without RP is not powerful enough to trigger major market movement. It might take a score consensus amongst key critics such as Neal Martin, James Suckling and Jancis Robinson for the price of a wine price to move; 2) the other explanation might be that RP scores are gospel and that any re-scoring from his original assessment has limited value. His influence on past vintages scored by him still prevail and might never be challenged.
What do wine critics say about Bordeaux 2010?
Château Latour 2010
"The 2010 Latour is conspicuously deep in colour. It has an intellectual, intense and captivating bouquet with mineral-rich black fruit, graphite and crushed rose petal scents. Utterly spellbinding. The palate is the real deal. Heavenly balance, perfect acidity with seamlessly integrated new oak, there is an enthralling crescendo towards a finish that is simply as good as Bordeaux gets. Impeccable. Tasted blind at Farr Vintners 10-Year on Bordeaux horizontal."

Neal Martin, 100 points, April 2020
"The 2010 Latour is deep garnet in colour, and—WOW—it erupts from the glass with powerful crème de cassis, Black Forest cake and blackberry pie scents plus intense sparks of dried roses, cigar boxes, fragrant earth and smoked meats with aniseed and crushed rocks wafts. Full-bodied, concentrated and oh-so-decadent in the mouth, it has a firm, grainy texture and lovely freshness carrying the rich, opulent fruit to an epically long finish. It is incredibly tempting to drink now, but I suspect this hedonic experience isn't a scratch on the mind-blowing, otherworldly secrets this time capsule will have to reveal given another 7-10 years in bottle and continuing over the following fifty years++."

Lisa Perrotti-Brown, 100 points, March 2020
"Full-bodied, rich and densely packed with perfumed black fruit layers, it has a rock-solid backbone of fantastically ripe, grainy tannins and beautiful freshness, finishing very long and minerally. Still very youthful!"

Lisa Perrotti-Brown, 100 points, March 2020
"The wine is very impressive, not as fleshy, flamboyant and massive as the 2009, but nevertheless, a big, rich, full-throttle Lafite Rothschild meant to age a half century or more."

Robert Parker, 98 points, May 2011
"Full-bodied, the palate is beautifully poised with a firm line of exquisitely ripe, fine-grained tannins and fantastic freshness bolstering the generous fruit, finishing very long and very, very classy. Collectors fortunate enough to have a few bottles of this vintage are advised to be patient and allow it a further 7-10 years to loosen-up and emerge gloriously from this rock-solid structure."

Lisa Perrotti-Brown, 100 points, March 2020
"The 2010 reminds me somewhat of the pre-1975 Petrus vintages, a monster-in-the-making, with loads of mulberry, coffee, liquorice and black cherry notes with an overlay of enormous amounts of glycerine and depth. Stunningly rich, full-bodied and more tannic and classic than the 2009, this is an awesome Petrus , but probably needs to be forgotten for 8-10 years. It should last at least another 50 or more."

Robert M. Parker, Jr, 100 points, Feb. 2013
Château Cheval Blanc 2010
"Full-bodied, the palate is a full-on atomic bomb waiting to go off, with very tightly coiled, slowly maturing black fruits eking out glimpses of a vast array of nuances. Still very youthful, it finishes with an incredibly persistent, jaw-dropping display of earth and mineral fireworks. I'd leave this one for another 5 years and drink it over the next 50."

Lisa Perrotti-Brown, 100 points, March 2020
"The 2010 is one of the most impressive two-year-old Cheval Blancs I have tasted in 34 years in this profession. The final blend of 54% Cabernet Franc and 46% Merlot has the tell-tale berry/floral nose with subtle hints of menthol, blueberry, raspberry and flowers in addition to some forest floor and a delicate touch of lead pencil shavings. The wine exhibits more structure and density than it did from barrel, and it was already remarkable then. I like the description from the estate's administrator, Pierre Lurton, who said it tasted like "liquid cashmere," a perfect expression, despite the wine's structure and intensity. This is another 50-year wine from this amazingly structured, rich vintage."

Robert M. Parker, Jr. 100 points, May 2011
Château Pape Clement 2010
"Deep garnet in color, the 2010 Pape Clement comes wafting sensuously from the glass with fragrant notions of dried roses, Chinese five spice and sandalwood over a core of kirsch, warm cassis and plum preserves plus a touch of cedar chest. Medium to full-bodied, the palate is finely crafted with a firm line of ripe, grainy tannins and bold freshness supporting the perfumed fruit through the incredibly long finish."

Lisa Perrotti-Brown, 100 points, March 2020
"I certainly underrated the 2010 Pape Clement from barrel, rating it only 93-95+. (Thank God I put a "plus" there!) Having tasted it four times in Bordeaux and rating it perfect three times and 99 the fourth time, this final blend of 51% Merlot, 47.5% Cabernet Sauvignon, and 1.5% Petit Verdot is perfection in a bottle. It is a rich, full-throttle wine, but the elegance and the great terroir of Pape Clement come through in abundance."

Robert M. Parker, Jr, 100 points, Feb. 2013
Château L'Eglise Clinet 2010
"Full-bodied, concentrated and wonderfully decadent, the palate is absolutely packed with rich, ripe black fruit preserves and loads of spicy sparks, framed by super ripe, super plush tannins, finishing very long and decadent. I love the interplay of subtly and power here - this is truly a WOW wine!"

Lisa Perrotti-Brown, 100 points, March 2019
"The 2010 l'Eglise-Clinet was harvested from 20 to 27 September and matured in 80% new oak. It has a magnificent bouquet with multi-layered red and black fruit, black truffle, a hint of clove and bay leaf, just a nose that is "vrai Pomerol". The palate is medium bodied with fine, chalky tannin. There is impressive depth here, a firm grip in the mouth, although it has softened (a little) since I last tasted it. What I adore is the symmetry of this 2010, the tension and the energy conveyed by the finish. That said, it is nowhere near ready and requires several years in bottle before it reaches its drinking window. Behold a titan of a Pomerol."

Neal Martin, 98 points, July 2019