Artisanal, small-batch with a close connection to people and place - Grower Champagnes are at the heart of Champagne's rise as an all-occasion fine wine and as a lucrative investment.
Grower Champagnes are producers that make their own Champagne using grapes they grow and harvest themselves from their own vineyards rather than sourcing grapes from multiple farmers across the region, as is common practice among the 'Grand Marque' Champagne houses. This way, Grower producers bring a highly sought-after sense of place to Champagne.
While Grower Champagnes don't always have the same household name recognition as the big Grand Marques, they are rapidly gaining attention from Champagne aficionados and collectors. They also boast excellent investment credentials:
1. Low volumes – Without multiple sources of grapes, Grower Champagne production is limited to what the producer's vineyards can deliver. This means Grower Champagnes come in low quantities, and demand can get very competitive for the best names, driving prices higher.
With climate change potentially disrupting production levels in 2021 and beyond, Grower producers could see volumes hurt more than some of the bigger houses as they have less options for blending. This could only add to the upward price pressure on old and new vintages alike.
2. Terroir-focus – The best wines are one-of-a-kind expressions of the producers' own vineyards. This enhances their status as an exclusive collector or investment item as they gain devoted 'cult-like' followings similar to top-flight Burgundy wines.
Grower Champagnes' unique appeal has helped them produce strong and stable returns with remarkable consistency. The below chart shows top Grower Champagnes have an even more stable track record than the wider Champagne 50 index, which is already one of the more consistent corners of fine wine. The fact that Grower Champagne returns have not quite reached the heights of the big Grand Marques during the 2021 rally could mean there is more room for the rally to continue in the coming months.
Growers - a rock solid investment
Annual return of select Grower Champagnes vs Liv-ex index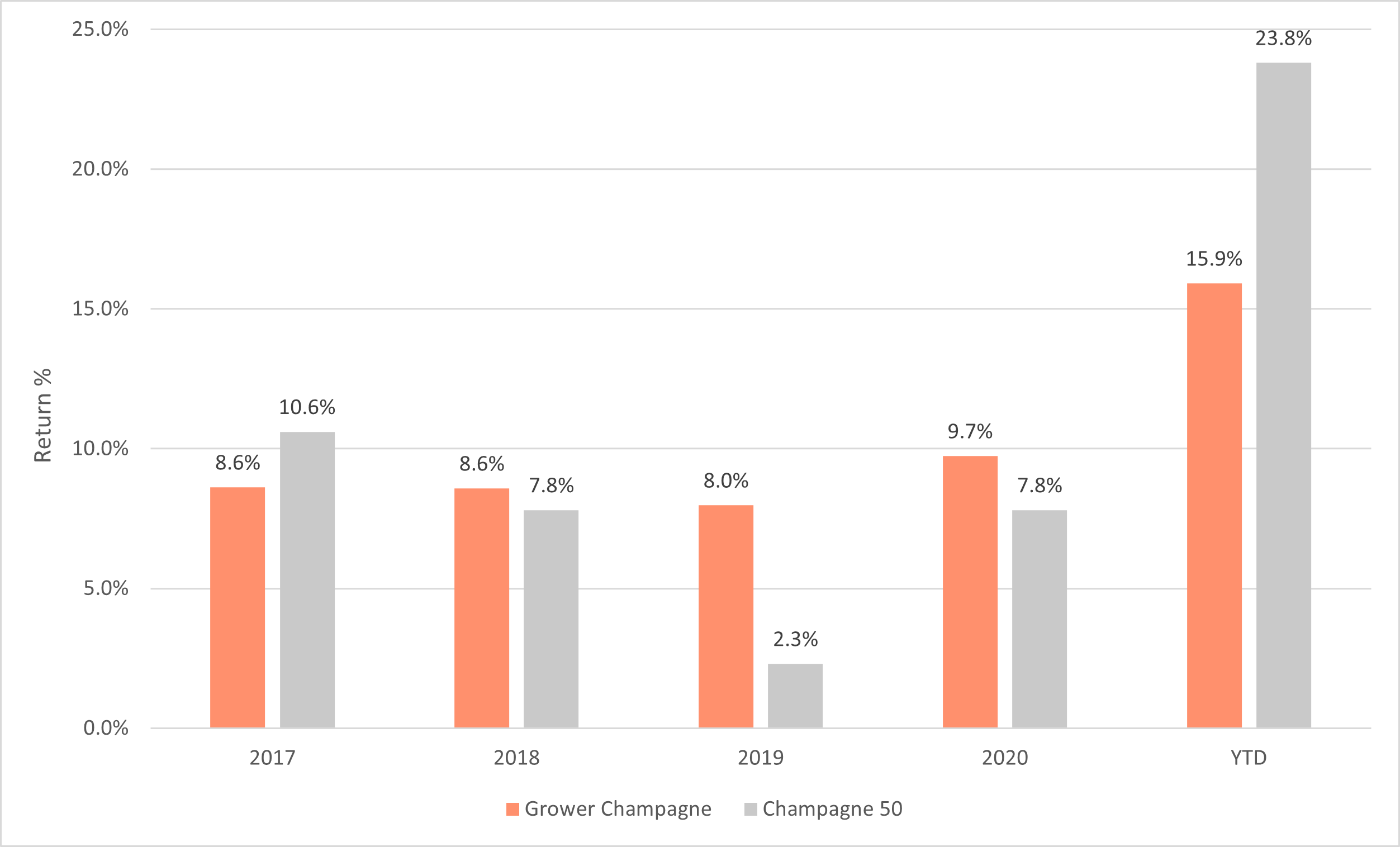 Source: Pricing data from Liv-ex as a of 15 November 2021. Grower returns are averaged across all released vintages (1990-2013) 
of all available wines from Agrapart, Jacques Selosse, Egly-Ouriet.
The different credentials of Grand Marques and Grower Champagnes mean that a healthy investment portfolio should include examples of both. Here is a rundown of some of the top Grower Champagnes:
Agrapart
59.5% - Return across all available vintages (1990 – 2013) since Jan 2016
Founded in 1894, Agrapart is one of the oldest Grower Champagnes. A diverse range of high-quality non-vintage Champagnes (7 Crus, Terroirs, Complantée, and Expérience) complement its outstanding vintage Blanc de Blancs, summarised below:
Minéral Grand Cru – This Extra Brut comes from two sites in the Cramant and Avize villages. Like its name suggests, the terroir's saline chalky qualities shine through. Like many great vintage Champagnes, quality and price tend to rise with age, creating opportunities among more recent vintages, seen in the chart below.
Value in recent vintages
Agrapart Minéral Grand Cru relative value analysis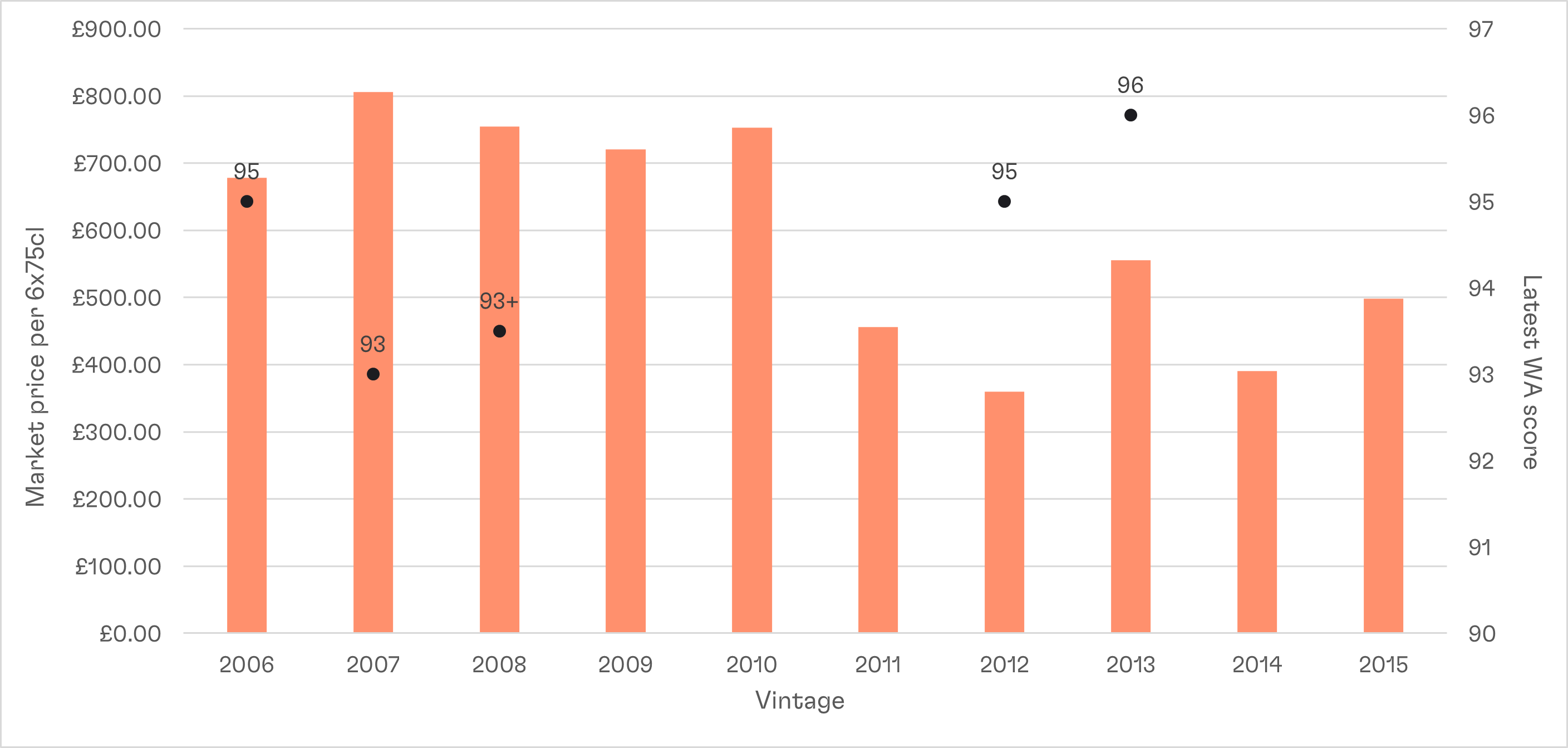 Avizoise Grand Cru – This Extra Brut Grand Cru hails from two sites both in Avize village and is known for its depth and complexity.
Vénus Grand Cru – This Brut Nature (no sugar added as dosage) forms a pure expression of the single named-vineyard (La Fosse) in Avize. With Wine Advocate scores regularly 95 points or above, this is one of the most unique and magnificent Grower Champagnes.
Jacques Selosse
44.0% - Return across all available vintages (1990 – 2013) since Jan 2016
One of the most famous Grower Champagnes, this standout producer is now led by Jacques' son Anselme Selosse, who is a driving force behind the Grower revolution sweeping Champagne.
Jacques Selosse Substance – A Blanc de Blancs from Avize made in the same Solera system used in Sherry production. The base grapes are from 1986 with each new release topped up with that vintage, removing vintage variation allowing the terroir to speak for itself. The July 2019 disgorgement of this wine pulled in a perfect 100 points from Wine Advocate.
Jacques Selosse Millesime – A Blanc de Blancs using grapes from two vineyards in Avize, the Extra Brut 2008 offers a perfect example of the magnificence of that vintage. The 100-point Wine Advocate score said that the "wine meets and indeed surpasses the lofty expectations that Selosse's admirers will have surely have formed for it."
Jacques Selosse Lieux-Dits – The six 'named sites' (Les Carelles, La Cote Faron, Le Bout du Clos, Les Chanterenes, Sous Le Mont and Chemin de Chalons) are incredibly rare single-vineyard offerings and are usually only seen in special collection cases, and unsurprisingly, fetch high prices.
Egly-Ouriet
55.5% - Return across all available vintages (1990 – 2013) since Jan 2016
Egly-Ouriet wines are among the purest Champagnes, as they're typically bottled unfiltered and made with minimal intervention using traditional viticulture and winemaking techniques.
Blanc De Noirs Grand Cru 'Les Crayeres' Vieilles Vignes – Boasting 70+ year-old vines, Les Crayeres is one of the most famed vineyards in the Grand Cru village of Ambonnay. The edition disgorged in spring 2021 blends the 2013 and 2014 vintages and garnered a perfect 100-point score from Wine Advocate.
Grand Cru Brut Millesime - This blend of 70% Pinot Noir and 30% Chardonnay is fermented and aged in oak barrels before extended aging on the lees. Wine Advocated rated the 2008 vintage 100 points while the recently released 2012 fetched 97 points while holding excellent ageing potential - "this is one of the wines of the vintage… With more age on cork, however, I wouldn't be surprised if it began to close in on a three-digit score." (Wine Advocate)
Grand Cru Brut Tradition – Egly-Ouriet's classic cuvée, this Pinot Noir-led wine is made from the producer's parcels in Ambonnay, Bouzy and Verzenay. This serious sparkler is also a delicious food-pairing wine, meaning supplies will typically get drunk quickly.