17 November 2021
Investing in Champagne: What's all the fizz about?
Popping a bottle of Champagne is the perfect way to welcome in the New Year! But the world's most celebrated sparkling wine can also bring much joy for years to come as an investment, as it's generating some of the most impressive returns across the fine wine world. Over the past two years, investment-grade Champagne prices, as measured by Liv-ex's Champagne 50 index, have jumped over 30%. The next highest performing region is Italy with a figure around 19%.
Champagne prices flying high
Liv-ex's Champagne 50 index vs wider fine wine performance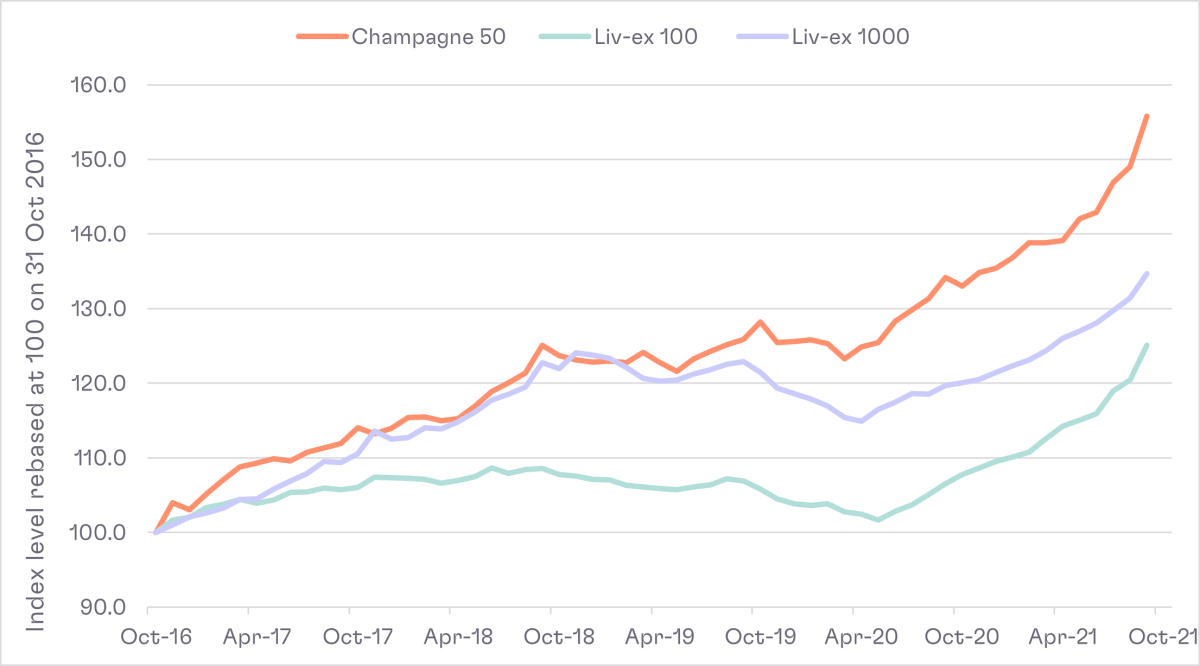 Source: Liv-ex as of 31 October 2021.
This isn't just a one-off event, in our view. Champagne's potential as a growth asset has been bubbling away for some time. We think the following credentials make Champagne an excellent long-term investment option.
Scarcity
Most retail Champagne is non-vintage meaning they are blends of wines from different years. Vintage Champagnes are only produced during years when quality of the grapes is deemed high enough. Even when vintage Champagnes are made, the best producers keep quantities low, making these vintage Champagnes a rare commodity.

This scarcity underpins their investment potential. Although true of all fine wine, Champagne's status as a celebration drink can mean supplies at the top end of the market dwindle with more regularity as bottles are drunk, causing prices to rise consistently over time. For those that can resist the urge to pop the cork at the next special occasion, the long-term rewards can be considerable!

Prestige
Champagne is an icon in the wider fashion and luxury world. Although we love some sparkling wines from other regions (Crémant de Loire and Italian Franciacorta to name a few), Champagne's top names have no rival when it comes to brand recognition and prestige around the world. This means more consistent and widespread demand that typically outstrips the supply.

Quality and longevity
As mentioned, the best producers maintain very high thresholds for making a vintage Champagne. Les Grandes Marques (a group of what are widely-considered the best and most well-known Champagne houses) also typically source their grapes from several sites, meaning they can choose the best depending on the vintage conditions.
Also, bottle ageing is not just a feature of red wine. Vintage and other high-end Champagnes typically evolve beautifully over long lifetimes that rival many top red wines, making them an ideal long-term investment. The notion that Champagne vintages should be consumed young still persists, meaning many Champagnes don't survive to reach their full potential. As a result, those with patience can realise some punchy price appreciation.