20 October 2022
Appreciating Spain: Core group of wines offer big potential
Vega Sicilia, Unico and Valbuena
Bodegas Muga, Prado Enea Gran Reserva
Marqués de Murrieta, Castillo Ygay Gran Reserva Especial
R. López de Heredia, Viña Tondonia Reserva
It's time to start looking more seriously at Spain. Although Spanish wines are often overshadowed in a Franco-Italian centric fine wine map, they offer collectors and investors an ideal trilogy of world-class quality, long lifespans and excellent relative value.
As part of Cult Wine Investment's efforts to stay at the forefront of the market, we've upped our focus on Spain, specifically the Ribera del Duero and Rioja regions.
Good value reduces risk
Let's start with relative value. Spanish wines' relative lack of exposure globally has helped keep prices modest while Burgundy and Champagne markets have skyrocketed. Several wines regularly pull in critic scores in the mid-high 90s to perfect 100s, including Ribera del Duero icons Vega Sicilia and Pingus as well as Riojas from Tondonia and CVNE. But prices for many of these wines remain well below similar or lower-scored wines from core fine wine regions in France, Italy and California. The finest Rioja wines still often sit below £100 per bottle despite decades of ageing potential.
Many Spanish wines are also relatively low-risk investments even though their global market is less developed than other European regions. Instead, the impressive quality-price ratio limits the downside to prices. Cult Wine Investment's Spanish selections have posted steady growth in recent years, leading to an 8.6% compound annual growth rate since we started purchasing in April 2014 (as of 30 September 2022).
Spanish market gaining momentum
Cult Wine Investment's Spanish wines since inception*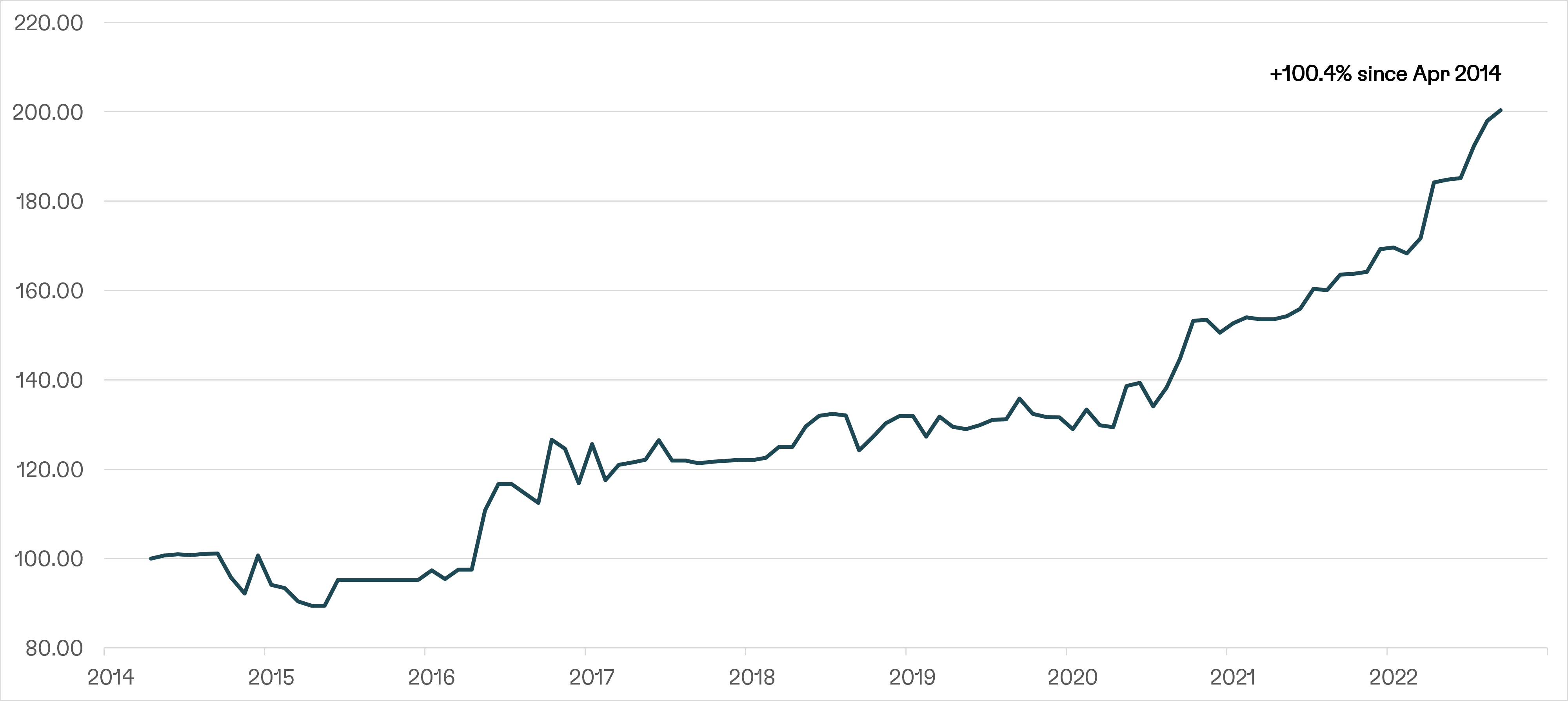 Inception = April 2014 when we began purchasing Spanish wines. Source: Pricing data from Liv-ex as of 30 September 2022. Past performance is not a guarantee of future returns.
More Spain, more gain
This performance track record is attractive, but we believe some Spanish wines hold even more potential after their relative value advantage increased in the wake of huge price rises elsewhere. This could spur wine consumers, collectors and investors to look toward Spain's top tier wines in increasing numbers, boosting their long-term performance potential.
The chart above shows that growth is already starting to accelerate. According to Wine Searcher data, Pingus and Vega Sicilia Unico have seen 15.6% and 18.4% all-vintage average return over the past year, respectively. The average price increases for CVNE Imperial Gran Reserva (25.5%) and Viña Tondonia Reserva Tinto (23.7%) are even higher while Marqués de Murrieta, Castillo Ygay Gran Reserva has jumped an eye-catching 47.6% (worldwide average prices). Although these figures don't match the headlines of top tier Burgundy and Champagne, they indicate a potential accessible investment opportunity.
Terroir talks
Recent years have seen a greater emphasis on terroir, which improves the wines' investment credentials. The traditional practice in Rioja and Ribera del Duero of blending from across an estate's vineyards can reduce the draw of an individual wine due to a greater homogeneity across producers and vintages. However, producers are increasing attention on individual vineyards from where wines are sourced. Winemaker Telmo Rodriguez champions the importance of showcasing terroir in Rioja and Ribera del Duero, and his wines remain a leading light in the field.
The Rioja DOCa helped by introducing a "Viñedos Singulares" category in 2017 that recognises over 100 specific vineyards and allows producers to name them on labels. These wines are just starting to hit the market (the best examples are still a few years away) but should boost market awareness of the region's best sites. Rioja terroirs have a long way to go before reaching the stature of Burgundy or Piedmont but this shift means consumers will gradually start to target individual wines and vintages, which can boost demand.
Top Ribera del Duero and Rioja wines:
The investment-grade fine wine market in Ribera del Duero and Rioja remains smaller and more concentrated than leading French, Italian, and US regions. Here we highlight a core list of producers positioned to be the main beneficiaries from the growth of the regional market.
Dominio de Pingus, Pingus
98.4 points – average Wine Advocate score across last five vintages
Pingus is a relative newcomer to Spain's very traditional wine scene. Founded in 1995 by Peter Sisseck, a Danish oenologist with Bordeaux experience, it didn't take long for the estate to find favour with leading critics. Wine Advocate scored it 100 points in 2004 (Jay S Miller) and has handed out four more perfect scores (2012, 2014, 2016, 2018 - Luis Gutiérrez) since then with the 2021 potentially joining (current 98-100 points).
Pingus specialises on small parcels of old vine Tinto Fino (rather than cuttings from Rioja's Tempranillo). The top wine is the eponymous Pingus, which comes from two small vineyards planted in 1929. Pingus typically produces only around 500 cases per vintage.
Although Pingus wines are the most expensive among those highlighted in this article, there is still value to be found. The below vintage map shows secondary market pricing discrepancies among similarly-rated Pingus wines. The 2010, 2015 and 2017 vintages appear attractively priced in the current market, while the most recent 100-point vintages – 2016 and 2018 – look particularly appealing. The fact that these are the two most recent perfect scores suggests their value will likely catch up to the earlier 100-point wines with time.
Value on Pingus' vintage map
Price and Wine Advocate score of Pingus back vintages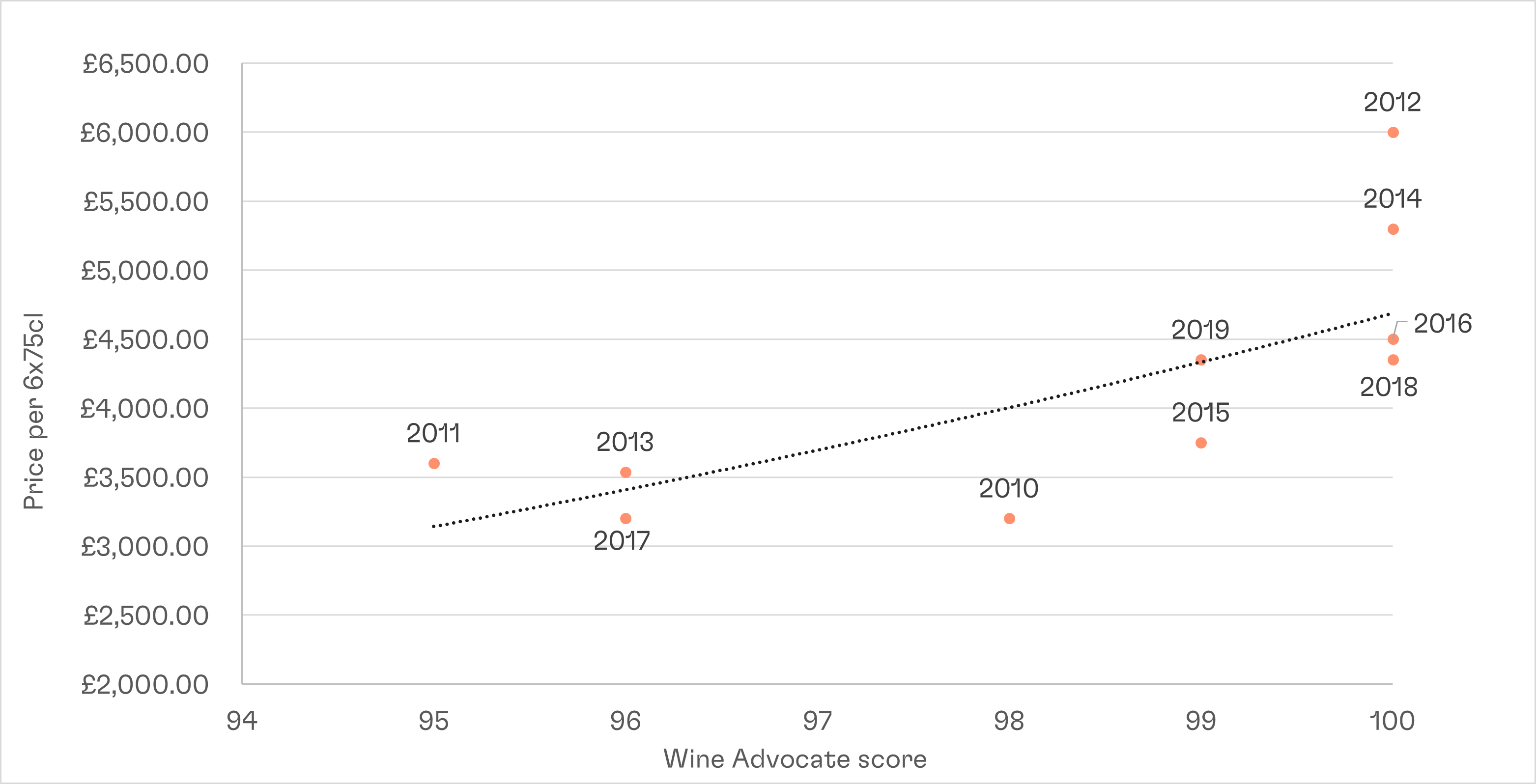 Source: Pricing data from Liv-ex as of 18 October 2022.
Vega Sicilia, Unico and Valbuena 5⁰
96.6 points – Unico average Wine Advocate score across last five vintages
95.6 points – Valbuena average Wine Advocate score across last five vintages
From the Ribera del Duero region, Vega Sicilia is a benchmark name in Spanish fine wine. Its range of fine wines bring with it more than 150 years of history and showcases the full potential of the Tempranillo variety.
Its top wine – Unico – undergoes one of the longest pre-release ageing processes of any wine, including six years in a range of barrel types and around four years in bottle, meaning the 2011 is the latest vintage in the market. The wines are uniquely complex, luxuriously smooth and come in small quantities – usually under 90,000 bottles plus a few thousand large formats. Much of the stock goes to long waitlists, meaning it is always one of the most difficult to source Spanish wines.
Some might call Valbuena the estate's 'junior' wine but with around five years of pre-release ageing, this too is serious and complex. Production levels are higher but still restrained with only a little over 170,000 bottles of each vintage.
Bodegas Muga, Prado Enea Gran Reserva
96.2 points – average Wine Advocate score across last five vintages
Prado Enea Gran Reserva is the pinnacle of the great lineup of wines from Bodegas Muga, a traditional family-run estate. Typically around 80% Tempranillo with some Grenache, Graciano and Mazuelo (Carignan), the Prado Enea vineyards are at some of the highest altitudes in Rioja Alta near the villages of Sajazarra, Cellorigo and Fonzaleche. This allows for slow, consistent ripening.
The Gran Reservas are only produced during top vintages and see extensive pre-release ageing - three years in French and American oak before another three years in bottle before release.
The wines appear to have achieved a new standard of consistency; the five most recent releases (2006, 2009, 2010, 2011, 2015) hold Wine Advocate scores of 96 or 97 points.
CVNE, Imperial Gran Reserva
94.3 points – average Wine Advocate score across last five vintages
CVNE is one of Spain's biggest producers with several different wineries under its umbrella, but Imperial stirs the passions of fine wine devotees. Imperial boasts its own dedicated winery and winemaking team within CVNE's facility in Haro that focus on top-quality, low-volume production with the best grapes from CVNE's Rioja Alta vineyards.
Imperial only makes Gran Reservas in certain vintages and keeps production at 50,000 bottles.
Marqués de Murrieta, Castillo Ygay Gran Reserva Especial
96.3 points – average Wine Advocate score across last five vintages
Another old Rioja producer, Marqués de Murrieta's history goes back to 1852 and remains closely tied to traditional methods. The estate produces a range of wines from its special enclave of the La Rioja Alta appellation near the town of Logrono.
The flagship wine, Castillo Ygay Gran Reserva Especial, is made with Tempranillo and Mazuelo from an individual vineyard and sees extended barrel ageing before bottling. Typically, less than 135,000 bottles are produced, and they enjoy long lifespans. Wine Advocate (Luis Gutiérrez) recently handed out a 100-point score to a handful of Castillo Ygay back vintages from as far back as 1904 and 1919.
R. López de Heredia, Viña Tondonia Reserva
94.8 points – average Wine Advocate score across last five vintages
One of Rioja's best-known names, R. López de Heredia's history goes back to 1877 with the Tondonia vineyard taking shape in 1913 on the banks of Ebro River in the Rioja Alta sub-region. The family-owned estate preserves the prestige of Tondonia by only making Gran Reservas in the most exceptional vintages in small quantities of 25,000 bottles or less. These icons are true collectors' pieces and, hence, have excellent investment potential.
The rarity of the Gran Reservas pushes demand toward the Reservas, which still consistently pull in critic scores in the mid-high 90s. With prices typically between £50-100 per bottle, Reservas are low-risk investments with a track record of steady appreciation.
A discussion of Tondonia should also highlight its iconic white and rose wines. Both are true unique fine wines as they favour traditional Rioja styles of oak ageing and slight oxidation. Like their red counterparts, they have long ageing ability.
Remelluri, YJAR
Telmo Rodriguez is a Spanish superstar winemaker and an enthusiastic advocate for the importance – and greatness – of terroir in Spanish wine.
Telmo has several amazing projects across his Rioja homeland, Ribera del Duero and further afield. His latest, YJAR, comes from an old vineyard in Rioja Alavesa that Telmo has rejuvenated after a period of decline. YJAR's first vintage was 2017 and reaped 96 points from Wine Advocate while the latest 2018 release pulled in 96+ points. YJAR is the first Spanish wine distributed via La Place de Bordeaux, which should boost its global profile.
---
* Past performance is not indicative of future success; the performance was calculated in GBP and will vary in other currencies. Any investment involves risk of partial or full loss of capital. The Cult Wine Investment Index is a hypothetical tool. The results depicted here are not based on actual trading and do not account for the annual management fees that may be charged to a Cult Wine Investment customer which range from 2.25% to 2.95% depending on the size of the portfolio, and there is no guarantee of similar performance with an investor's particular portfolio.