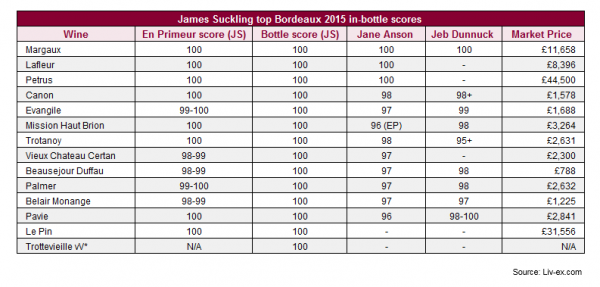 Just a week after Jane Anson and Jeb Dunnuck revealed their first look at Bordeaux 2015's in-bottle scores, James Suckling has released his in a report titled Bordeaux is really back with 2015. In it, he calls the vintage "a new benchmark for Bordeaux" and awards no less than 14 perfect scores – the highest ever for a Bordeaux vintage in his publication.
Suckling compares Bordeaux 2015 to the 1970, 1971 and 1985 vintages, noting that they "all share the same balance, structure and freshness". He adds that "for many, the 2015s will be a new experience in top-class Bordeaux".
Like Anson and Dunnuck, Suckling awarded Margaux 2015 – which he describes as a "haunting young wine" – a perfect 100-point score, calling it "the 1961 that didn't happen". He also confirmed Anson and Dunnuck's opinions of Chateau Lafleur and Petrus, scoring them 100 points apiece. His other favourites can be seen in the table above.