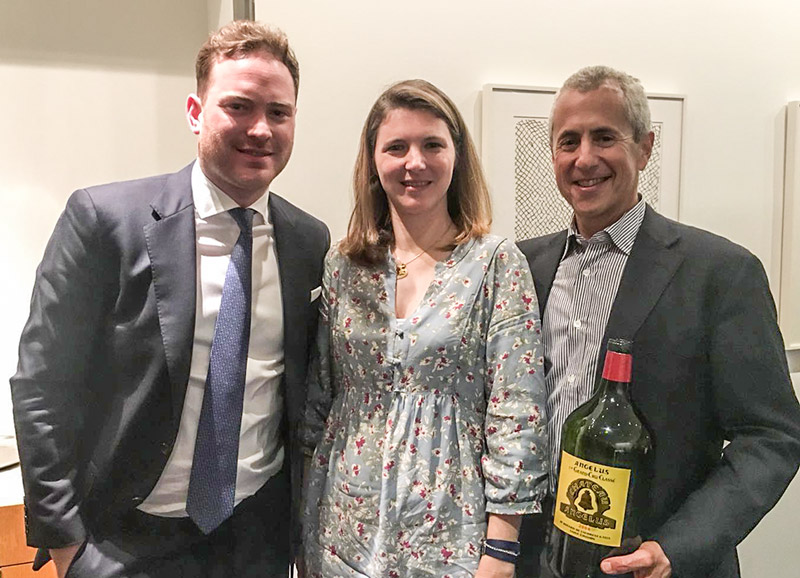 Tom Gearing, MD Cult Wines, Stephanie de Bouard-Rivoal, Executive MD Chateau Angelus, Danny Meyer, CEO Union Square Hospitality Group
On May 24th at the two-star Michelin Modern Restaurant overlooking the gardens at The Museum of Modern Art (MoMA) in New York, Cult Wines hosted a fine wine dinner hosted by Stephanie de Bouard-Rivoal, the Executive Managing Director of Chateau Angelus. Stephanie's family have owned the estate since 1782.
Guests enjoyed the 2012 and 2014 vintages of Le Carillon d'Angelus and the 1998, 2004, 2009 and 2011 vintages of the grand vin, Chateau Angelus, and ended the evening with Klein Constantia, vin de Constance 2013, a South African estate partly owned by the Angelus family. Around 30 guests enjoyed the surroundings, wine, food and presentation of the Estate and left with a deeper understanding of the history and greater appreciation of one of the finest wines from the Saint-Emilion appellation.
Carillon d'Angelus 2014
Ripe red fruits intermixed with a touch of vanilla/cocoa (oak?). Good depth of flavour and weight on the palette. Approachable now, but better left for a couple more years. More impressive than the 2012, and clearly quality is going up. 90+ pts
Carillon d'Angelus 2012
Open and approachable, this is very drinkable right now. The fruit feels a little more evolved that the 14, softer on the palette with nice roundness and a fresh finish. Darker fruit and cherry. 88 pts
Angelus 2011
Enticing nose of dark fruits with a hint of mocha/toast. Not the most concentrated or complex, but the mouthfeel is super fine and soft, juicy and well balanced. Med length finish. Nice to drink now but will age well over the next 10 years. 92 pts
Angelus 2004 (double magnum)
Classic Bordeaux nose, with pure cassis and spicy woody notes leaping out of the glass. Clearly more developed than the 2011 it was served alongside. This paired very well with our chicken with morels and truffles. The wine's earthiness, dark fruits and spices matched perfectly. Good structure, lovely texture. For me an over-performer for the 2004 Bordeaux vintage, and a wine worth seeking out to drink now and over next decade. 94 pts