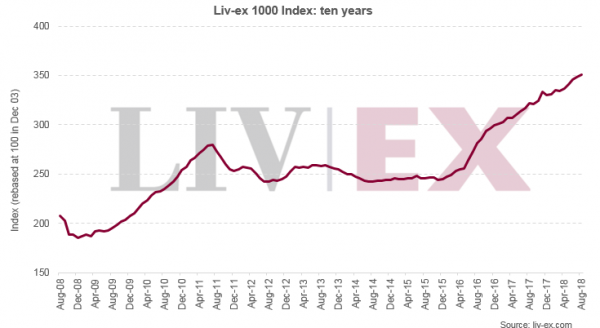 While the Liv-ex 100 ran largely flat last month, the Liv-ex 1000 index – the broadest measure of the market – gained 0.8% in August to close on 350.7. This is a new record high for the index, which is now up 6.2% year-to-date.
Within the overall index, the Burgundy 150 remains the best-performing sub-index, followed by Bordeaux Legends 50, up 15.60% and 8.57% respectively, year-to-date. In August, however, the Rest of the World 50 rose by 1.5%, outperforming all other indices – the Burgundy 150 and Bordeaux Legends 50 saw monthly growth of just 0.77% and 1.30% respectively.
The Italy 100, despite some growth in the previous month, has fallen back to its position of worst perfomer, down 0.85% year-to-date and down 2.06% in August specifically.