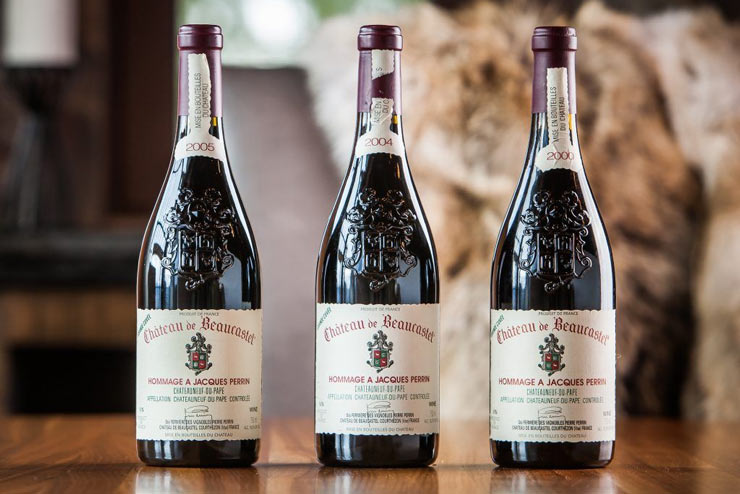 Over the last four months, the Rhone's market share has increased month on month from 1.85% to 6.7% of total volumes traded on the Liv-Ex Fine Wine Exchange, which is another significant shift in the composition of regional trading, like we saw with investment grade Champagne over the Summer. With price increases in areas such as California & Burgundy it's inevitable that consumers will continue to search for relative value in the market.
As we continue to further diversify portfolios and stay ahead of the curve we are encouraging all of our existing clients to increase their exposure to the wines of The Rhone Valley.
With this in mind we have an attractive position across multiple vintages of one of Chateauneuf du Pape's leading and most iconic wines; Chateau Beaucastel's Hommage a Jacques Perrin.
Rhone Valley Overview
Increased Demand:
Undervalued:
historically, the prices for top wines of the Rhone Valley were always on par with the Bordeaux 1st Growths and most of the top Burgundy producers. However, prices of the top Rhone wines have remained relatively flat for the last 20 years.
Highly Rated:
quality/ratings have always been very high for the top Rhone wines, often significantly above the Bordeaux 1st growths.
Price Fatigue:
Burgundy and Bordeaux prices are soaring, moving the more price-sensitive, quality-seeking drinkers into other fine wine regions. The Rhone represents the next, and last, historical French fine red wine region.
The Asia Effect:
the historical lack of price development is likely due to a lack of awareness of Rhone Valley wines in Asia, which was the same case for Burgundy 5-10 years ago.
Restricted Supply:
Limited Producers:
the number of top Rhone producers is less than those in single subregions within Burgundy or Bordeaux, for example Gevrey-Chambertin or Pauillac.
Small Regions:
Hermitage, Cote-Rotie and Cornas have a combined total of 478ha under vine, and only a small proportion of this is used to make investment grade wines. In comparison, the five first-growths of Bordeaux have a combined total of 410ha under vine, the majority of which is used for making their first and second wines.
Small Productions:
only the top wines from a relatively short list of top producers are investments grade, and these wines are made in very limited quantities. Some are not made every year. As a result, the total production of fine wines from the Rhone are roughly less than the annual production of Lafite and Latour.
Given the above, even a small increase in interest in Rhone fine wines will cause a return to par pricing with the top wines from Bordeaux. Moreover, given that the wines are severely under-priced in terms of their ratings and historical values, the risk may the lowest in today's fine wine world. This high Sharpe Ratio makes Rhone a vital part of any investment portfolio.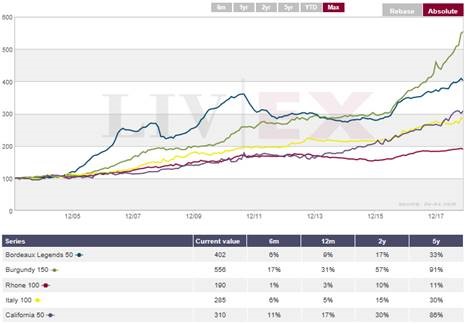 Chateau Beaucastel Hommage a Jacques Perrin is one of the best wines from the Rhone. We are currently feature four vintages: 2016, 2015, 2014, and 2010.

Our buy recommendation on Chateau Beaucastel Hommage a Jacques Perrin is not primarily based on the price performance of past vintages, but rather on the Rhone's high Sharpe Ratio as described above. As Asian consumers move into the Rhone, Chateau Beaucastel Hommage a Jacques Perrin will be one of the first wines they discover.
Background:
from one of the world's greatest wine making dynasties, the Perrin family, this 'Hommage' to the estate's founder, the late Jacques Perrin is a minute production super cuvee from some of their oldest vines. Vintages of this wine make up 10% of the Rhone 100, an index which has for the first time begun to trade above that of the Bordeaux 500- indicative of a transition which is set to bring Rhone wine in line with the Bordeaux & Burgundy markets.
Supply – Limited Production:
approximately 350 cases are made each year, but in difficult years none is made.
Demand – Strong Distribution:
the Chateau Beaucastel is flagship winery of Famille Perrin. They own several other wineries in France, including partnerships with Nicolas Jaboulet and Brad Pitt/Angelina Jolie, and Tablas Creek in the United States. These larger, commercial wineries give them a strong worldwide distribution network. In addition to their direct distribution, Hommage a Jacques Perrin is the first Rhone Valley wine to be distributed by the major Bordeaux wine merchants on the Place de Bordeaux.


Ratings:



Global Wine Score (GWS):
the GWS is an average score of a few of the most reputable wine critics. The GWS scores of Chateau Beaucastel Hommage a Jacques Perrin are far higher than the best of Bordeaux.



Previous 20 years VS Bordeaux:
Hommage a Jacques Perrin's average score is 96.79, which is higher than all the Bordeaux First Growths and Petrus, and 2.66 points higher than the average 20 year score of Lafite (94.12), Latour (94), Mouton (93.34), Haut Brion (94.34), Marguax (94.14), and Petrus (94.84).
Previous 20 years VS Burgundy:
Hommage a Jacques Perrin average score is 0.28 above the average 20 year score of most expensive red wines in Burgundy: DRC Romanee-Conti (98.34), Leroy Musigny (97.22), Roumier Musigny (96.05), Leroy Richebourg (95.75), Liger-Belair La Romanee (94.6)
Best in the Region:
of the 5 top ranked wines from Chateauneuf du Pape, Hommage a Jacques Perrin hold 3 positions.

Top Critics:



Robert Parker:
five vintages with 100 points "it is unquestionably one of the greatest red wines I have every tasted"
Antonio Galloni:
"Beaucastel's Châteauneuf-du-Pape Hommage a Jacques Perrin is one of my very favorite wines"
James Suckling:
"I tasted almost 500 wines while traveling through the region and I found some fabulous wines including one perfect, 100-point Chateauneuf —Château de Beaucastel Chateauneuf-du-Pape Hommage à Jacques Perrin 2016"
*A wine's POP score is its price-over-points ratio, our loose measure of value. It is calculated by dividing the price of a nine-litre case of wine by a shortened 20-point score. We have calculated this 20-point score by simply subtracting 80 from the official rating from The Wine Advocate, on the basis that any wine under 80 points is unlikely to attract a secondary market. In theory, the lower the POP score the better value a wine is.