In the end, as it had done on many occasions throughout its long history, Bordeaux adapted: samples of the wines were shipped to major critics and merchants across the world and we had the shortest En-Primeur campaign ever. Barely a month elapsed between the first major release on 28th May and the last one, at the end of June, when the traditional campaign normally spreads across three months.
Professional buyers and merchants will no doubt remember the 20+ releases a day but what will most probably go down in history is the balance of quality and attractive pricing.
Quality – It is now widely publicised that 2019 is a very good to exceptional Bordeaux vintage which might stand shoulder to shoulder with 2016 and 2018, with impressive results from some of the producers rivalling with 2009, 2010 or 2005.
Prices – Against a difficult economic backdrop trigged by Covid-19, and with Bordeaux wines already experiencing headwinds even before, the success of the EP 2019 was largely determined by the release prices. As mentioned in our EP report, limited number of samples were sent to critics and, with the cancellation of the usual EP week in Bordeaux, some Chateaux responded to the situation by coming to the market with aggressive pricing. Whilst the cut was not uniform across producers and appellations, the overall discount level to 2018 releases averaged 21%.
With the now-recognised quality of vintage 2019, for the first time in 20 years we had the combination of a high scoring vintage with very attractive En-Primeur release prices.
In the end, it was claimed as a successful campaign but beyond the overall quality and the prices: how does Bordeaux 2019 stack up versus other vintages; what is the picture one month on; and what impact did the 2019 campaign have on past vintages?
2019: Quality and pricing
Bordeaux Institute ofVine and Wine Science (ISVV) declared that four and a half of its five pre-requisites for a great vintage, were met in 2019. This means that the best wines from 2019 will be on a par with modern classics such as 2005, 2009 and 2010 and 2016. Winemakers and major critics seem to agree with the ISVV and see 2019 as a vintage with great potential.
Although scores on a stand-alone basis don't tell the whole story about how these wines will perform on the secondary market later on, they do however indicate the overall qualitative attraction of the vintage. Lack of published scores from major critics during 2019 EP was an issue but most are now available.
For consistency purposes, we used Global Wine Scores (GWS) to compare the scores of the 2019's across CW different categories. GWS is an aggregate scoring system that combines the scores of (for Bordeaux 2019 so far) up to 10 leading critics and publications.
As a reminder, CW categorises EP wines based on a series of factors (e.g., classification, price, score…) as shown below (please refer to our Bordeaux EP report for more details).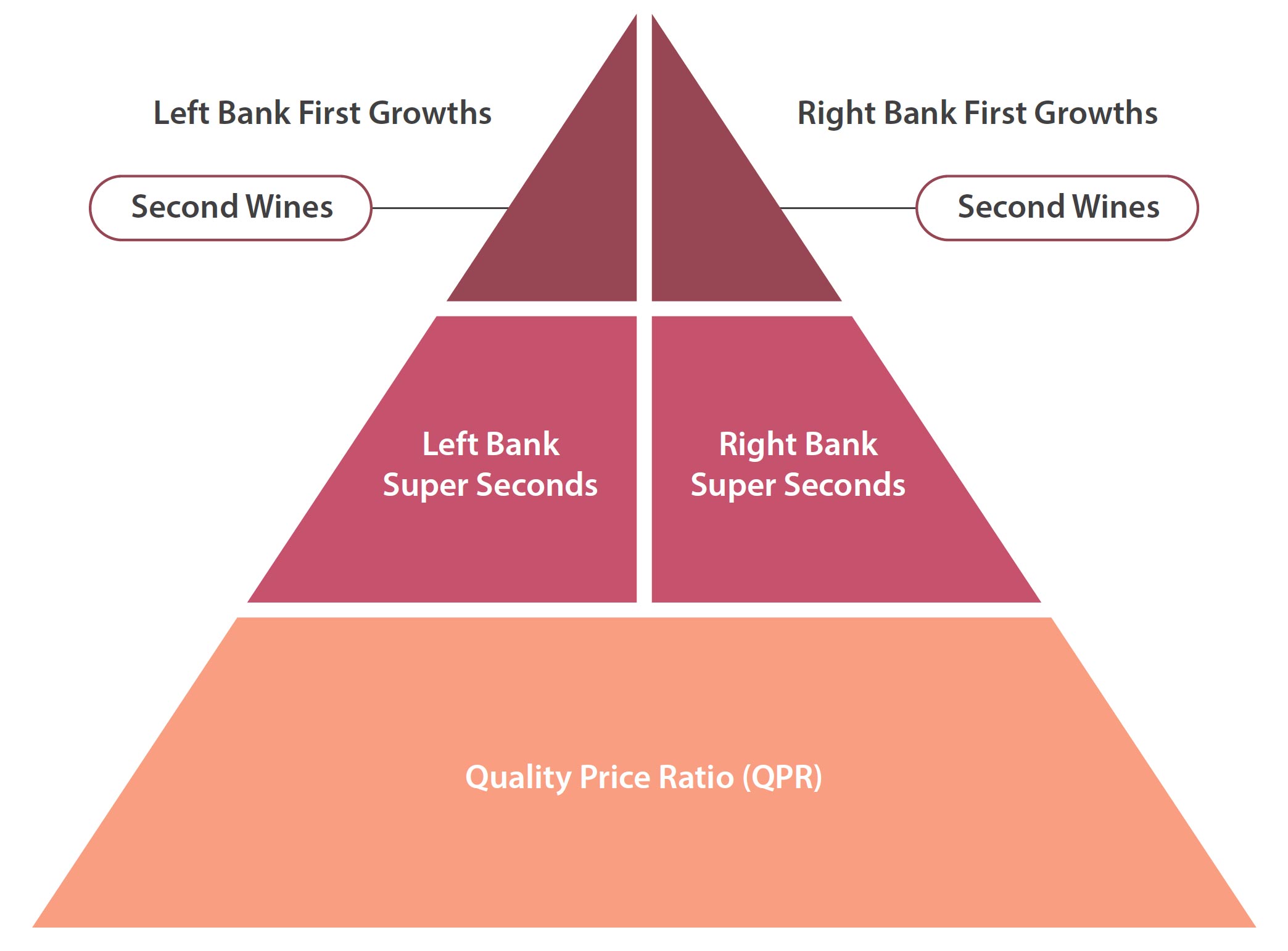 CW EP 2019 universe of wines averaged a score of 95.1 points across all categories. Unsurprisingly, Left Bank First Growths (LBFG) achieved the highest scores. Of the four Bordeaux LBFGs (we exclude Latourwhich doesn't release in EP), Chateau Margaux and Mouton Rothschild were given the highest GWS scores on the list, at 98.6 and 98.3 respectively.
Interestingly, First Growths were also the ones that came with the biggest discounts to 2018 at close to 25% on average.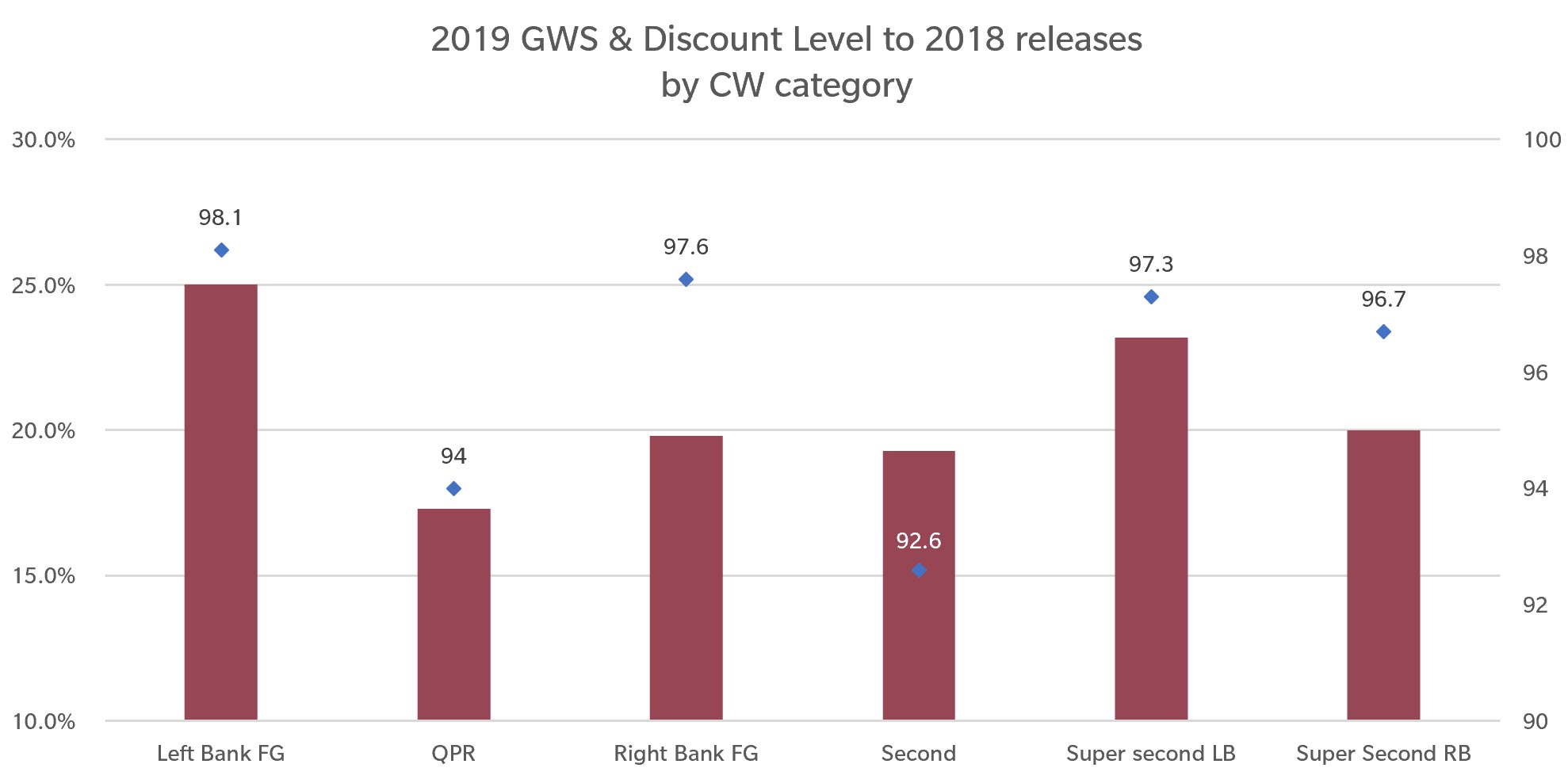 Next best, come the Super Seconds from the Left Bank (SSLB,) at an average discount of around 23% and GWS of 97.3. Followed by Right Bank's First Growths (RBFG) and Super Seconds (SSRB) both at 20% discounts and average GWS ratings of 97.6 and 96.7.
What is clear is that the bigger names have greater margins to play with and ended up more fairly priced than other categories, making them very attractive.
Within the Super Second Right Bank category, Figeac is a name to watch, achieving high scores from multiple critics in anticipation of the St Emilion reclassification. Receiving 98-100 points from Wine Advocate, 2019 is set to become the highest-scored vintage in Figeac history. Most of the 2019s within Super Second RB received good scores across the board, with the top ones in the 98-100 points range.
Due to favourable pricing, key producers saw spikes in demand for their 2019 EP offering. However, supply from some of the major producers in Bordeaux was reduced this year. For example, volumes of Lafite Rothschild offered by the chateau this year was down 50%, while Mouton Rothschild also reduced volumes by 20% from 2018. This is summarised in the table from Liv-ex below.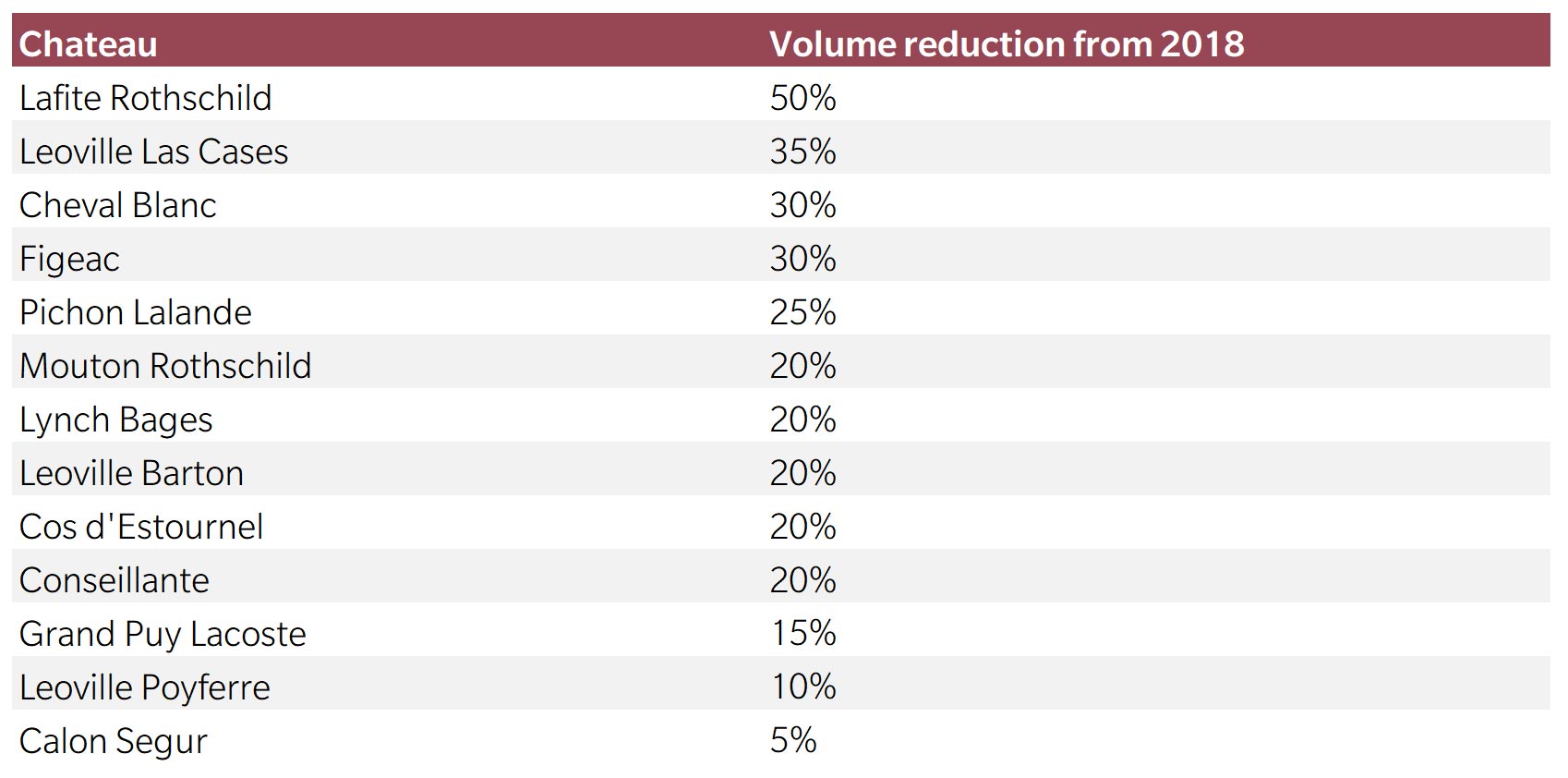 Away from the highly praised top categories, the QPR category had a few names in 2019 that stood out and achieved high scores. Carmes Haut Brion (97.7), Calon Segur (96.7) and Chateau Leoville Poyferre (96.4) came with the highest GWS. These wines were endorsed by key critics, such as Neal Martin from Vinous and Lisa Perrotti-Brown from the Wine Advocate gave Calon Segur 95-97 and 96-98 points respectively, while both awarded Leoville Poyferre 96-98.
In the QPR category, despite seeing the lowest discount to 2018 on average, there were notable bargains. For example, Leoville Poyferre was released at 25% discount relative to 2018, making it one of the most undervalued 2019s in the category. Chateau Talbot, another good example of reasonably priced wine with good score, released at 20% discount to its 2018 and has already increased by 6.4% on price one month post-EP.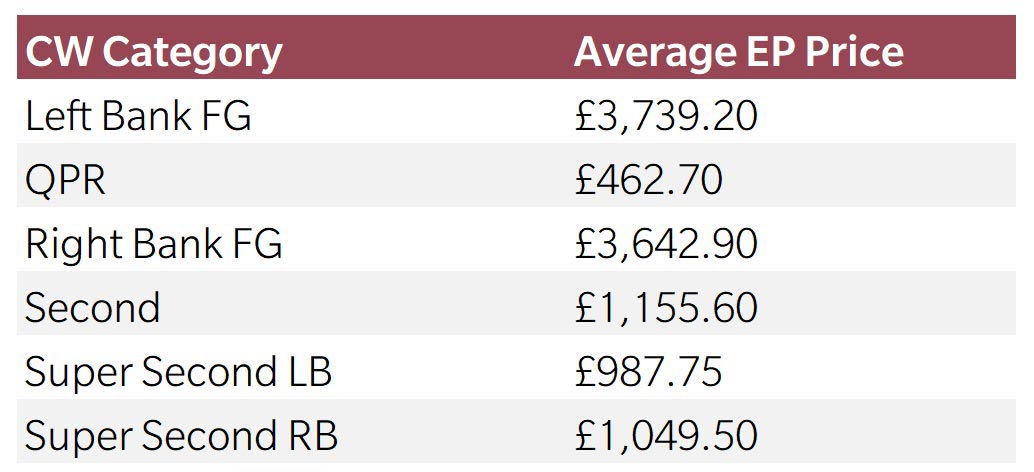 However, looking at the discount to 2018 only gives a partial picture. When considering all vintages on the market, how attractive is 2019?
Bordeaux 2019 average release price vs current Market Prices (2005-2018) and 'Benchmark Critic' scores
(source : Liv-ex)
What is apparent from the chart above is that on an average price vs score basis, 2019 is the most attractive vintage of last 15 years. It's only slightly more expensive than 2017 (which has a much lower average score), and on par with 2007, an inferior vintage, albeit with more than 10 years in the bottle.
On average, the 2019 wines were released 21.3% lower than the current 2018 market price, down 17.6% on the 2016 and 15.2% on the 2015. The new vintage also came at 35.6% and 35.3% discount to the 2010 and 2009 respectively.
Most 2019 wines were priced at or below their 'Fair Value' according to our CW EP Campaign Fair value methodology, which justified buying En Primeur across all categories and prices.
How did the 2019 En-Primeur Campaign impact the market?
To get a better idea on how the latest release impacted other vintages, we have compared prices of the most recent vintages before and after EP 2019. We also looked at the behaviour of 2019 new releases in the weeks after the campaign.
Our results show that the two most recent vintages are the most affected in terms of price change but there is a major difference: 2017 is a physical vintage, while 2018 hasn't been bottled yet.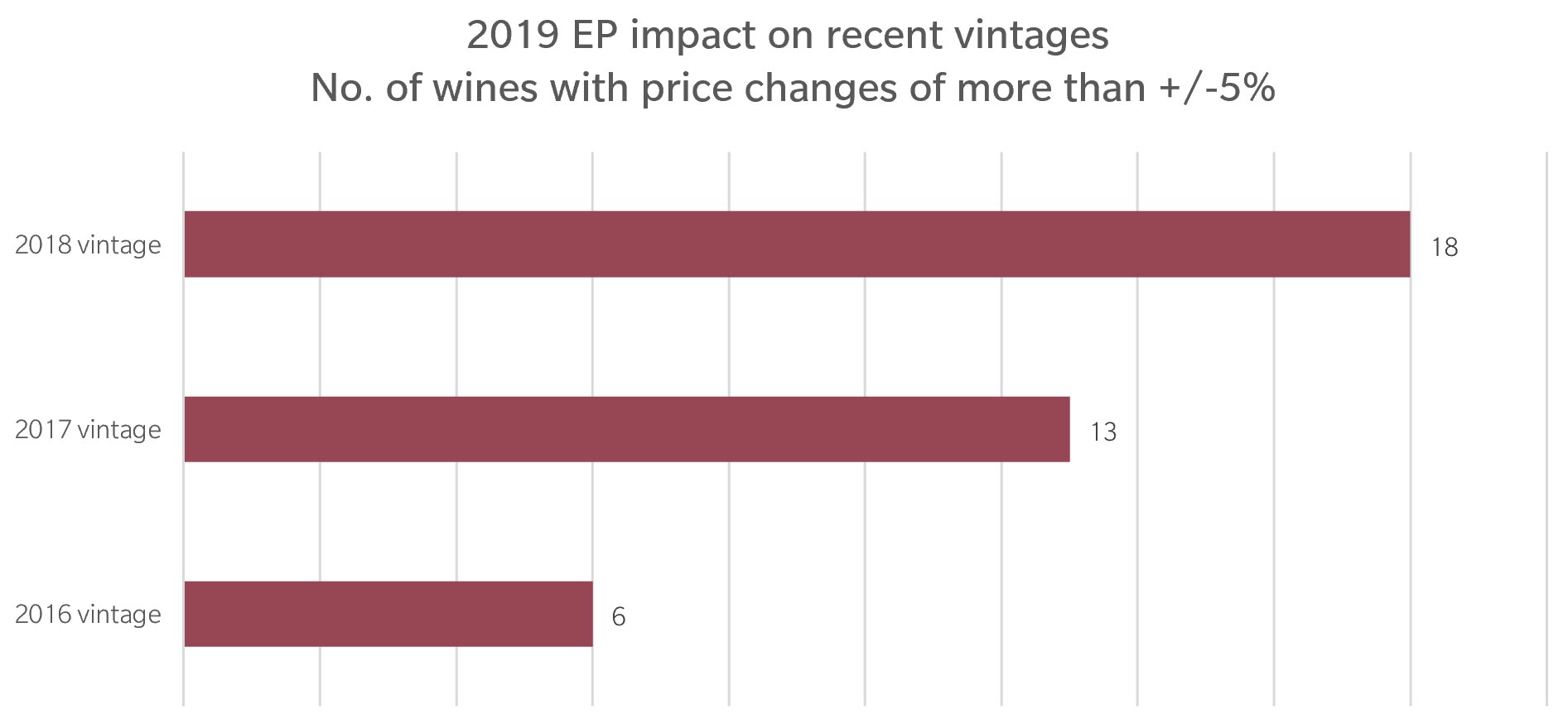 Whilst the 2018s optically moved the most on the secondary market, very few wines actually were exchanged on the Liv-ex trading platform and we believe the price moves reflect inventory being offered cheaper on the back of 2019 release prices. Indeed, out of the 18 significant price changes, 15 were negative. Wines such as Chateau Branaire Ducru, Chateau Rauzan-Segla, Palmer and Chateau Ducru Beaucaillou 2018s were all offered at a lower price than one month ago. These particular Chateaux had their 2019 released at 25% or more discount to 2018.
Most of the 2017s with significant price moves saw positive returns during the same period. Putting the observation into a broader context, most Bordeaux 2017s have experienced a price drop since they were released two years ago and some are now recovering as they offer good relative value. For example, Chateau Duhart-Milon Rothschild 2017, from QPR category, and Chateau Pontet Canet from Super Second Left Bank category have increased by 6.1%and 6% in June. La Mission Haut Brion 2017 is the wine with the largest price move, jumping 18% since EP 2019 releases, indicating interest among investors seeking value for money. The 2017 is scored at a very respectable 96+ points by Lisa Perrotti-Brown of the WA and 96 points by Antonio Galloni from Vinous and, at £2,000 per 12 bottles, was the cheapest recent vintage available on the market. For reference La Mission Haut Brion 2019 was released at £2,256 Ex-London, but now trades at £2,684.
That said some wines were offered lower on the market, such as Figeac 2017 (-11%) and Cheval Blanc 2017 (-12%). Again, these Chateaux released their 2019 at significant discounts to both their own recent vintage market prices and last year EP levels.
Of course, not all the price movements can be attributed to the release of the 2019 vintage, but there is clearly a trend for seeking value in Bordeaux.
Beyond vintages, let's have a look at CW categories in more details.
Left Bank FG
The 2017s and 2018s of the Bordeaux First Growths (with the exclusion of Latour) have all decreased in price since EP 2019, with Margaux 2018 down 6.9%, followed by Mouton Rothschild (-1.1%). Interestingly, the decline of the 2018s, which was considered an expensive release across the board, means prices are gradually adjusting to those of 2016s, a vintage perceived as outstanding in terms of quality.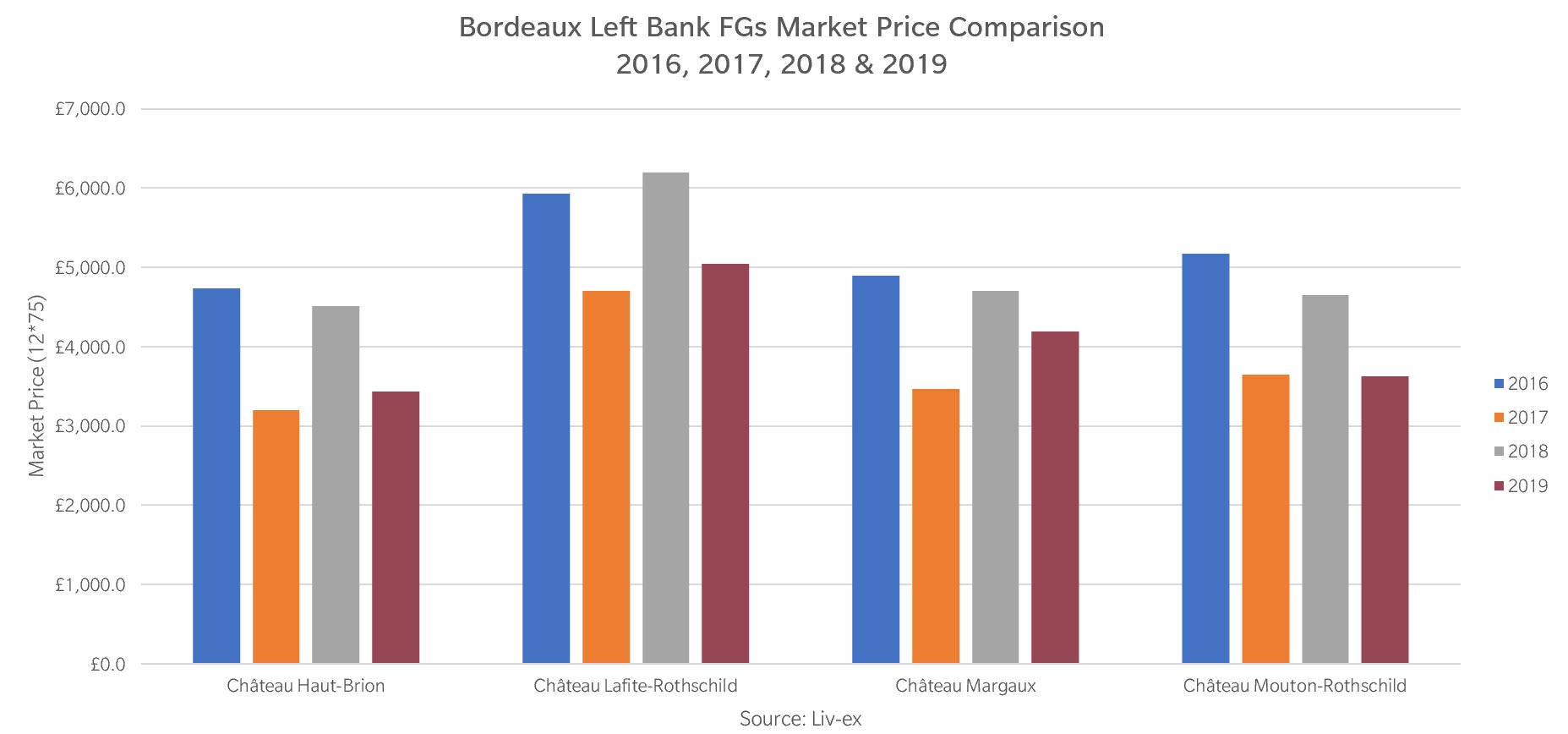 Right Bank FG & Super Second RB
Chateau Cheval Blanc from the RBFG category and Figeac from SS, which were released at great discount levels to their 2018 EP prices, have both seen the prices of their 2016 and 2018 increase slightly post EP, whilst prices of their 2017s have decreased significantly. The mixed performance can be explained by the quality discrepancy among vintages and the impact of the 2019 release prices.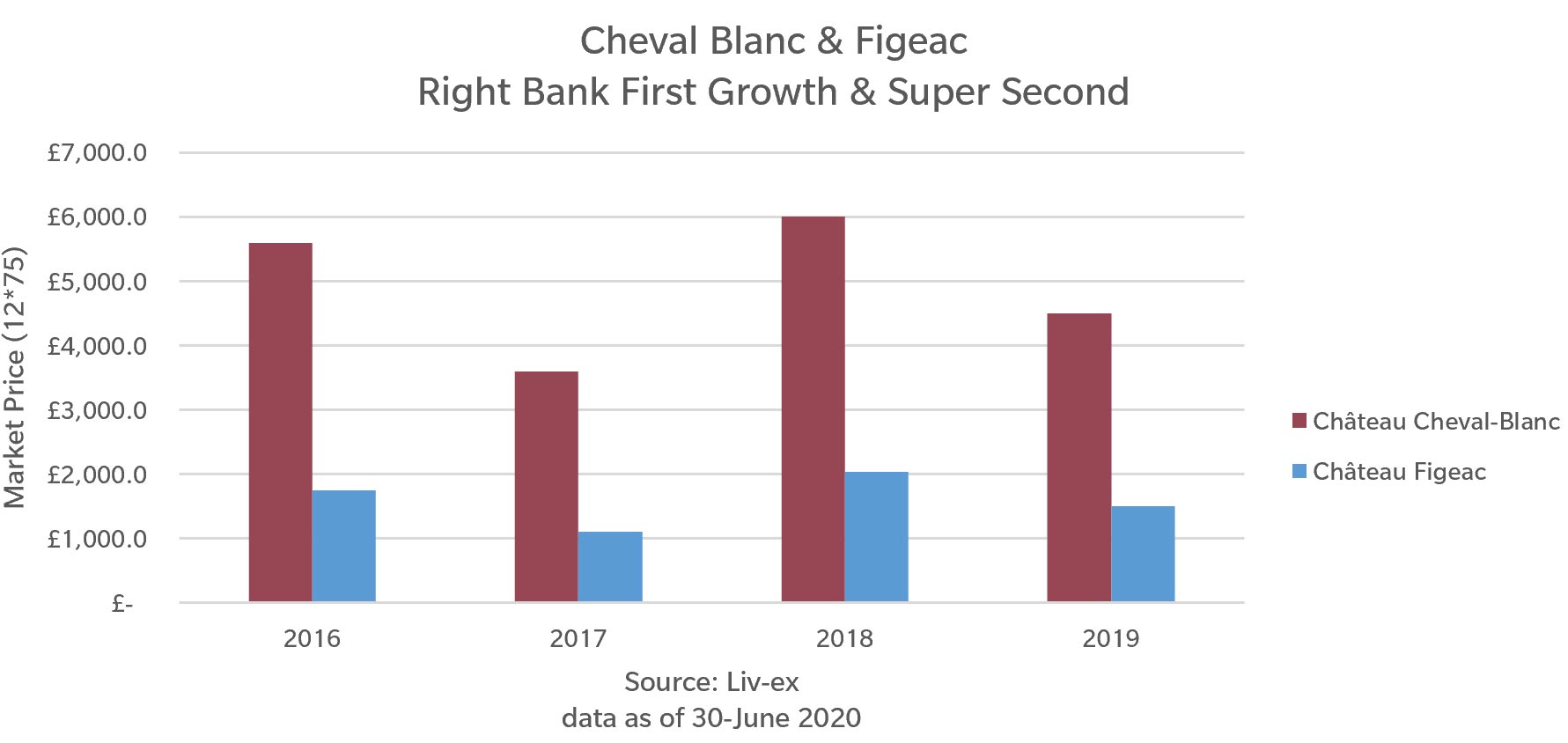 For example, Figeac 2017 and Cheval Blanc 2017 are both scored at a lower level than their 2016 and 2018 vintages by WA. Now, with both their 2019s released at a significantly discount level (relative to 2018) but similar or superior scores to 2016 and 2018, the 2017 vintage appears much less attractive on a price/quality basis. Interestingly enough, out of the most recent four vintages, 2019 is now the second lowest priced vintage after 2017 but with much better scores.

One would expect the prices of 2019, 2018 and 2016 to converge if scores are confirmed once the latter vintages are physical.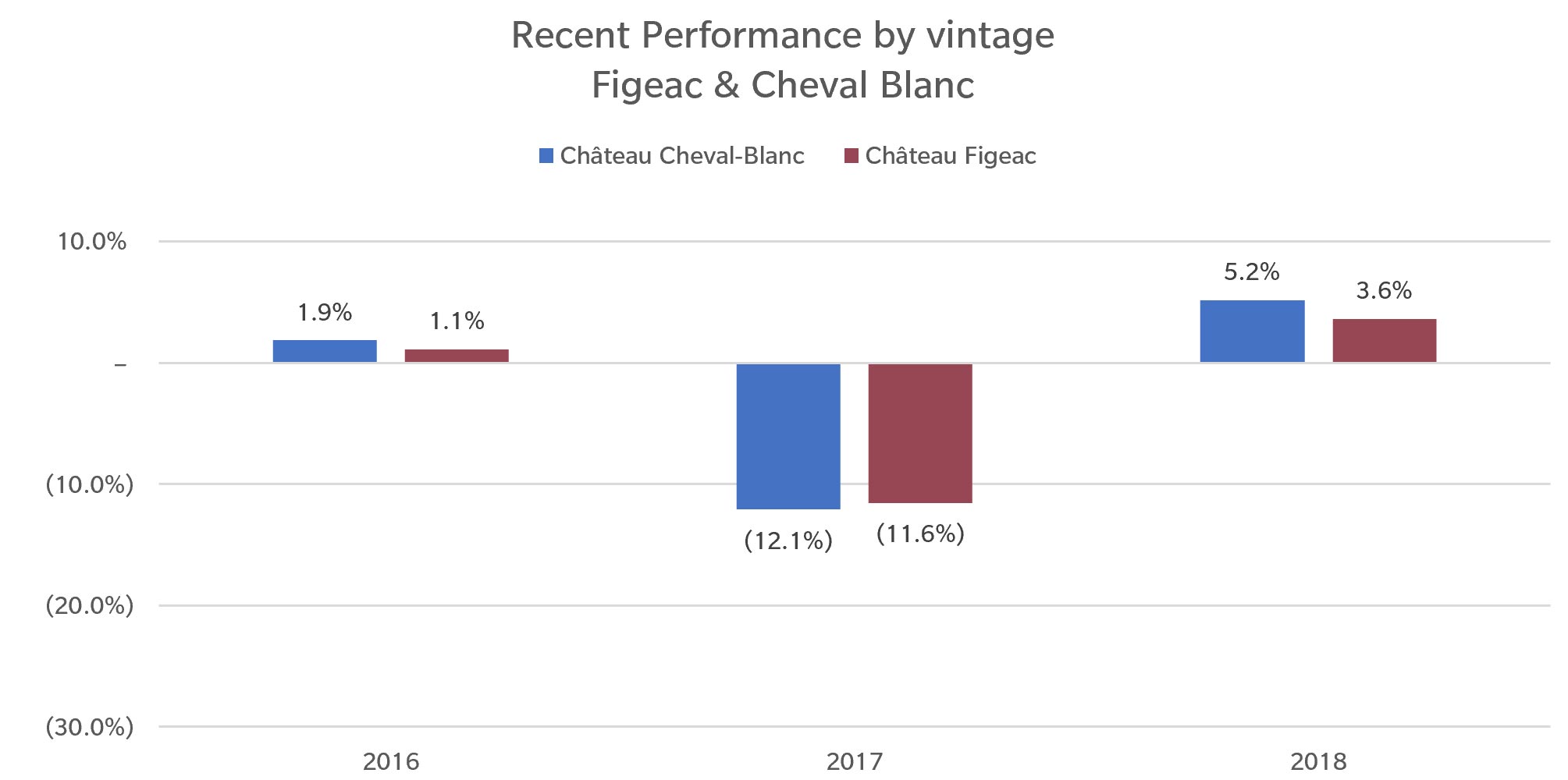 QPR & Second Wines
Both considered as categories for investors who seek value for money, QPR and Second Wines have seen some of their 2018s and 2017s experience some opposite price adjustments during the last one month. Overall, the short-term performance for these wines varies by vintage, and it is hard to justify these movements solely based on EP 2019. What's more relevant though, is that for the QPR category, 2017 and 2019 vintages are priced at a similar level despite the quality difference (see exhibit below).
One could expect that, over time, 2019 will catch up with both 2016 and 2018 market prices. However, it is equally possible that some 2018 will converge down towards the 2019 pricing for some of the wines.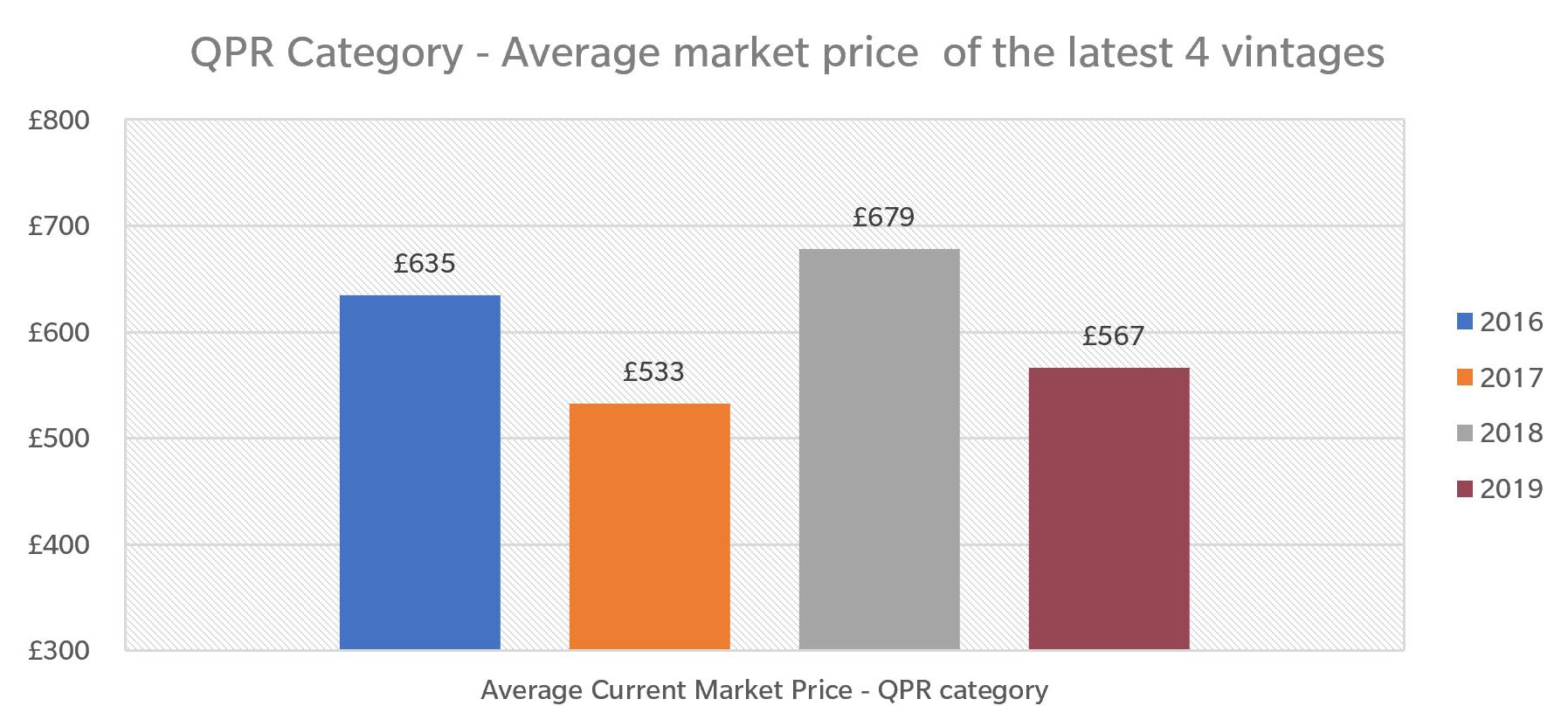 How have 2019 EP wines performed since release?
Of the total 105 newly released wines that we have monitored closely, 16 of them have increased in price since EP, with Chateau Clinet 2019 and La Mission Haut Brion 2019 topping the table, with near-term returns of 21.5% and 18.7% respectively. Beneath the top two performers, there are 3 QPRs, which are Laroque, Leoville Barton and Talbot, that have also performed well.
Overall, with the confirmation of the high-quality nature of the vintage by the leading critics and producers, there are reasons to be excited about the future performance of EP19 wines.
Secondary market trading for the new releases has far surpassed that of 2018 for the first time in years, with several wines selling at a premium to their release prices. This suggests that the campaign was well-received.
Below is the top-10 wine list of the newly released 2019s with greatest price change since EP release.

Conclusion
Overall, the 2019 campaign was a success for investors and Bordeaux lovers. The release prices compared very well with fair value and there were some bargains to be had in all CW categories. Considering the Coronavirus context and the difficulties faced by Bordeaux in general, it's fair to say the campaign injected much needed energy in the recent moribund market. It is also re-assuring that the consumers and collectors responded with so much enthusiasm. At the right price and the right quality, the interest is here, even in a difficult environment, confirming the status of Bordeaux as THE benchmark for wine investment.
Meanwhile stock continues to build up in the cellars of both the chateaux and negociants. The result is a continued increase of their balance sheet financed by debt. It seems unlikely that the 2019 campaign will have changed this. These wines will need to find a home sooner than later.
We do believe in price convergence over time for similarly scored vintages and in the normalisation of the price curve across vintages, based on scores and availability. It will be very specific to each wine and we anticipate some interesting developments.
Our view at this point is that 2017 might be finding a floor and we will see some of the better scored wines starting to increase in price. It's easily forgotten that some wines in that vintage are scored very close to their 2016s or 2018s. 2016, being considered as a stellar vintage will probably hold its value. 2018 and 2019 prices should converge but will do in different ways: the extent to which 2018 prices will move towards 2019 or vice versa will depend on brand, scores and other vintages prices for each wine.
All this will lead to very good opportunities for the savvy investor.