11 November 2022
A Champagne for all occasions: Food pairings for the world's greatest sparkling wine
The first sip of a chilled glass of Champagne is one of life's greatest pleasures - the refreshing taste, uplifting bubbles and energising acidity that gets your appetite going for dinner (or lunch or even breakfast!). However, this pleasure is often too brief. We typically have a glass before a meal and then move on to white and red wine, quickly forgetting about the bubbles. However, this overlooks Champagne's potential to match a wide range of foods with some thoughtful pairing.
The most important thing to think about when matching food to Champagne is that the food will have a greater impact on the Champagne rather than the other way around. Champagne has very high acidity and if you pair it with a sweet food, the Champagne will taste sour. Champagne comes in different levels of sweetness – 'Brut' is the most widely produced and even though it doesn't taste that sweet, it does have some sugar to balance the high acidity in the wine. Champagnes with no sugar are called 'Brut Nature' or 'Zero Dosage', which are lean and palate cleansing. Sweet Champagnes like 'Demi-sec' can be harder to find but are wonderful with cake and deserts.
Below, Cult Wines' Global Head of Events Olivia Bodle outlines her favourite food pairings for Champagne; some conventional and some a little more off the wall.
Classic French cuisine
Many timeless French classics form a great tandem with a range of Champagne styles for every meal of the day, starting as early as breakfast with a croissant and a glass of Taittinger Comtes de Champagne.
One of the greatest food and wine matching experiences of my life was a Rare Champagne lunch at their winery. The 2008 Rare Champagne was served with John Dory and passionfruit sauce, which really set off the passionfruit notes in the wine.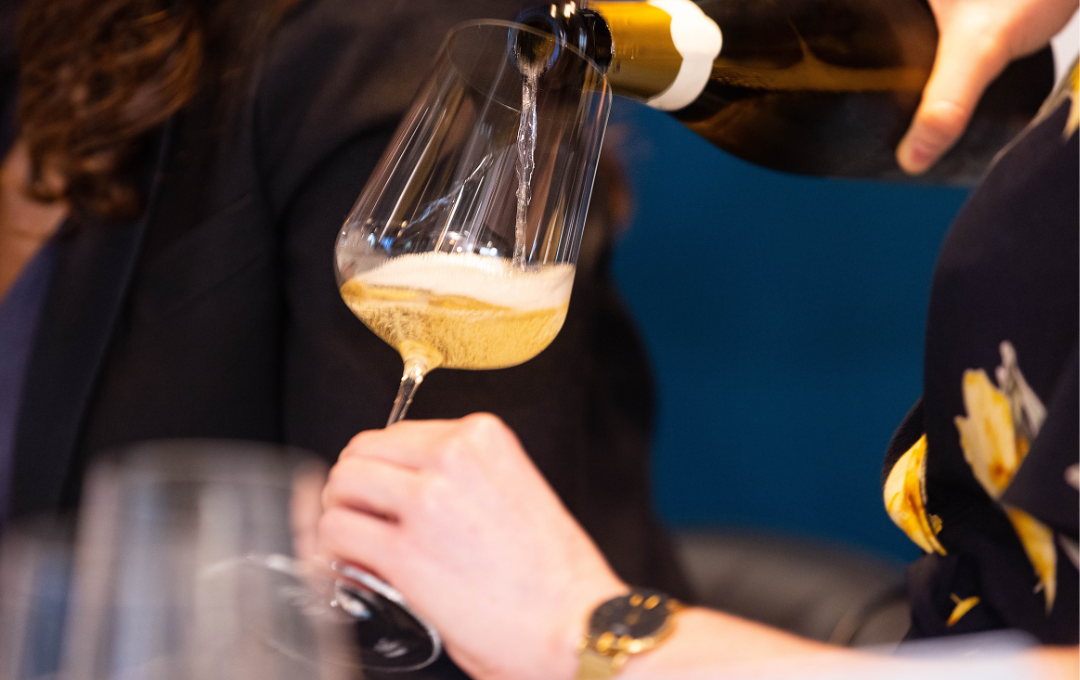 Fried chicken
Fried chicken is a guilty pleasure, especially when the coating is slightly spicy and let's not kid ourselves, a bit greasy. This is when a fuller bodied Champagne works its magic, as the high acidity cuts through the fat and keeps you going back for more. One of our in-house favourites is Dom Perignon.
Sushi
Vibrant and energising Brut Nature/Zero Dosage styles of Champagne can enhance simple, straightforward fish dishes such as sushi. The fresh fish matches perfectly with the minerality of wines like Henri Giraud 'Esprit Nature.
Meat
The main course of a dinner is where even the bravest food and Champagne pairer could begin to falter. But full-bodied, aged Champagnes are up to the task and can match nearly every meat. Champagnes like Salon, which are best after decades in bottle when they develop nutty savoury flavours, make excellent accompaniments to dishes like pheasant and other autumn and wintery dishes. Bollinger Rosé would go brilliantly with duck or lamb.
Pringles
Or really any kind of crisp/chip. Salt makes everything taste better, and Champagne is no exception as its flavours become fruitier while the acidity balances the oiliness of the crisp. Once you pop, you can't stop will apply both to the crisps and the wine!