22 September 2022
Four Italian culinary gems from the experts
Maremma, Tuscany
With Allegra Antinori, head of hospitality, Marchesi Antinori

Why Maremma?
I was born and raised in this beautiful seaside town. This is where the mountain meets the sea. The cooling breezes from the Mediterranean Sea make it a charming vacation spot, especially in the summer.

What should I eat?
Wild boar, slow cooked with lots of herbs and spices and served with polenta. This dish will warm you up on the gloomiest Tuscan winter day. It's a delight only the locals know about.

Which wine to pair with it?
Le Mortelle's Poggio alle Nane 2016, a Cabernet Sauvignon and Cabernet Franc with a splash of Carmenere. Its ripe blackcurrants, blackberries and spicy balsamic sensations make it a perfect dinner wine, pairing perfectly with gamey boar.
This wine comes from a beautiful estate in the heart of Maremma, lovingly and organically farmed. We also produce fruits on the estate.

Any other wines to try?
Salty Verdejo from Puglia is definitely worth trying. But, Puglia itself has over 200 indegineous grapes; let alone the rest of Italy. Vermentino from Lazia, Nerello Mascalese from Etna… Just to mention a few for you to explore in your local restaurants, markets and travelling.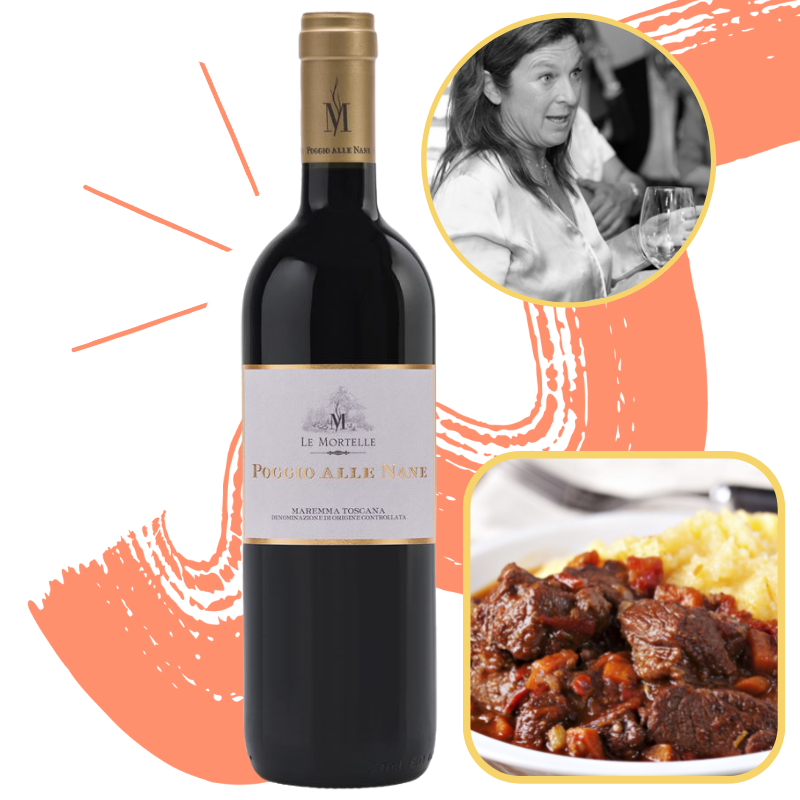 Valtellina, Lombardy
With specialist wine merchant Luca Dusi

Where is Valtellina?
Valtellina is a tiny valley north of Lombardy. Tucked away between Bergamo and Como, not far from the picturesque Swiss town St Moritz, this valley has to be Italy's best kept secret. 80km in length and 360-1000m above sea level, some 50 small producers express themselves and the pristine terroir through Nebbiolo, the king of grapes. I think of Valtellina as Italian Burgundy.
Your favourite dish from this beautiful valley?
The local food hero is the Bresaola, worldwide famous lean, spiced, and gently smoked beef. But the dish that I would go back to over and over again is the mighty pizzoccheri – a buckwheat flour based pasta in creamy Casera and Parmesan sauce, infused with sage, melted butter, cabbage and potatoes. When perfectly executed, this dish is an absolute winner!

What would you pair with it?
Wash it down with Dirupi Valtellina Superiore 2018. The soft tannins and vibrant acidity will help cleanse your taste buds from the butter and Casera cheese sauce. Its aromatic herbs, floral, dark fruit nose will match heavenly with luscious pizzoccheri!

A few words about yourself…
I am Luca Dusi, the most specialised Italian wine merchant in London! I scout and import fine wines from independent wineries across Italy. These wineries may be unknown today, but they will be rock stars tomorrow.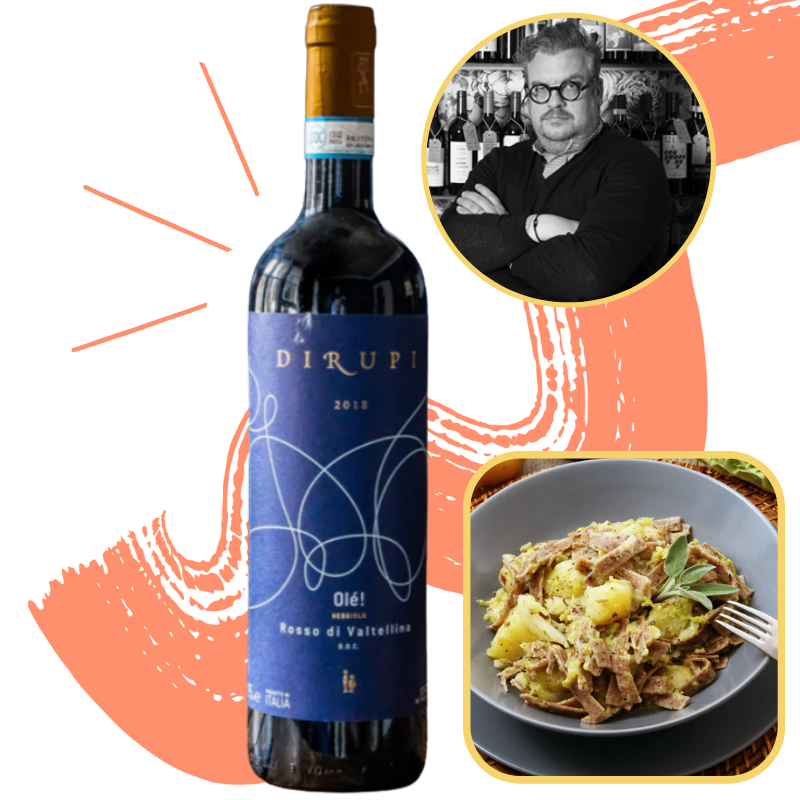 Calabria
With Michelin Star restaurant chef Francesco Mazzei

Your connection with Calabria?
Calabria has been my family home for many years. It's the very toe of Italy and a region steeped in history. The beautiful coastline provides the local villages with the best seafood – from sardines to swordfish, as well as powerful ingredients, such as sun-dried tomatoes to red hot chilli peppers.

Chef's pick of local Calabrian food please!
Cavatelli with Nduja,tomatoes and smoked ricotta, a dish of my own creation. It's a superb dish full of the flavours of Calabria.

Which wine to drink alongside?
A Gaglioppo from Ciro, a region with winemaking history that stretches back thousands of years. Balanced with freshness and bold tomato and cherry notes, this wine matches perfectly with savoury Nduja and ricotta's smokiness.

Where can we experience your culinary art?
You can find me at Sartoria in Mayfair, where I work as the chef patron. I also opened the restaurant Radici in Islington showcasing simple Calabrian cooking and Fiume in Battersea with a menu inspired by the great frood from the Amalfi coast, Sardinia and Sicily.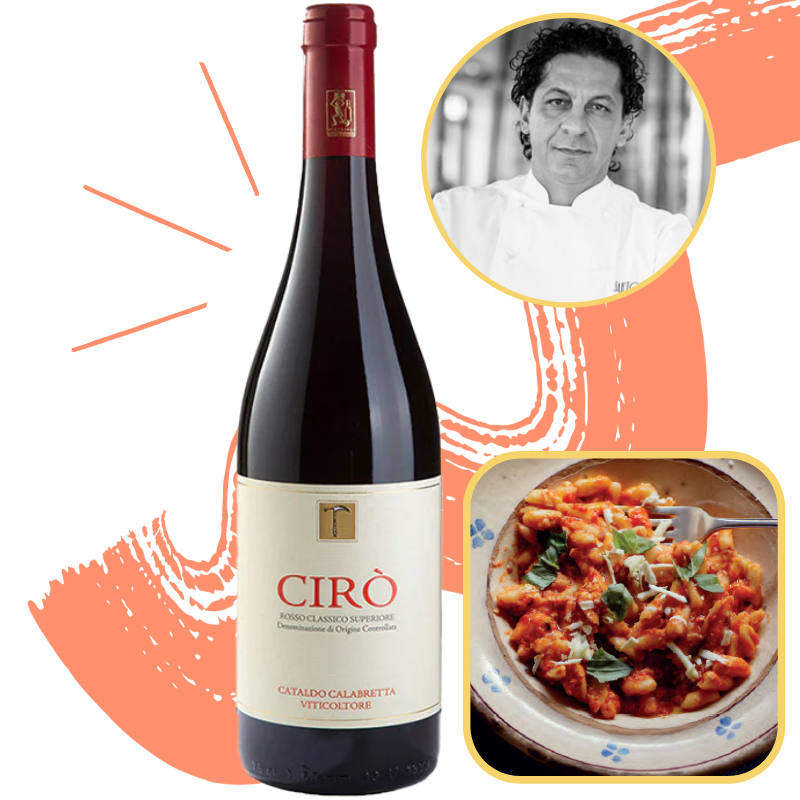 Langhe, Piedmont
With Cult Wines Italy buyer Andrea Marino

Why Piedmont and not your home region, Naples?
I have been travelling to Piedmont to buy good wines year after year.I have come to know and love Langhe, a truly unique region. The vineyards, villages, lovely weather in spring and summer, simple and delicious food, and my great friends there….. It's become a place that I go with my family every year.

Which Piedmont dish is your must-have?
My favourite is bagna càuda, a traditional hot dipping sauce served with local vegetables. You can think of it as a savoury fondue with olive oil, garlic and chopped anchovies. This is a dish for serious connoisseurs.

How would you pair wine with it?
La Spinetta Barbera d'Asti Bionzo 2019 is a traditional pairing that goes back centuries. Bagna cauda is punchy and intense, while Barbera offers succulent fleshy plum, racy freshness and delicate spicy notes on the finish. They balance each other perfectly.

Any other region or rare wine we need to try?
Fiano di Avellino is one of the greatest whites of Italy, and it offers an excellent price-quality ratio.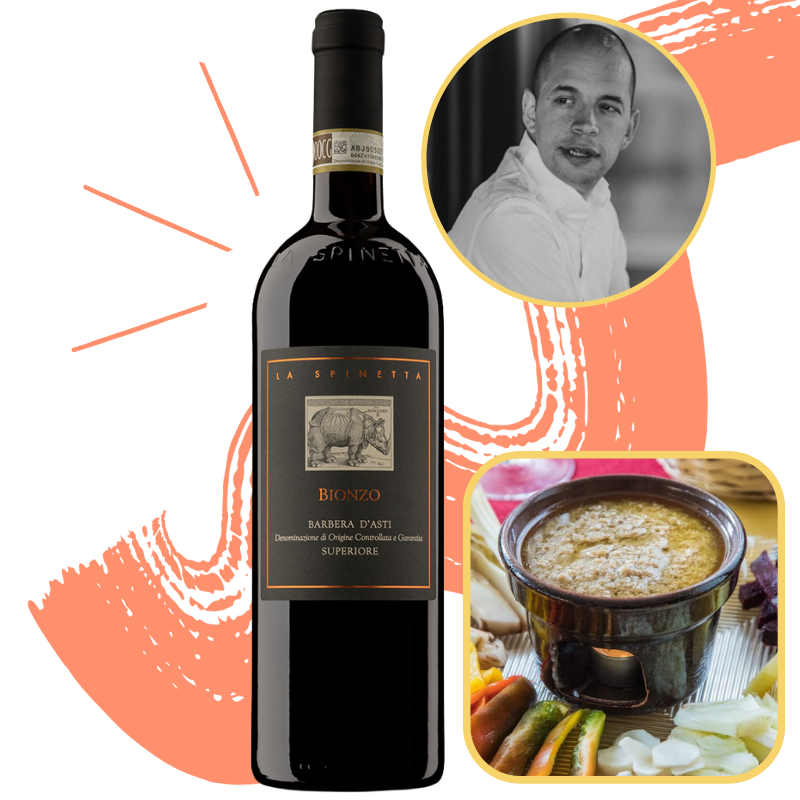 Did you know?
Piedmont is also home to some of the best performing investment-grade Italian reds. Vursu Vigneto Starderi, another great wine by La Spinetta, increased 21.7% in value over the past 12 months*.
Curious about Italian wines' potential to appreciate and safeguard your wealth during times of high inflation?
*Wine-searcher.com price data across all vintages, as of 13 September 2022.
Past performance is not a guarantee of future returns.