2017 marks the 20th year since Baroness Philippine de Rothschild, of Mouton Rothschild, and Don Eduardo Guilisasti Tagle, of Viña Concha y Toro, sealed a partnership agreement with a view to create an exceptional Franco-Chilean premium wine called Almaviva. Produced under the joint technical supervision of both partners, the first vintage achieved immediate international success upon its launch in 1998.
Made from a blend of classic Bordeaux varieties – Cabernet Sauvignon dominant, Carmenere, Cabernet Franc and sometimes Petit Verdot and Merlot – the estate has produced wines of increasing quality over these two decades culminating in the most recently released 2015 vintage, which received its first, prestigious 100 point score from James Suckling. I was lucky enough to sample it myself, this evening.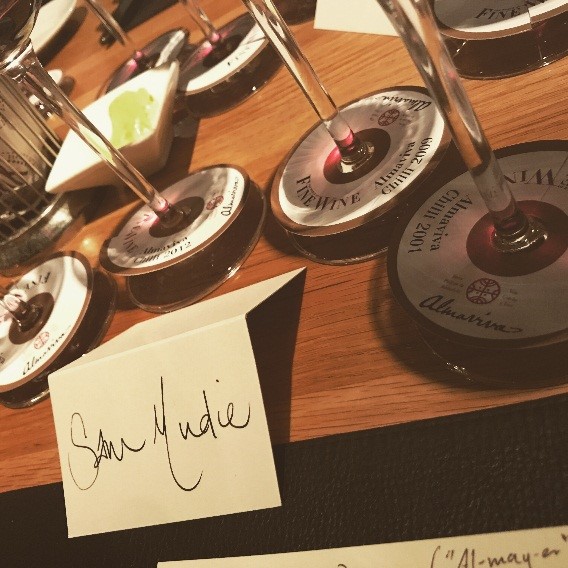 The location was the Mandarin Oriental's 'Bar Boulud', the only London restaurant of Michelin-starred chef Daniel Boulud. The evening was put on by The World of Fine Wine, one of Britain's leading fine wine publications and hosted by the charming Founder and Editor, Neil Beckett. Last and certainly by no means least, the tastings were led by Almaviva's winemaker, Michel Friou.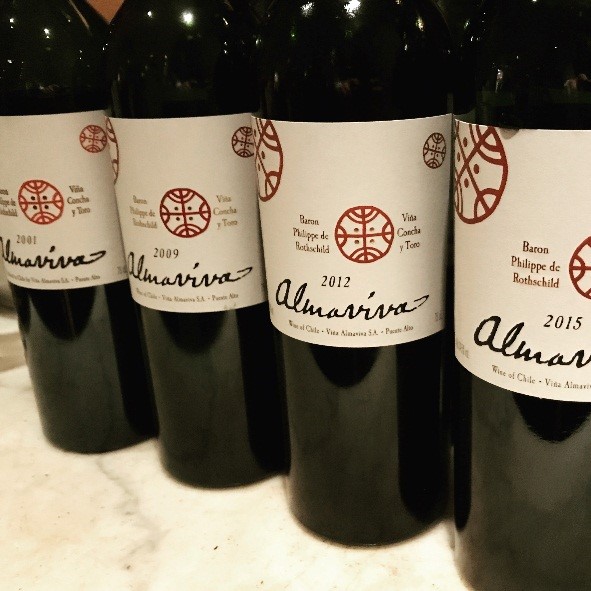 2015 Almaviva
It was with the 'future benchmark' 2015 that we began, to pair with Boulud's Boudin Noir. Yes, the 2015 needs another five to six years in the bottle but it's already singing a deep, rich baritone. There's an excellent balance of ripe fruit, dark chocolate and light floral notes which follow through to full bodied blackberries, sour cherry, cocoa and pencil shavings on the palate.
95-97 pts SM (but needs more time to grow up)
2012 Almaviva
The 2012 vintage was dry, with only 200mm of rainfall between May and October, compared to an average 350mm in a typical year. The lack of rainfall was accompanied by hotter-than-usual temperatures so ripening and harvest started early. This felt immediately sweeter, with aromas of liquorice, vanilla and cinnamon with something herbal or medicinal (it may have been pine) on the edge. The sweetness is not cloying though, there is still an attractive freshness and saline balance that adds a curious hint of saltiness to the abundant ripe fruit. Cep mushroom pappardelle on the plate. Ready to drink now but is going improve over the next 10 years.
94 pts SM
2009 Almaviva
Paleron de Boeuf and the Almaviva's 2009 were the main event. In my opinion, this was the wine of the night. Opening up with a huge nose of smoke and spices (tobacco, incense and… star anise) propped up by more cassis, black berries and cacao. Rearing to go on the palate as well, with silky, well-rounded tannins and juicy fruit. Cranberry and vanilla hand in hand with plum and blueberry. Could it masquerade as an early-00s Mouton? Firing on all cylinders now if you like a 'younger' style, no need to wait any longer to pull the cork but will be superb for another 5+ years.
96 pts SM
2001 Almaviva
Finally, the 2001 was served with a selection of cheese. Echoing earlier sentiments, this reminded me of a more mature Pauillac, with fresh fruit giving way to tertiary aromas of cigar box, (pleasant) wet leaves, clove and coffee beans. There's a touch of leather as well. Dark chocolate is plentiful here, with raisin, pepper and nutmeg, only more subtle blackcurrant and blackberry remains. Excellent balance and a long finish. A fine example of mature Almaviva, will age for a further 5-10 years but I think time to crack on.
94 pts SM
There was a common theme running through this evening's delights: Almaviva presents an interesting cross between its Pauillac influences, Chilean heritage and even the Argentinian neighbours. The Bordeaux input can be felt to the extent that each vintage of Almaviva could almost be compared to one of Mouton's but maturing at a faster rate than the counterpart: 2015 was like a 2010 Pauillac; 2012 like a 2008; 2009 like a 2000; and 2001 like a 1990 – I stress, in maturation rather than style.
There's no doubting the class of Chile's 'Primer Orden' (a Spanish term equivalent to Premier Grand Cru Classe, or First Growth) and by utilising Bordeaux's negociant system to distribute their wines, the estate is one step ahead of the game in the international marketplace.
Interest to Cult Wines had, until relatively recently, been reserved to just drinking but as quality and global brand recognition continue to improve, so does liquidity and a reliable secondary market. Although presently tentative, we are taking our first steps into considering Almaviva as investment-grade and the most recent vintages on the market are ticking boxes.
Watch this space!