Burgundy to dominate next Bonhams sale
Bonhams' next fine wine sale in London will see Burgundy take centre stage, with particular highlights from Coche Dury and Jacky Truchot.
Taking place on 28th November, standout lots from the sale include two verticals of Coche-Dury's Meursault 'Les Perrieres', estimated at £13,000-£15,000 apiece; as well as a selection of vintages spanning 1985-2001 of Jacky Truchot's wines including six bottles of 1993 Charmes-Chambertin Vieilles Vignes (£3,000-£4,000) and two bottles of Clos de la Roche (£2,000-£2,500).
Other notable lots include Domaine Armand Rousseau's 1991 Chambertin, 1992 Clos Vougeot from Domaine Rene Engel and 2009 Vosne Romanee Cros Parantoux from Domaine Emmanuel Rouget, as well as magnums of 1979 Krug, 1945 Lafite, Latour, Margaux, Haut Brion and Cheval Blanc, and 1985 Lafleur.
Hospices de Beaune's record-breaking auction makes €12m
The 159th annual Hospices de Beaune sale made more than €12 million last weekend, selling over 580 barrels and setting a number of new records in the process.
The sale, hosted by Christie's at the famous 15th century hospices, closed with 589 barrels sold for a total of €12,013,100 – an average of €21,823 per barrel.
The total figure is less than last year's €14 million, but with 30% fewer barrels on offer, the average price of each was much higher. Prices rose by 29.5% compared to last year.
The Pièce des Présidents, a lot sold for charity and this year in the shape of a Corton grand cru 'Les Bressandes', was sold to a Brazilian buyer for €260,000.
Meanwhile, Burgundian producer and negociant Albert Bichot was a major buyer at the sale, purchasing 122 barrels for €2.7 million.
Mouton Rothschild unveils 2017 vintage label
Chateau Mouton Rothschild has unveiled a risqué new label for its 2017 vintage.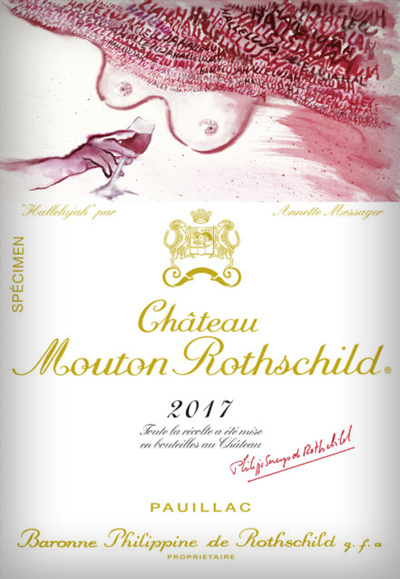 Designed by French artist Annette Messager, the piece is called 'Halelujah' and bears what she describes as the "imprint of her feminist convictions" that appear throughout her work.
In a statement, the famed estate said: "For Mouton, Annette Messager starts from the most literal form of drawing: writing, which is also a call, an incantation, as shown here by the repetition in successive waves of the word 'Hallelujah'.
"To it she joins, in a manner both realistic and symbolic, the celebration of two familiar substances, milk and wine, which the Bible often associates with each other, hymning the virtues of both."
Wine Spectator reveals its wine of the year
Influential wine publication Wine Spectator has revealed its Top 100 wines of 2019, and with it, its wine of the year. This year, the prestigious accolade goes to Leoville Barton 2016.
Senior editor James Molesworth said the wine took the top spot "for its long family tradition, for its excellent quality in a superb vintage [and] for its relative value". In his tasting notes, Molesworth describes the wine as "both regal and rambunctious, this is St Julien to a T".
Last year's holder of pole position, Sassicaia 2015, saw a significant uptick in prices and activity after being named wine of the year, with its trade prices rising by 34% almost overnight. As such, it's more than likely that we'll see the same buzz around Leoville Barton.
Popping a Champagne cork actually is rocket science, study says
Scientists researching the effect of temperature on carbon dioxide in bottles of sparkling wine made a surprise discovery recently, when they inadvertently found that dry ice can shoot out of a Champagne bottle at nearly twice the speed of sound.
The research, published in the journal Science Advances, shows that speeds of around 2,400km per hour are reached for a millisecond after opening a bottle that had been stored above the ideal serving temperature.
The scientists had been investigating the way temperature and associated air pressure changes influence the way carbon dioxide (CO2) in the bottle reacts with the air outside once released. However, they instead discovered that bottles stored at 20°C ejected a freezing jet of CO2 at nearly -90°C. This created a Mach disk "similar to what is happening with rocket plum exhausts", according to Gerard Liger-Belair, one of the researchers.
"The velocity of gases expelled from the bottleneck reaches almost Mach 2, twice the velocity of sound," he added.
However, the experiments were carried out on Champagne bottles stored at 20°C and 30°C for 72 hours before testing – well above what would be considered the ideal serving temperature. Nonetheless, Liber-Belair said the experiment shows that "there is a lot of wonderful and subtle science hidden in a single bottle of Champagne."