Before national lockdowns and travel restrictions tightened, our Head of Fine Wine Lukasz Kolodziejczyk managed to spend a few weeks in Burgundy last year and is one of a small group of professionals to have firsthand and on field experience of the vintage. Over the coming weeks we will be releasing producer spotlights and highlights from Lukasz's trip to the Cote d'Or. This is the sixth profile of our Burgundy spotlight series featuring Charles Van Canneyt.
Charles Van Canneyt - Burgundy 2019 En Primeur Producer Profile
Charles Van Canneyt captures what's best about Burgundy's traditions as well as its future. We've already profiled Charles' work at his family's historic Domaine Hudelot Noellat where he has been head winemaker since 2008. But Charles also started his own eponymous 'micro négociant' in 2012 in order to have a project of his own, focussing on classically-styled wines from the most desirable postcodes.
This project is part of a growing trend in Burgundy. Other high profile domaines, such Meo-Camuzet and Fourrier, have created négociant labels alongside their home-grown wines. Olivier Bernstein is another 'micro négociant' on the rise. Micro négociants benefit from the flexibility to select which sites they think have the best grapes in any given year for the styles they want to produce.
Charles is very much a key face in this "nouvelle vogue" trend in Burgundy. From his upbringing and current work at Hudelot Noellat, Charles possesses an incredible amount of knowledge about the Burgundy region, meaning no one is as well-placed as he to source the best grapes each year and convert them into stunning wines.
Critics are appreciating his efforts. Scores for Charles Van Canneyt wines already sit in the company of Perrot-Minot and Dugat-Py. Although scores have yet to appear for the new wines, while giving a 93-95 score for the 2018 Chambertin Grand Cru last year, Neal Martin commented: "This is a supremely well crafted Chambertin that will give up to two decades of drinking pleasure."
However, the small quantities produced mean that Charles Van Canneyt's wines have so far not received the widespread attention they deserve. We think this will change. Charles' project is still young so the sky is the limit as the 30-year-old builds momentum at both this and his grandparent's property.
We are also excited about the performance potential of Charles Van Canneyt wines. Currently, the grand crus trade well below some of the top tier names in the region (see below chart) as well as other attractively-valued wines, such as those from Hudelot Noellat. Although there is little track record due to the wines' youth, Charles' name and skills could catapult them to new heights. A winemaker's reputation can often help drive price growth once wines gain the attention of the wider market. This factor combined with Charles' tireless efforts to improve his craft are why we expect big things in terms of price appreciation and outstanding wines in the years to come.
Significant price upside
Price per case – Charles Van Canneyt and Tier 1 producer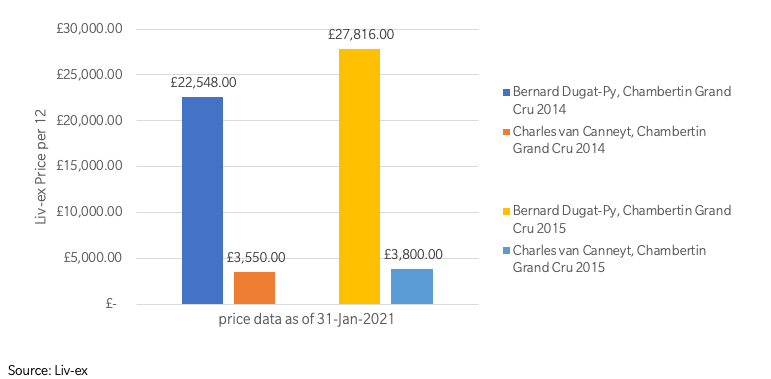 Charles Van Canneyt 2019 wines
Premier cru
• Gevrey-Chambertin La Perriere
• Chambolle-Musigny Les Sentiers
• Meursault Les Charmes
• Gevrey-Chambertin Les Cazetiers
• Chambolle-Musigny Aux Echanges
• Gevrey-Chambertin Les Fontenys
Grand crus
• Chambertin
• Chambertin-Clos de Bèze
• Mazis-Chambertin
• Charmes-Chambertin
• Échézeaux
• Corton-Charlemagne
• Corton-Renardes
• Clos de Vougeot
• Corton