Before national lockdowns and travel restrictions tightened, our Head of Fine Wine Lukasz Kolodziejczyk managed to spend a few weeks in Burgundy last year and is one of a small group of professionals to have firsthand and on field experience of the vintage. Over the coming weeks we will be releasing producer spotlights and highlights from Lukasz's trip to the Cote d'Or. This is the 11th profile of our Burgundy spotlight series featuring Domaine Pierre Girardin.
Domaine Pierre Girardin - Burgundy 2019 En Primeur Producer Profile
Still in his early 20s, Pierre-Vincent Girardin is already catching the attention of leading critics and wine aficionados around the world. If you haven't already, it is high time you familiarise yourself with this rising star and the wonderful wines of Domaine Pierre Girardin, a name that will surely be a driving force long into Burgundy's future.
As the 13th generation in a Burgundian winemaking family, Pierre-Vincent has the DNA to succeed. His father, Vincent, started his own domaine in 1980, which grew into one of the most famous names in the Cote de Beaune's Meursault region. When Vincent sold Domaine Vincent Girardin in 2011, he kept what he regarded as the best 4.5 hectares and passed these on to his son to set up Domaine Pierre Girardin.
Working side by side with his father since childhood, Pierre developed his craft and gained a deep understanding of the terroir. This helped him produce some impressive wines straight away with his first vintage in 2017. Pierre-Vincent has supplemented the domaine vineyards with long-term contracts with what he regards as some of the top and most interesting growers in the region. The range of sites include Puligny Folatières (Lalou Bize-Leroy bottles the only other parcel from this prime section on the inner parcel of the Folatières vineyard), Volnay Clos des Chênes, and Pommard Epenots as well as iconic appellations such as Corton-Charlemagne and Montrachet.
We regard Domaine Pierre Girardin as a true up-and-coming producer, whose wines offer long-term price growth potential. While quality has already been established, the wines' short history means there is less of a performance track record. However, strong interest from wine merchants alongside positive critic scores and commentary is a combination that should spur price growth. Pierre's lineage and name recognition at such an early age will also boost his profile.
At this time, Domaine Pierre Girardin wines still offer excellent relative value, in our opinion. The below chart reveals the price gap among grand cru wines from Pierre Girardin and Pierre-Yves Colin-Morey. Although Pierre-Yves Colin-Morey is among the top producers in Burgundy with a stellar track record and name recognition, we think Pierre-Vincent could reach similar heights over time. His wines' prices are expected to follow.
2018 Vintage Grand Cru Price Comparison
Pierre Girardin vs. Pierre-Yves Colin-Morey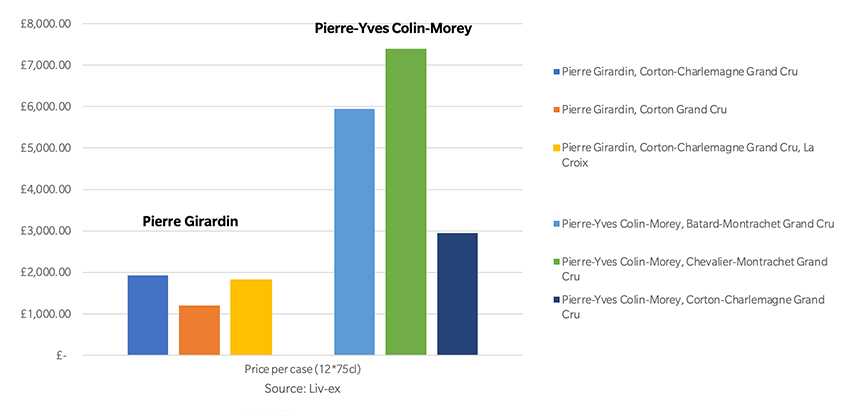 The final ingredient to Domaine Pierre Girardin's recipe for performance potential is a strong 2019 vintage. So far, most leading critics have yet to review the new vintage but the well-reviewed 2018s leave plenty of promise. Richard Hemming (writing for Jancis Robinson website) spoke highly about the Les Grands Charrons Meursault last year while giving a 17.5 point score. "Boldly oaked but the stewed-apple fruit is admirably balanced. Zesty acidity provides welcome crispness to the full body. This has everything in the right place, and plenty of leesy complexity on the length."
Wine Advocate's William Kelley gave a 92-94 point scores to four of Pierre's grand crus last year: Batard-Montrachet, Chambertin, Griotte-Chambertin, and Corton-Charlemage La Croix. Speaking about the Griotte-Chambertin: "Soaring from the glass with aromas of cherries, orange rind and raspberries, framed by a deft touch of new oak, the 2018 Griotte-Chambertin Grand Cru is full-bodied, fleshy, gourmand and enveloping, with a layered core of succulent fruit framed by refined tannins. This is a delicately extracted, fruit-driven Griottes that will offer a broad drinking window."
We are optimistic we could see similar or even higher praise for this year's wines. Pierre is constantly honing his craft and knowledge about his terroirs. Additionally, overall opinions of the 2019 Burgundy vintage are positive with balance and freshness recurring descriptors for what some are calling a new 'benchmark' vintage. Now could be the perfect time to increase your exposure to one of the most exciting names in Burgundy.
Pierre Girardin wines: