20 March 2023
Tuscany 2020 – Strong vintage hints at region's potential
Guado al Tasso – Asserting itself
Like their cousins in Piedmont, a slew of Tuscan new releases could lift the potential of the Italian market. The Cult Wines Italy Index one- and three-year returns of 7.50% and 25.39% (as of 28 Feb 2023) are solid but lagged the Cult Wines Global Index figures of 13.38% and 40.23%. However, Italy was an outperformer (see Figure 1 below) in the not-too-distant past, and the recent underperformance largely stems from the sky-high growth in Burgundy and Champagne rather than a lack of interest in Italy.
Figure 1 - More potential for Italy
5-year performance of Cult Wines Italy Index & Cult Wines Global Index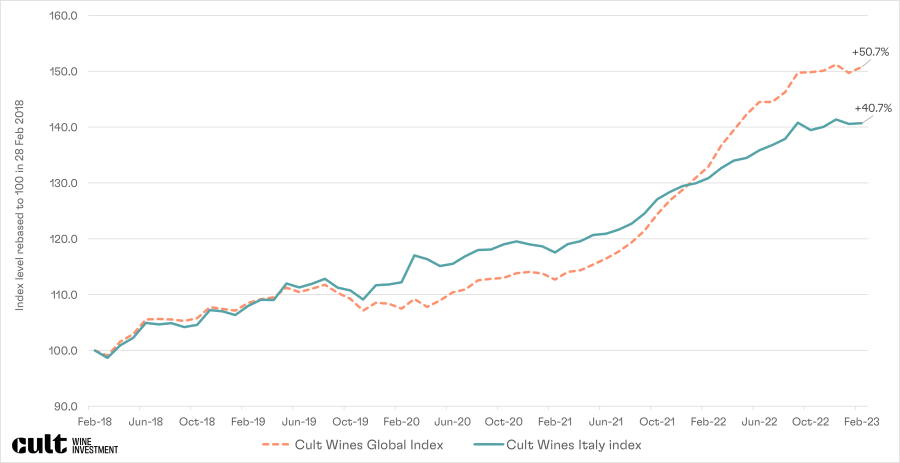 Source: Cult Wines Indices as of 28 Feb 2023. Past performance is not a guarantee of future returns.
Many Italian wines now represent relative value compared to other global fine wine regions following this underperformance. We've already written about the potential for the excellent Barolo 2019 vintage, but Tuscany also plays an important role in Italy's outlook.
Super Tuscans - 2020 releases
The term Super Tuscan refers to wines from Tuscany that typically include international grape varieties, namely Cabernet Sauvignon, Cabernet Franc, and Merlot. A select group of top wines define the category – Sassicaia, Ornellaia, Solaia, Tignanello, Masseto. Although they all command high prices, their iconic status and low production levels mean they can still offer onward performance potential.
All will see their new 2020 vintages released this year, and early signs point to a strong year. A cool start to the growing season gave way to a hot dry summer and good harvest conditions in late September. Although many critics have yet to score the wines, Antonio Galloni's (Vinous) initial reviews hint at one of the stronger vintages since the standout 2016s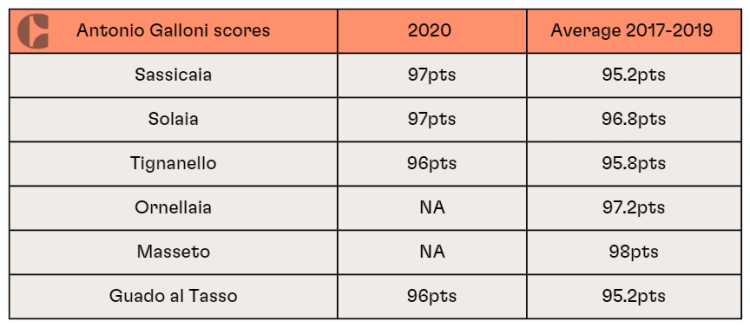 Source: Vinous Media.
Tignanello – Star performer
Marchesi Antinori's Tignanello has emerged as one of the stronger investments in Italian wine in recent years. Sitting in the heart of the Chianti Classico region, Tignanello is based on Sangiovese but also includes Cabernet Franc and Cabernet Sauvignon, which weren't allowed by the Chianti DOC when the wine first emerged in the 1970s, hence its Toscana IGT classification.
As the Super Tuscan gained global prominence in the 21st century, Tignanello prices have taken off. According to Wine-Searcher data, the average bottle price across all vintages has nearly doubled over the past five years.[1] The upward price pressure is still evident in the fact that the new 2020 came to market at £1,230 (12x75cl, London RRP), over 20% higher than the 2019 release.
But this hasn't erased its relative value. The 2020 release price sits below all other back vintages of Tignanello despite one of the better scores (96pts from Antonio Galloni). This creates potential upside in both the near term against back vintages as well as longer term should the Italian market gain pace.
Figure 2 - Value in Tignanello 2020
Scores and current market prices of Tignanello vintages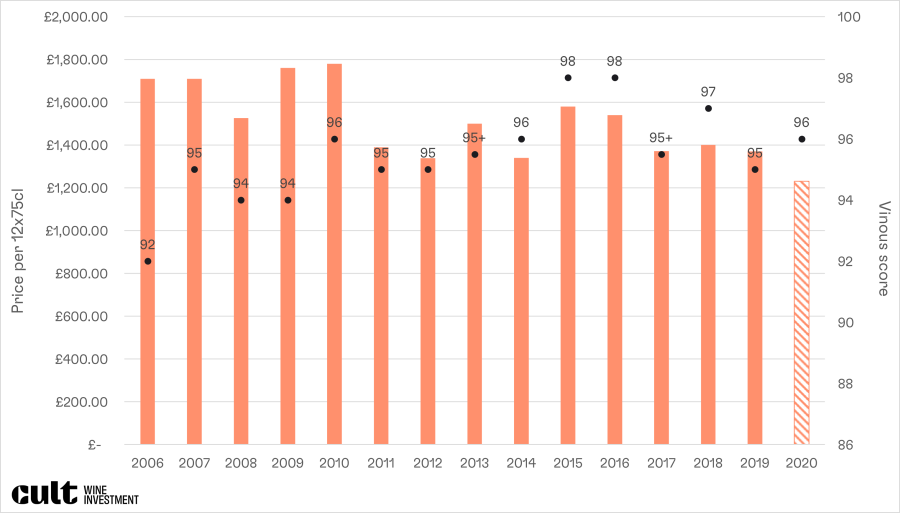 Source: Pricing data from Wine-Searcher as of 13 March 2023. Scores from Vinous Media.
Guado al Tasso – Asserting itself
Tuscany is more than just the five Super Tuscan stalwarts; other great wines are starting to see steady price appreciation as global audiences expand their horizons in the region. For example, Tenuta San Guido's Guidalberto, considered a second wine to Sassicaia, is a top five performer[2] so far this year in the Cult Wines Global Index.
The Antinori line-up also has more to offer than Tignanello and Solaia. Their Guado al Tasso Superiore from the coastal Bolgheri DOC has been posting strong returns of late. The 2005 vintage was the top performing wine in the Cult Wines Italy Index in 2022, helping the all-vintage average return come to 34.50% (second highest all-vintage average in Cult Wines Italy Index)[3].
Despite these rising prices, we believe Guado al Tasso holds more room for growth - prices still sit below other big name Super Tuscans, and critic scores regularly sit in the high 90s. Although this is partly due to higher annual production (usually slightly more than 100,000 bottles of Guado al Tasso Superiore each year), the lower starting price points can result in more of these bottles destined for consumption, reducing supply and increasing the value of existing bottles.
Sangiovese renaissance
We wrote last year about the rise of Brunello di Montalcino in the Italian investment conversation. And in Brunello, Biondi-Santi remains king. The iconic estate ages its wines longer than most Brunellos, meaning it is releasing the Annata 2017 and Riserva from the prime 2016 vintage Riserva this month.
But other wines based on Tuscany's native grape variety Sangiovese are also making noises. Last year, we wrote about the improving image of Chianti Classico, which is helping the performance of the region's finest. For example, Felsina's Chianti Classico Rancia Riserva (average across vintages) outpaced the Italy Index in 2022 with a 24.9% gain.
Another Sangiovese producer to watch is Montevertine. The estate left the Chianti Classico AOC in the 1980s due to its requirements to include white grapes in any blend rather than allow for a 100% Sangiovese wine. Today, its top wine, La Pergola Torte, is known as one of the most traditional Sangiovese wines available. The quality of this single-vineyard wine showcases Sangiovese at its best and prices rose faster than the wider market with a 32.6% jump in 2022. The strong 2020 vintage of La Pergola Torte pulled in an initial 96-98 point score from Antonio Galloni, potentially adding another long-term option in the Italian market.
---
[1] +94.94% from 28 Feb 2018-28 Feb 2023. Pricing data from Wine-Searcher as of 28 Feb 2023. Figure calculated in GBP, may differ in other currencies. Past performance is not a guarantee of future returns.
[2] +15.6% average across all vintages within Cult Wines Global Index as of 28 Feb 2023. Past performance is not a guarantee of future returns.
[3] Cult Wines Index based on Wine-Searcher pricing data as of 13 March 2023. Performance calculated in GBP; may vary in other currencies. Past performance is not a guarantee of future returns.