05 May 2023
April 2023 Flash Report - Wine prices slide lower to start Q2
Cult Wines Indices – Returns as of 30 April 2023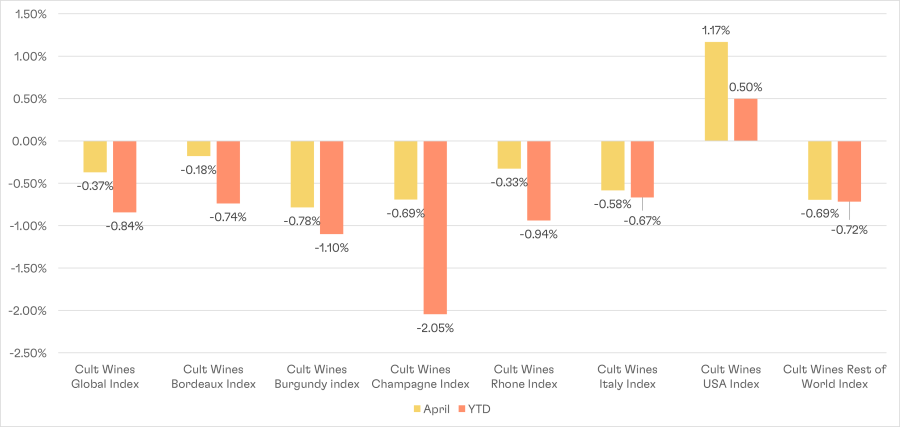 Source: Pricing data as of 30 Apr 2023. Cult Wines Indices are an objective measure of the global fine wine market based on Wine-Searcher pricing data and rebalanced annually based on strict liquidity criteria. Prices calculated in GBP and results may vary in other currencies. Past performance is not a guarantee of future results.
Fine wine markets declined in April by 0.37%, as measured by the Cult Wines Global Index.
The early Q2 weakness likely stems from ongoing price consolidation in Burgundy and Champagne. These two regions had been the top performers in recent years, but the sustained rally has triggered increased price sensitivity among buyers in 2023, which often leads to a temporary slowdown.
Growing anticipation about the upcoming Bordeaux 2022 EP campaign could also have contributed to the slow April. Demand for the campaign is expected to be stronger than recent years due to a high-quality vintage and Bordeaux's improved relative value. However, this could have created a calm before the storm as some buyers likely stayed on the sidelines in April in advance of the new releases (to start appearing second week of May).
Macro market summary – Economic growth outlook improving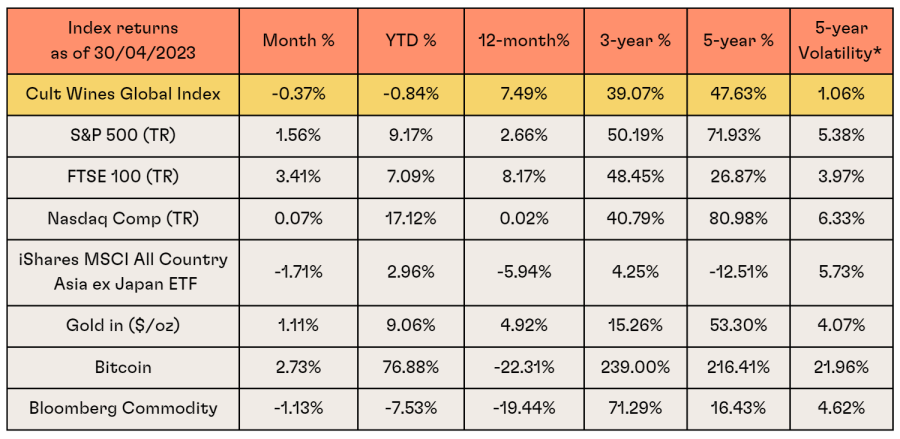 Source: Investing.com, Wine-Searcher as of 30 Apr 2023. Past performance is not indicative of future returns.
*Volatility = Rolling 5-year standard deviation of monthly returns
Positive economic growth data in the US, eurozone and the UK reduced global recessionary fears. This gave a boost to equity markets which continued the rebound that began in late March.
Inflation also eased in most major economies due to falling energy prices. Markets still expect the US Federal Reserve to hike rates in May before pausing and then potentially lowering rates later in the year. Central banks in Europe and the UK will likely enact more hikes due to stubborn core inflation rates.
China's Q1 GDP growth came as a pleasant surprise at 4.5% year-on-year, a sign the end of COVID restrictions is translating into economic data. However, geopolitical tensions caused Asian indices to underperform.
The improved macroeconomic backdrop contributed to the US dollar weakening against a basket of global currencies. The safe-haven greenback generally strengthens during times of stress but can weaken as global growth improves. The British pound strengthened against the US dollar in April due to expectations that the Bank of England has more rate hikes ahead of it compared to the US Fed.
Inflation and rates

Regional wine performance detail
2023 Wine Performance League Table – YTD Return % Across Vintages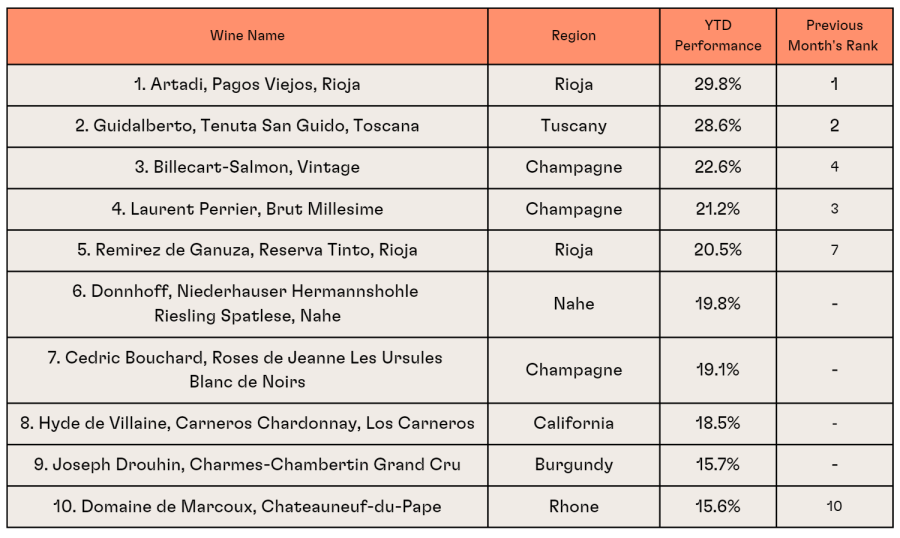 Source: Pricing data from Wine-Searcher as of 30 Apr 2023. Based on average across all vintages of wines contained in Cult Wines Indices, which are rebalanced regularly based on strict, objective liquidity criteria. Prices calculated in GBP and results may vary in other currencies. Past performance is not a guarantee of future results.
Artadi Pagos Viejos remains the top performing wine so far this year even though its YTD performance inched back slightly in April. Produced from old vines from three of Artadi top vineyards, Pagos Viejos is a wine built to last and remains excellent value even after the recent climb.
Remirez de Ganuza Reserva, another great quality Rioja, continued to rise, jumping from seventh to fifth place.
Guidalberto remained in second place. This Tuscan Merlot-based wine of Tenuta San Guido is generating more appreciation as a serious, age-worthy wine in its own right rather than just a second label to Sassicaia.
Billecart-Salmon, Vintage and Laurent Perrier, Brut Millesime traded spots in third and fourth. Both edged back slightly in their YTD figures during the April slowdown. However, a new Champagne entered the list in the form of Cedric Bouchard, Roses de Jeanne Les Ursules Blanc de Noirs, underscoring the potential of Grower Champagne alongside the Grand Marques.
Other new entries in top 10 include a top German Riesling in the form of Donnhoff, Niederhauser Hermannshohle Riesling Spatlese, and a Chardonnay from Hyde de Villaine. A joint venture between Burgundy's de Villaine family and the Hyde family from California, Hyde de Villaine has been making a range of red and whites in the Los Carneros AVA just south of Napa Valley since 2000. Critic scores have steadily improved with recent vintages of their Chardonnays hitting the mid-high 90s.
Although Burgundy as a whole hasn't performed as well in early 2023, Joseph Drouhin, Charmes-Chambertin Grand Cru has delivered impressive gains, stressing the lasting appeal of the region's top wines.
---
Launched in December 2022, the Cult Wines Global Index and Cult Wines Regional Indices form benchmark measurements of the global fine wine market performance with historical data, powered by Wine-Searcher, going back to the beginning of 2014. The Indices are separate from Cult Wine Investment Performance which tracks wines purchased by Cult Wine Investment.
Past performance is not indicative of future success; the performance was calculated in GBP and will vary in other currencies. Any investment involves risk of partial or full loss of capital. The results depicted here are not based on actual trading and do not account for the annual management fees that may be charged to a Cult Wine Investment customer which range from 2.25% to 2.95% depending on the size of the portfolio, and there is no guarantee of similar performance with an investor's particular portfolio.