05 June 2023
May 2023 Flash Report - Wine prices remain on the backfoot
Cult Wines Indices – Returns as of 31 May 2023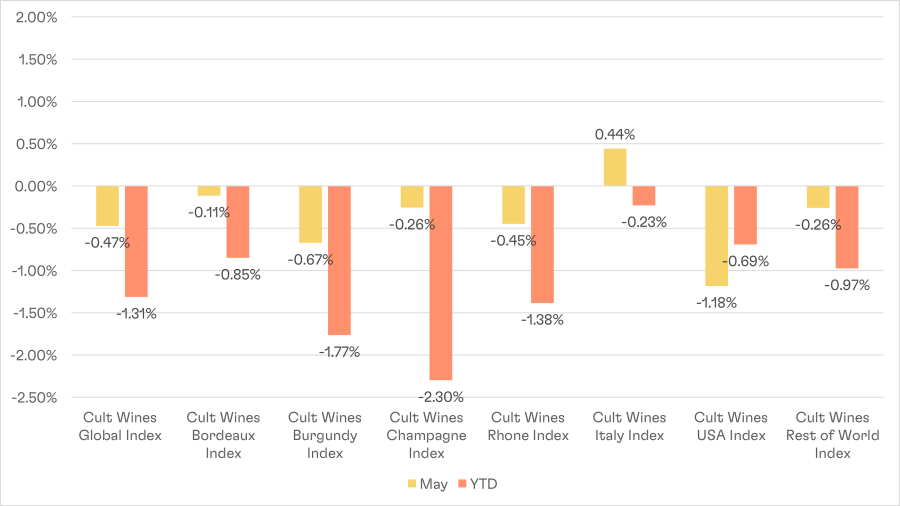 Source: Pricing data as of 31 May 2023. Cult Wines Indices are an objective measure of the global fine wine market based on Wine-Searcher pricing data and rebalanced annually based on strict liquidity criteria. Prices calculated in GBP and results may vary in other currencies. Past performance is not a guarantee of future results.
Fine wine markets continued to trend lower in May with a 0.47% drop, as measured by the Cult Wines Global Index.
The primary cause of the downturn remains what appears to be a temporary correction period following the sustained rally in prices from mid-2020 to the end of 2022.
The uncertain economic backdrop likely remains a factor. Many individual regions are posting month-on-month swings between positive and negative figures, signalling that demand remains in place but that buyers are price sensitive.
Macro market summary – Mixed signals in global economy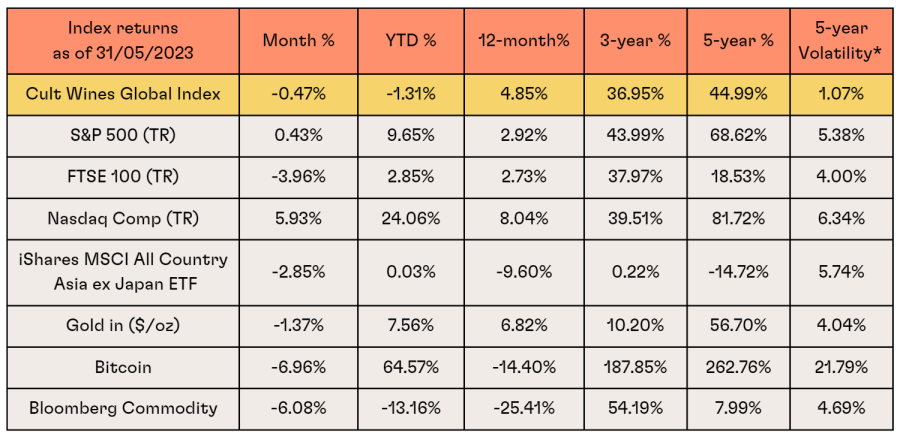 Source: Investing.com, Wine-Searcher as of 31 May 2023. Past performance is not indicative of future returns. *Volatility = Rolling 5-year standard deviation of monthly returns
The global economy delivered mixed messages in May. Although inflation levels in major economies rose, most economists expect them to remain on a broad downward trajectory. This backdrop helped US equities gain ground although the gains were limited by concerns over an impasse between Republicans and Democrats over the US debt ceiling. A deal had been reached, however, by month's end to raise the debt ceiling and avoid an unprecedented default.
Inflation in the UK remains more stubborn than in the US or Europe. As a result, UK bonds sold off and equities underperformed. After a strong Q1 following the end of COVID restrictions, Chinese macro data softened slightly in early Q2.
Contrary to expectations, the US dollar strengthened against a basket of currencies in May, partly due to the US debt ceiling impasse driving demand for safe havens. The UK's inflation struggles weakened the British pound.
Regional wine performance detail
2023 Wine Performance League Table – YTD Return % Across Vintages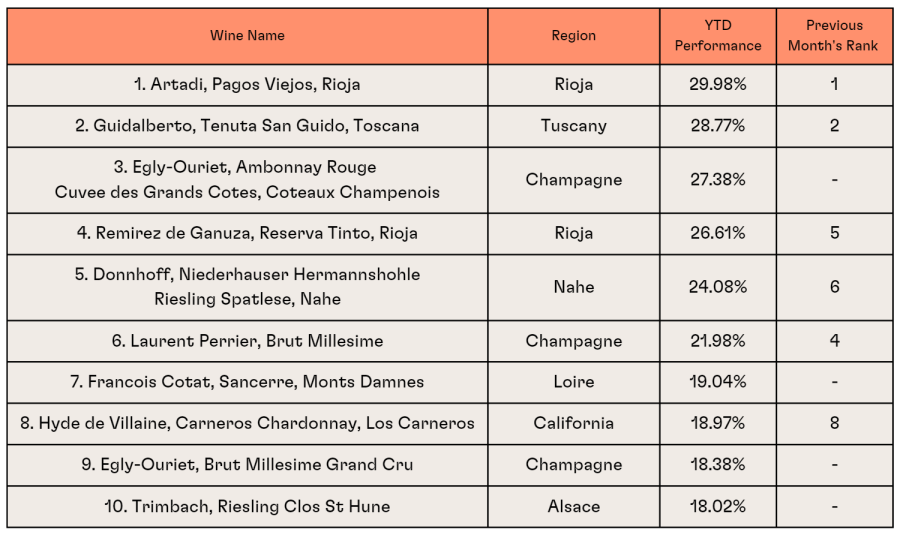 Source: Pricing data from Wine-Searcher as of 31 May 2023. Based on average across all vintages of wines contained in Cult Wines Indices, which are rebalanced regularly based on strict, objective liquidity criteria. Prices calculated in GBP and results may vary in other currencies. Past performance is not a guarantee of future results.
Artadi Pagos Viejos remains the top performing wine so far this year. Produced from old vines from three of Artadi's top vineyards, Pagos Viejos is a wine built to last and remains excellent value even after the recent climb.
Remirez de Ganuza Reserva, another great quality Rioja, moved up one spot in May to fourth after sitting seventh two months ago.
Guidalberto remained in second place. This Tuscan Merlot-based wine of Tenuta San Guido is generating more appreciation as a serious, age-worthy wine in its own right rather than just a second label to Sassicaia.
Egly-Ouriet surged onto the leader board in May with two wines, including Ambonnay Rouge Cuvee des Grands Cotes, Coteaux Champenois which soared all the way to third place YTD. Egly-Ouriet is best known as a top Grower Champagne producer, but this rare still Pinot Noir provides a reminder that the village of Ambonnay is a source of some high-quality reds.
The Loire Valley AOC Sancerre appeared in the standings in the form of Domaine Francis Cotat's Les Monts Damnes's complex, well-structured Sauvignon Blanc. The excellent German Riesling Donnhoff, Niederhauser Hermannshohle Riesling Spatlese moved up one spot to fifth.
---
Launched in December 2022, the Cult Wines Global Index and Cult Wines Regional Indices form benchmark measurements of the global fine wine market performance with historical data, powered by Wine-Searcher, going back to the beginning of 2014. The Indices are separate from Cult Wine Investment Performance which tracks wines purchased by Cult Wine Investment.
Past performance is not indicative of future success; the performance was calculated in GBP and will vary in other currencies. Any investment involves risk of partial or full loss of capital. The results depicted here are not based on actual trading and do not account for the annual management fees that may be charged to a Cult Wine Investment customer which range from 2.25% to 2.95% depending on the size of the portfolio, and there is no guarantee of similar performance with an investor's particular portfolio.