There was something new about the bottle in front of me. What is it? I got it! the label has changed, luckily for the better. Once tasted the wine surprised me with Carmenere like no other.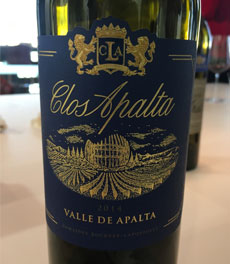 Clos 2014 (48% Carmenere 31% Cabernet Sauvignon and 21% Merlot)
Pure, perfectly ripe blackcurrant and blueberries with a violet, delicate note, melted vanilla with turned damp earth and intense notes allspice and smoke. At 15% ABV, this wine is extremely silky, harmonious for its age with juicy freshness and soft, superbly ripe tannins.
98+ pts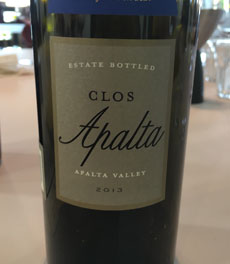 Clos 2013 (70% Carmenere 21% Cabernet Sauvignon 7% Merlot and 2% Petit Verdot)
A similar character with flavours moving towards jammy berry with a characteristic burnt wood aroma with fruit and tomato leaf greenness. Overall, very good, although 2014 was much more compact and refined.
95 pts

Wines have been presented by Charles de Bournet Marnier-Lapostolle, winery owner with a passion and determination to succeed. Definition of Clos from French refer to the walled vineyard, in case of Clos Apalta vineyards surrounded by mountains which creates shadows for the vineyards stretching even further day and night temperature difference.
The unique variation between day and night temperatures is key to the wine quality where the heat of the day promotes sugar accumulation, while the cooler nights preserve acidity retention. Those very conditions keep the vineyard healthy. Clos Apalta features some 100-year-old vines, which for a vineyard of 48 hectares is unheard of. Wines are aged for around 20 months with 100% new oak, with additional year after bottling with current vintage being 2014. No expense has been spared on state-of-the-art gravity feed winery built in 2006.
The quality of these wines has never been higher, James Suckling awarded the 2014 Clos Apalta with 100 points bringing a lot of attention to this often-forgotten wine country, Charting new territory where, in my opinion, they deserve to be on one table with the worlds finest. For every lover of full body reds of exceptional quality, this is a must, you won't be disappointed - I promise you.