08 August 2023
July 2023 Flash Report - Fine wine downturn continues
Cult Wines Indices – Returns as of 31 July 2023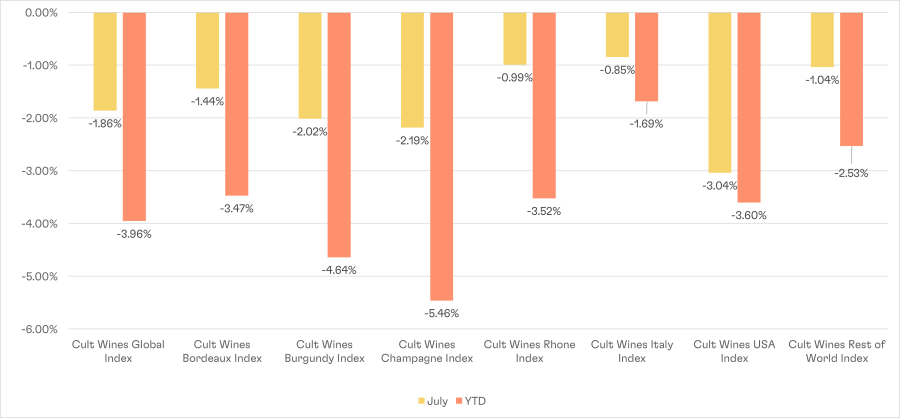 Source: Pricing data as of 31 July 2023. Cult Wines Indices are an objective measure of the global fine wine market based on Wine-Searcher pricing data and rebalanced annually based on strict liquidity criteria. Prices calculated in GBP and results may vary in other currencies. Past performance is not a guarantee of future results.
Fine wine markets experienced another difficult month in July when the Cult Wines Global Index fell by 1.86%. This marks the biggest monthly percentage decline so far this year, bringing the YTD slump to -3.96%.
We've said before how the 2023 downturn is not unexpected following the preceding multi-year rally. However, the price depreciation is also likely a reflection of the macro environment. Higher interest rates and improving equity markets could be sapping demand for alternative assets like fine wine.
The price declines were felt across all regions relatively evenly although the USA regional index suffered the most with a -3.04% drop.
Macro market summary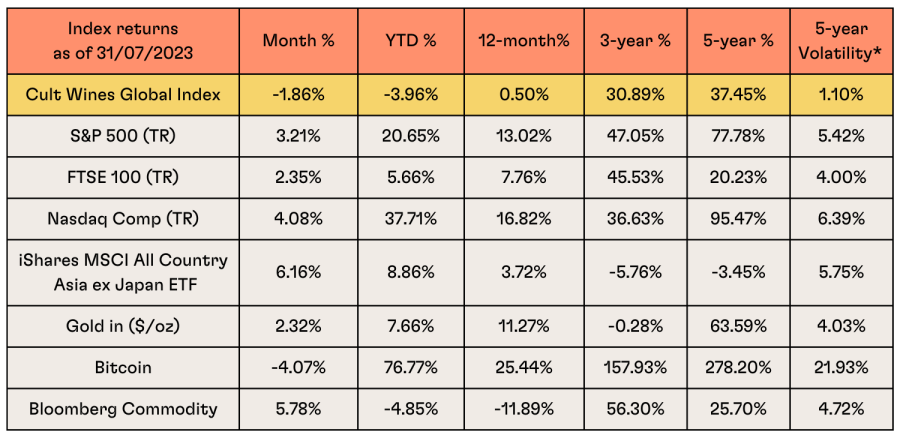 Source: Investing.com, Wine-Searcher as of 31 July 2023. Past performance is not indicative of future returns.
*Volatility = Rolling 5-year standard deviation of monthly returns
Stock markets and other risk assets continued a strong summer. Inflation in the US and Europe continued to fall while economic growth and employment data remained healthy for the most part, raising hopes that most major economies would navigate a soft landing from the high inflation environment.
The resilient employment data allowed the US Federal Reserve to raise interest rates in July to a 22-year high. However, hopes of a pause in the coming months buoyed sentiment.
The situation in the UK remains more complicated as inflation has proven more persistent. Consequently, the Bank of England is expected to continue to tighten monetary policy longer than other major central banks. This brings concerns about the UK growth outlook while also strengthens the pound relative to the US dollar.
Regional wine performance detail
The Cult Wines USA Index suffered the biggest decline in July with a -3.04% drop. Some of this may have stemmed from the stronger pound in the first half of July. The stronger British pound relative to the US dollar can impact the indices negatively as Cult Wines Indices are calculated in pounds sterling. Two Napa wines - Eisele Vineyard's 2015 Cabernet Sauvignon and Bond's 2017 Quella – saw the biggest price drops among US names in July (19% and 12% respectively according to Wine-Searcher pricing).
The Champagne and Burgundy indices continue to pull back from the heights hit in late 2022. Some excellent Burgundian wines experienced some of the biggest price declines, such as Domaine Meo Camuzet Clos de Vougeot Grand Cru 2010. Other wines did post gains – Domaine Anne Gros Richebourg Grand Cru 2016 was up 7% on the month. Among Champagnes, the Louis Roederer Cristal Rose 2009 delivered a 5% return on the month.
Cult Wines Italy Index held up better than other regions in July and its year-to-date downturn has so far been modest. Italy remains a good source of relative value in the fine wine market, which underpins its stability even during difficult market backdrops. Vietti's Barolo Lazzarito from the prime 2016 vintage (98pts, The Wine Advocate) was up 10% on the month.
---
Launched in December 2022, the Cult Wines Global Index and Cult Wines Regional Indices form benchmark measurements of the global fine wine market performance with historical data, powered by Wine-Searcher, going back to the beginning of 2014. The Indices are separate from Cult Wine Investment Performance which tracks wines purchased by Cult Wine Investment.
Past performance is not indicative of future success; the performance was calculated in GBP and will vary in other currencies. Any investment involves risk of partial or full loss of capital. The results depicted here are not based on actual trading and do not account for the annual management fees that may be charged to a Cult Wine Investment customer which range from 2.25% to 2.95% depending on the size of the portfolio, and there is no guarantee of similar performance with an investor's particular portfolio.