Much is written about Aubert de Villaine's modesty – that he is one of Burgundy's most humble wine producers is no secret – but it's not until you meet him in person that you're truly aware of his warmth. A fantastic conversationalist, Aubert is as interested in you as you are in him, and eagerly welcomes your opinion of his wines and the domaine itself. He talks about his passion for hiking in the mountains, his penchant for spending contemplative alone time in the vineyards and his current love of Schubert. He says he hopes to make a Musigny one day should the opportunity arise. I've got my fingers crossed.
DRC, with its 1500-year-old history, has taken a great deal of care and attention to detail in establishing itself as one of the most sought after Pinot Noirs in the world. Aubert de Villaine, a trained social economist, joined the estate in 1974 and has focused tirelessly on maintaining the highest quality ever since.
After a challenging 2013, the domaine has presented its vintage one year later than the rest of Burgundy – an effort that has allowed the wine more time in-bottle to harmonise. The year saw late flowering due to millerandage; a viticultural problem in which grape bunches contain berries that differ greatly in size and, most importantly, maturity – although while quantities are affected, quality remains largely untouched. That said, it's largely accepted that 2013 provided mixed qualities across Burgundy dependent on appellation. Fully updated vintage notes can be found here.
The tasting session (organised by exclusive DRC importer Corney and Barrow, to whom I'm enormously grateful) comprised seven Grand Crus. In fact, there were only three wines I wasn't able to sample: Montrachet, due to extremely low quantities; Batard-Montrachet, which is reserved for family and friends; and Vosne-Romanee Premier Cru Cuvee-Dauvalt Blochet, which was made from declassified Grand Cru fruit not actually produced in 2013.
Here are my findings: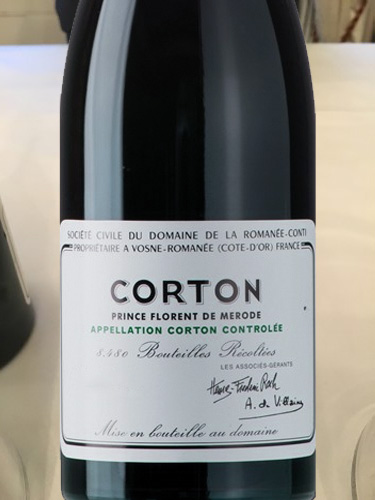 Corton 2013
A light ruby red with lifted aromatics of sour cherries and raspberries. Soft and light, with a fresh and energetic palate and lots of floral spiciness and earthy tones.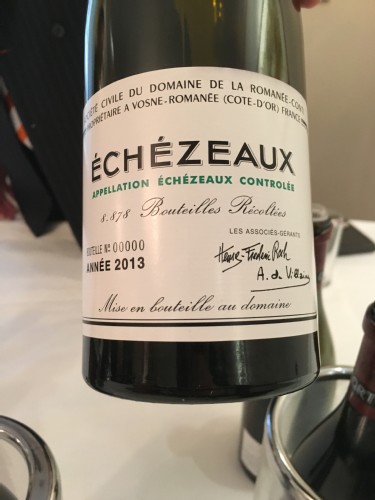 Echezeaux 2013
A bright ruby with initial aromas of cracked rock, dry earth and nuanced herbal and earthy notes. On second tasting, expect a broader spectrum of aromatics joined by red cherry and cranberry fruit highlighted by leafy notes. In contrast to Corton, there is, as you would expect, more depth and breadth of flavour.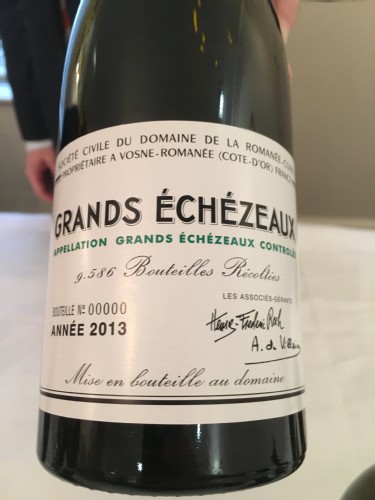 Grands Echezeaux 2013
Bright ruby with initially fruity aromas of strawberries, red cherries and cranberry, followed by cracked rock-like aromas. Spicy cracked red pepper, floral and earthy undertones give this wine a punchy yet refreshing mineral finish. A fine contrast to the Echezeaux.
Romanee Saint Vivant 2013
Bright ruby with nuanced aromas of red berries and dark cherry fruit reinforced by dry herbs, earthy spices and leafy notes in the background. The palate has richness giving way to a very tense lasting finish.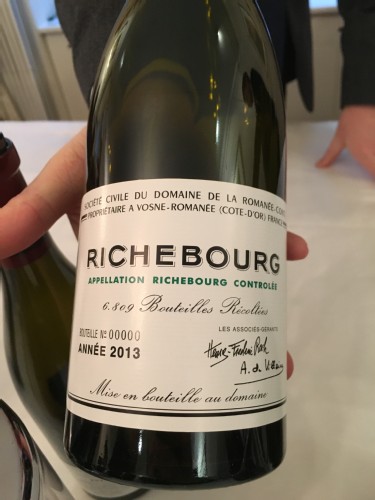 Richebourg 2013
Bright ruby with aromas of mostly red berries such as cherries, raspberries and red plums, complemented by notes of violet, cracked rock and spicy pepper. A surprisingly approachable wine which was very delicate and round on the palate, yet decisive. I would say it was the most extroverted and pleasing wine of the day.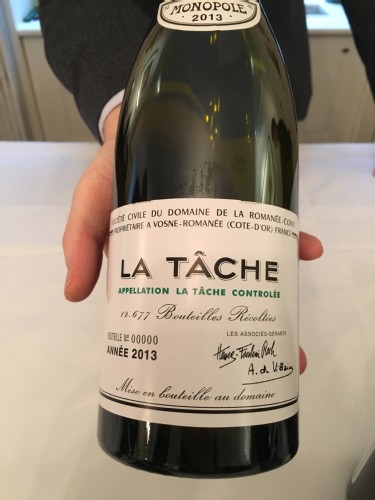 La Tache 2013
Bright ruby red and – perhaps surprisingly – the most introverted wine of the day. Lots of earthy and herbal aromas at first with green leaf, allspice and dry earth notes. In its second nose it boasts dark cherry, raspberries and red currant. The palate is dry and intense with earthiness and floral spice followed by a fruity freshness. I look forward to seeing how this unfolds over time.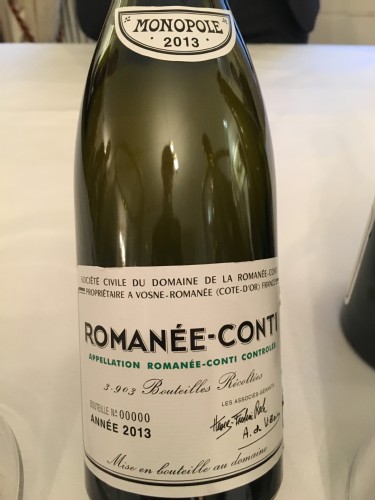 Romanee-Conti 2013
A medium intense ruby with aromas of dark plum, black cherry and blackcurrant with lots of earthy spiciness (at the first whiff I thought it was a Rhone Syrah). There's a great deal of volume and intensity to be found in terms of aromatics, however the palate delights with a huge core of mostly black fruit, earthy, oaky spices and intense leafy notes that lead to a refined finish that bring a smile to your lips. This was the most concentrated of all the wines, and I hope to taste it again in coming years to see how it develops.
Compared to 2012, the 2013 boasted defined flinty mineral aromas and floral notes. The 2012, in contrast, was a brighter and more energetic vintage, lending itself more to berry flavours and spiciness with greater breadth. No doubt, they are both exciting and complementary vintages, but if faced with a choice, I'd opt for 2012, if only for its decisiveness across the board.
Does DRC produce the best Pinot Noir in the world? Only you can answer that. Alas, finding a conclusion doesn't come cheap – these wines are well known for their (rightfully) high price tags.
Congratulation to Aubert de Villaine and the domaine for what I consider a great result despite such a challenging vintage. I am most certainly looking forward to revisiting these wines in the coming years.
Let me leave you with words of wisdom from one of the great wine connoisseurs, Paulo Coelho.
"Accept what life offers you and try to drink from every cup. All wine should be tasted; some should only be sipped, but with others, drink the whole bottle".