How good is 2016 in Burgundy, really?
Visiting Burgundy always makes my heart beat faster, and when I spent two days there recently, the quality of 2016 was obviously very high. However, it is a small vintage due to severe frost on 26th of April, which wiped out around 30% of the crop, followed by incredibly aggressive mildew which presented a lot of challenges. Yet those who were ready to work hard in the vineyards did well, and the vintage was saved by a consistently warm July, August and September.
The 2016 reds are less concentrated than 2015, with a leaner and more delicate style allowing the most fantastic purity of flavour. My impression was that this freshness means that growers prefer 2016 over 2015 – as I do. Pierre Duroché from Domaine Duroché calls the 2016 vintage 'classic' for reds, while Guillaume Tardy from Domaine Jean Tardy compares it to the excellent 2010, but with more body.
There was such devastation around the grand crus of Le Montrachet that six estates (DRC, Domaine des Comtes Lafon, Domaine Leflaive, Domaine Guy Amiot et Fils, Domaine Lamy-Pillot and Domaine Fleurot-Larose) joined together to produce just one 228-litre barrel of Le Montrachet. This was made in the Leflaive cellar, and the bottles will be shared equally among the respective estates.
Generally speaking, 2016 whites are not as ripe as 2015 nor as focused as 2014. There will be a separate report focusing on whites at a later date.
Domaine Denis Bachelet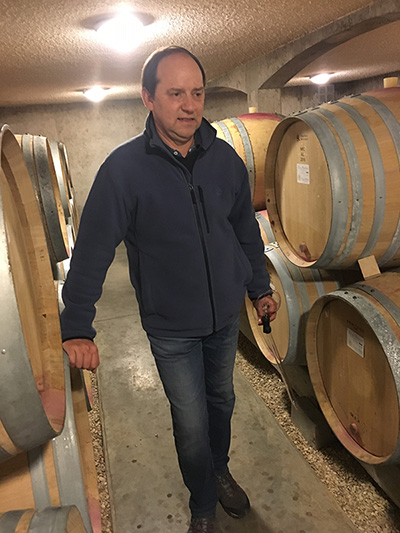 The charm and soft nature of Denis somehow translates in to his wines, which are quietly confident and incredibly refined. He has a team of five people working 3.83 hectares based in Gevrey-Chambertin, producing five red wines which are difficult to find but worth seeking out. Over the years, this address has become known for crafting some of the finest Pinot Noir in Burgundy. Their Charmes-Chambertin is the one of the finest in the appellation, but in 2016 only four barrels were produced.
Domaine Denis Bachelet, Cote de Nuits-Villages,
Burgundy, France 2016
Flinty and mineral with red cherry and cranberry fruit, this has fantastic depth and freshness considering its origin. Worth considering for your cellar.
Domaine Denis Bachelet, Bourgogne Rouge,
Burgundy, France 2016
This has got to be one of the best basic red burgundies, produced entirely from domaine-grown fruit. It has a light colour, and the flavours are dominated by dark cherry and plum fruits, with lovely, light smoky mineral freshness.
Domaine Denis Bachelet, Gevrey-Chambertin Vieilles Vignes,
Burgundy, France 2016
I've always been a fan of this wine, especially in vintages like 2016. Full of life, with vibrant red and dark cherry fruits plus hints of dry herbs, minerality and a faint aroma of wood smoke. Impossible not to like!
Domaine Denis Bachelet, Gevrey Chambertin 1er Cru Les Corbeaux,
Burgundy, France 2016
The key to this wine is the raw material coming from vines planted back in 1920. It has effortless depth of flavour blending purity of fruit, spicy mineral character and delicate floral aroma, leading to a very fine and long finish.
Domaine Denis Bachelet, Charmes-Chambertin Grand Cru,
Burgundy, France 2016
Explosive on the nose and palate, very mineral at first but then the perfectly ripe red berry fruit emerges. Incredibly pure and precise, the palate delivers exceptional length. This is one of the most exciting barrel samples I have tried in a long time.