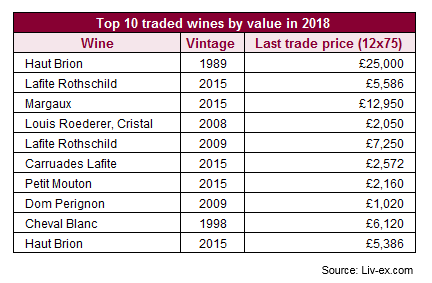 Liv-ex has revealed the top traded wines by value in 2018 so far, with Haut Brion 1989 taking the top spot.
Robert Parker has awarded the wine 100 points on several occasions, describing it as "one of the greatest young Bordeaux wines of the last half-century". As Liv-ex notes, its age means supplies are dwindling, and prices are subsequently on the rise. Its most recent trade price of £25,000 per case of 12 represents an all-time high for the wine.
The table also features a number of 2015 wines, which became physical this year. Three First Growths placed in the top 10 – Lafite Rothschild 2015 in second place and Chateau Margaux 2015 in third. Margaux 2015 saw a great deal of attention following the announcement that it would be released in a commemorative bottle. It's since risen from £6,600 per case of 12 to £12,950.
We've reported recently how Second Wines are catching up with their Firsts, so it's no surprise to see two in the table. Carruades Lafite and Petit Mouton ranked 6th and 7th respectively.
Almost all the wines in the table are from Bordeaux, with the exception of two Champagnes. Louis Roederer Cristal vintage 2008 and Dom Perignon 2009 ranked 4th and 8th respectively.