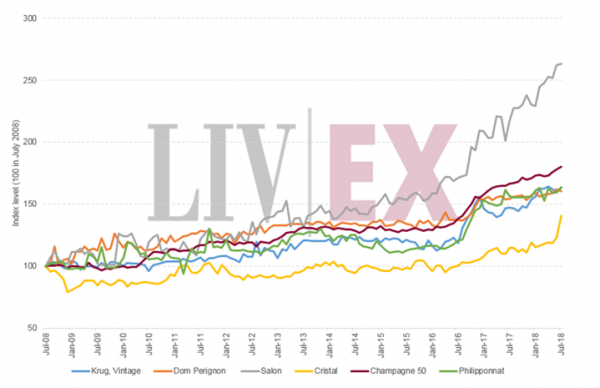 Liv-ex's recent Champagne report, A Market Without Bubbles, reveals that Salon is the top performing brand within the Champagne 50 Index over the past decade.
The chart above shows the price performance of the brands within the index, with each brand index containing the five most recently physical vintages at any point in time. As seen, Salon vintages have considerably outperformed the Champagne 50 with a gain of 163%.
According to Liv-ex, "The Salon price rise might be partially attributed to their carefully calculated vintage releases and limited production volume. The brand has declared fewer vintages than all other houses – five compared to six or seven from others – which is the likely reason behind its steep price increase."
Other houses have also performed well, including Philipponnat, Krug and Dom Perignon, which have broadly tracked the Champagne 50, gaining 63%, 60% and 61% against the index's 78% rise.
Cristal, however, has lagged behind, yielding a 40% increase in the last decade, nearly all of which has occurred in the past two years. Up until mid-2016, its index ran flat. As Liv-ex explains,"increased Cristal vintage declarations and a fall-out with previously loyal rap icons who elevated the brand in the early noughties might go part of the way to explaining this. More recently, vintage declarations such as the 2008 have created a buzz among the trade and more traditional Champagne collectors, giving the brand a boost."