04 July 2023
Bordeaux market outlook - the importance of being selective
Outlook after the 2022 EP campaign
The price rises did not come as a total surprise given the hype around the vintage's quality. The hype appears to be justified with leading wine critics handing out big scores. Many estates posted EP ranges that could land them their highest-ever scores from leading publications once the wines are re-scored in bottle.
2022 takes its place among 21st century top scores
The Wine Advocate average scores for 50 leading Bordeaux Châteaux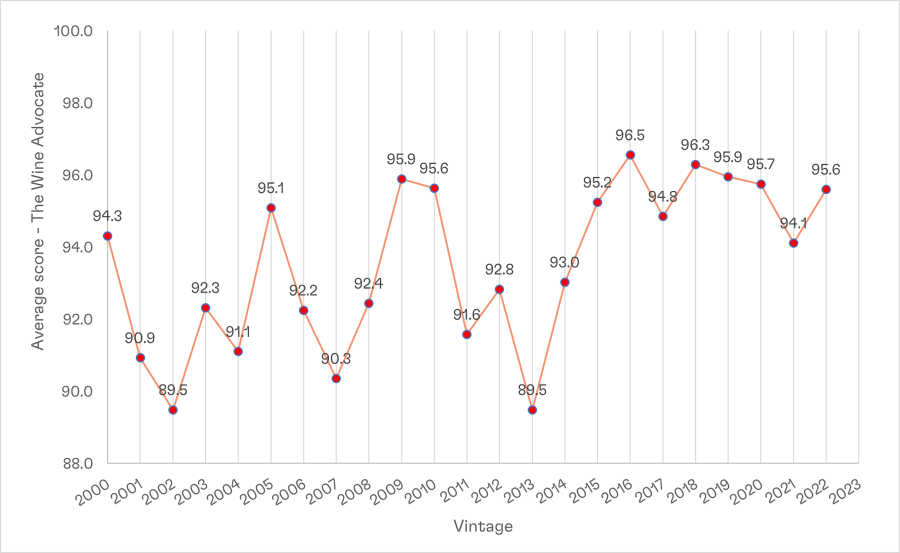 Source: The Wine Advocate as of 01 June 2023.
On top of the high scores, the global inflationary backdrop and overall performance of fine wine in the past two years contributed to Châteaux raising their releases prices. The same 50 wines used to calculate scores above saw an average 23% increase versus their 2021 EP prices (based on EUR ex-negociant price).
These stretched prices create a two-tiered investment outlook for the vintage as whole:
Near-term stability – We will unlikely see significant broad-based price appreciation right away. Bordeaux wines, offering attractive value compared to their Burgundian and Champagne counterparts, are likely to aid the stability of the 2022 En Primeur wines and back vintages in the current market environment.
Long-term performance – The appreciation potential of the 2022s should increase with time. Great wines from an acclaimed vintage should pull in healthy global demand for years to come, and the low volumes should contribute to a growing supply-demand imbalance as supplies start to get consumed.
Selective approach boosts potential
Not all Bordeaux wines are the same. The style, quality and, indeed, performance potential can vary by appellation, producer and vintage. In the past, Cult Wine Investment's selective approach to EP buying netted favourable results versus a fixed basket of EP wines.

Source: Pricing data from Liv-ex as of 31 Mar 2023. EP40 index is a fixed basket of top Bordeaux wines used to track the performance of EP vintages from 2015-2021. Cult Wine Investment EP purchases reflect purchases made between 01 April and 30 June (COVID-delayed EP 2019 includes purchases made between 01 May and 31 July).*CWI EP 2021 purchases include Smart Allocation only. Past performance is not a guarantee of future results.
In our view, the 2022 releases that possess the most onward performance potential share some combination of the following three characteristics:
Great quality
In many cases, the 2022 critic scores were near or above estates' all-time highs. These 2022s will likely remain on global buyers' radars for years to come, helping them potentially outperform the market.
Examples:
Château Leoville Las Cases – Left Bank Super Second
Ex-London RRP £1,386 per 6x75cl; The Wine Advocate Score: 98-100pts
The important critics (William Kelley, Wine Advocate; Neal Martin, Vinous; Antonio Galloni, Vinous) all awarded it score ranges that touch 100 points. If any of these settles at a perfect 100 points when re-scored in bottle, the upside potential for this wine would increase. A trio of 100-pointers would turn this wine into a legend!
Château Canon – Right Bank Super Second
Ex-London RRP £720 per 6x75cl; The Wine Advocate Score: 99-100pts
The 2022's 99-100 points Wine Advocate score range at minimum makes this the second highest-scored Canon ever with the potential to join the 2016 as a perfect 100 points. We wrote in our Bordeaux Report about how Canon offers First Growth-level quality at a fraction of the price. Another potential 100-pointer only exacerbates this value.

First Growths = Château Angelus, Ausone, Cheval Blanc, Figeac, Pavie. Pricing data from Wine-Searcher.com as of 01 June 2023. Scores based on The Wine Advocate (robertparker.com).
Brand prestige and track record
An estate with a growing international profile can lead to greater demand and higher prices over time. Therefore, we believe that wines with consistent track records of performance remain attractive En Primeur purchases, even if the 2022 release price is higher than those of previous vintages.
Examples:
Château Les Carmes Haut-Brion – Left Bank QPR
Ex-London RRP £660 per 6x75cl; Wine Advocate Score: 99-100pts
The Pessac-Leognan estate came into the 2022 EP on a roll. Its market share in terms of percentage of total Bordeaux offers on Wine-Searcher.com has more than doubled in the past five years, and the estate boasted a 76.0% all-vintage average return.[1] The estate kept its hot streak alive with a potential 'wine of the vintage' that reaped two scores that touch 100pts (99-100pts, William Kelley; 98-100pts, Antonio Galloni).
Château Figeac – Right Bank First Growth
Ex-London RRP £1,518 per 6x75cl; Wine Advocate Score: 98-100pts
Figeac has stood out as an excellent return on investment on the back of its well-deserved promotion to Premier Grand Cru Classé A in the 2022 St Émilion reclassification. Although the 2022 release price exceeded those of recent years, Figeac remains more affordable than other St Émilion First Growths. Moreover, the prospect of a 100-point score could continue to drive the estate's momentum.
Relative value
Despite the price increases, some 2022 release prices still offered relative value when compared to a producer's back vintage curve. In these instances, we expect the 2022 prices to trend higher with time.
Examples:
Château Beychevelle – Left Bank QPR
Ex-London RRP £417.60 per 6x75cl; Wine Advocate Score: 92-94pts
The excellent St Julien estate forms a low-risk investment option due to a strong correlation between price and age across its back vintages. The 2022 should follow this trend with a release price below the current market pricing of nearly all back vintages.
Beychevelle 2022 - good scores and good value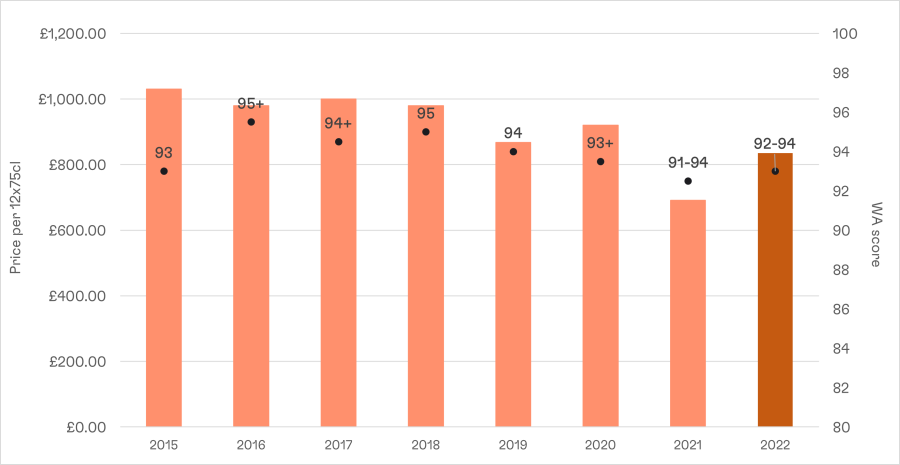 Source: Pricing data from Liv-ex as of 01 Jun 2023.
Carruades de Lafite – Second Wine of Château Lafite Rothschild
Ex-London RRP £1,128 per 6x75cl; Wine Advocate Score: 91-93pts
Many Second Wines excelled in 2022 but Carraudes de Lafite's attractive release price sits below current pricing of other Carruades vintages!
2022 is the cheapest Carruades de Lafite on the market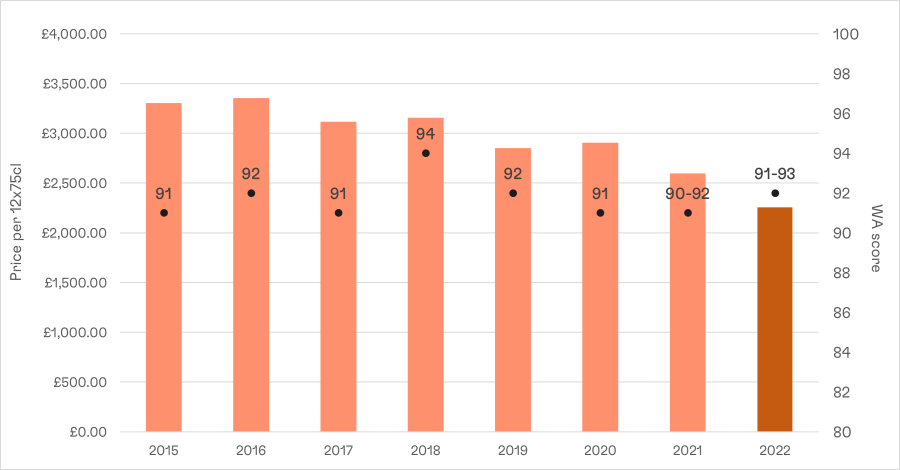 Source: Pricing data from Liv-ex as of 01 Jun 2023.
Back vintage potential
The 2022 campaign opened up the appeal of producers' back vintages. We spoke before the campaign about Bordeaux's relative value against other regions. In some cases, the 2022 EP releases revealed that recent back vintages display even better relative value and may offer the most potential for near-term price appreciation.
Example:
Château Branaire-Ducru - Left Bank QPR
Branaire-Ducru produced what could become a new benchmark in 2022. But the stellar new wine could generate increased attention on this St Julien estate's recent string of successes. Its fantastic 2019 and 2020 wines, in particular, look appealing from a relative value perspective with prices slightly below other vintages despite some of the better scores.
Château Branaire-Ducru's 2019 & 2020 look enticing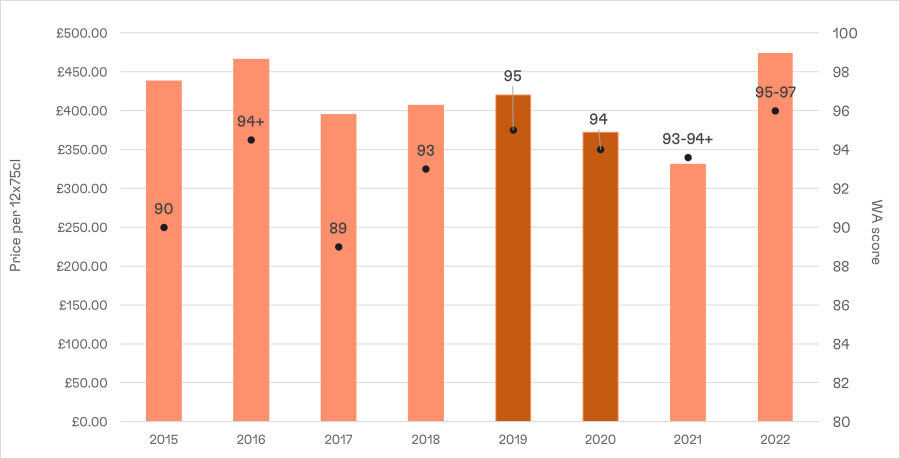 Source: Pricing data from Liv-ex as of 01 Jun 2023.
---
[1] 01 Apr 2018 – 01 Apr 2023 based on Wine-Searcher.com worldwide all-vintage average prices. Past performance is not a guarantee of future returns.
Past performance is not indicative of future success; the performance was calculated in GBP and will vary in other currencies. Any investment involves risk of partial or full loss of capital. The Cult Wines Global Index is a hypothetical tool. The results depicted here are not based on actual trading and do not account for the annual management fees that may be charged to a Cult Wine Investment customer which ranges from 2.95% to 2.25% depending on the size of the portfolio, and there is no guarantee of similar performance with an investor's particular portfolio.