As a continuation of our September releases & to further our clients' exposure to Italy, I encourage you to allocate some of the Testamatta 2018. A 100-point Super Tuscan at am incredible price.
Bibi Graetz: 2018 TESTAMATTA @ £275.00 per 6 (excluding fees)
First 100-point score for Super Tuscan Cult Hero

"I continue to be impressed with the beautiful wines of Bibi Graetz. These are highly singular, expressive wines that merit serious consideration." - Antonio Galloni
In line with our overweight market view for Italy, we are delighted to bring you an opportunity to access the newly released 2018 Testamatta from the revered Tuscan producer Bibi Graetz, one of the most skilled and exciting winemakers in the region.
'The Bibi Graetz winery was founded in 2000 on the hill of Fiesole, overlooking Florence, where Bibi, who grew up in a family of artists, fell completely in love with wine and made it his life'
Unlike many of the great Italian producers, Bibi Graetz had no formal wine training, nor does he follow any DOC or DOCG regulations. He grew up amongst a family of successful visual artists and turned to winemaking in the late 1990s after graduating from Florence's Accademia dell'Arte. It wasn't until the year 2000 that he began farming grapes himself and over the past 20 years he has built up over 50 'garden vineyards' full of old vines across the Tuscany region.
The Testamatta is arguably his most celebrated wine and represents the best value. Italian for 'crazy head' it shares its name with Graetz himself who is known as such by close friends and family. As of last year, Bibi will undertake all production and ageing for Testamatta at a newly converted Hotel just outside Florence. This move along with the 100-point score from Decanter for the 2018 vintage seem set to propel Bibi Graetz's wines to the next level of recognition.
"I consider myself and my wines Testamatta (crazy head) as we both are driven by passion, heart, and commitment to quality." - Bibi Graetz
Investment Profile: High but volatile returns, small secondary market with low liquidity, medium-to-high risk.
Key Points:
Recently awarded

the perfect 100 pts

from Jane Anson (Decanter)

One of the most affordable 100-point wines in the market.

Offers great value versus other 100-point Tuscan wines Jane Anson:

Tua Rita Redigaffi 2016 - £810 per 6 (+195%)

Along with Sassicaia 1985 only the 3rd

Super Tuscan to achieve a 100-point score from Decanter.
Bibi Graetz is an enigmatic Super Tuscan winemaker & cult hero

"I continue to be impressed with the beautiful wines of Bibi Graetz. These are highly singular, expressive wines that merit serious consideration."

A Galloni

Unique label designed by Bibi Graetz, a recognised artist in his own right
Produced outside DOC or DOCG regulations
Testamatta means 'Crazy Head' in Italian

A nickname shared by Bibi Graetz and symbolic of his practices and the wine itself

Long-lived wine, built to age well over time

'A wine not to touch until after 2023'

James Suckling

First vintage in 2000

Still a relatively young producer with time to elevate brand and status

Low Production

Only 1,200 cases produced per annum

Strong medium-to-long-term benchmarks for future pricing:

2012 @ £564 per 6 (+105%)
2010 @ £587 per 6 (+113.5%)
2009 @ £504 per 6 (+83.1%)

Growing global following:

Outside of Europe the wines are very popular in Asian markets: Japan, Korea and Taiwan.
Relative Value Chart
For consistency we have used Wine Advocate scores to benchmark the 2018 against other vintages. As shown below, it is the cheapest vintage on the curve for one of the strongest vintages we have encountered. This makes the 2018 a clear BUY even without factoring the 100-point rating from Decanter.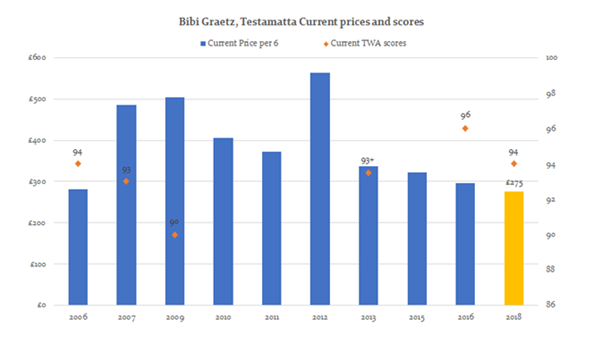 Historical Performance
As expected for a 'rising star' producer performance has been mixed in recent years but we anticipate the 100-point score to raise the profile of this wine and serve as a catalyst for future growth.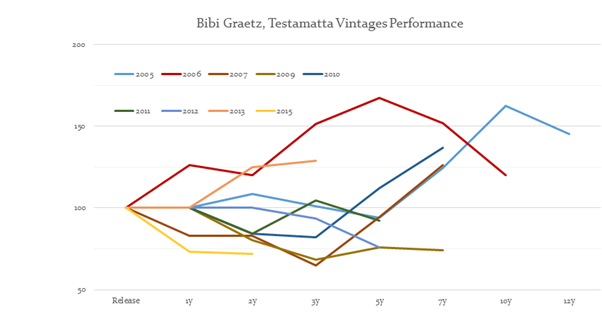 Jane Anson 100-point club
Jane Anson isn't known to 'dish-out' 100-point scores and has only awarded two other Italian wines the perfect score – the legendary Sassicaia 1985 and more recently Tua Rita Redigaffi 2016.

Tasting Notes
Finely textured, with a nuanced perfume that fills the glass and takes you to the intense underbrush of Tuscany. Succulent and yet savoury, this has a lilting freshness that is overlaid with ripe berry fruits, sage and white pepper spice, and clear minerality in terms of its scraping texture that makes your mouth water on the finish. Feels light and sculpted and yet has an intensity that skewers you to the spot. This is a great wine, with scope and imagination that doesn't want to let you go. Genuinely stands out among the wines of this tasting, and these are a fine array of wines. As with Colore, Bibi Graetz selects only old vines, the youngest 50 years old from five different vineyard sites across Tuscany, all farmed organically. Fermentations in open 225l barrels with natural yeasts and manual punch downs. Drinking Window 2024 – 2045 - 100 points, Jane Anson 27th Aug 2020
Very subtle aromas of cherries, bark, black truffles and flowers. Hints of crushed stones. It's full-bodied, yet very tight and solid with a very tight, minerally structure. Very long and intense. Racy and bright at the end. Powerful, orange-peel and citrus-fruit undertones. Salty and minerally. This needs time to develop in the bottle. Extremely structured. A wine not to touch until after 2023. - 97 points, James Suckling, 24th Aug 2020
The 2018 Testamatta shows elegant Sangiovese purity and transparency, starting with delicate wild berry and blueberry tones and finishing long with pretty accents of crushed limestone and a touch of campfire ash. In the glass, the wine is radiant and vivid with a luminous ruby or garnet color. Oak use is reduced to a bare minimum, with barrels that are up to their 16th year of use. "The older they are, the better," Bibi explains. As the wine opens in the glass, it presents pretty lilac and violet. This wine represents a blend of fruit from various sites (all with old vines that are farmed organically) across the region of Tuscany. The northern-most sites close to Florence tend to add the floral notes that are so characteristic of this cool vintage (which saw a bit more rain than average and extra work in the vineyards to kept these vines healthy). I visited the vineyards with Bibi in 2018 and remember how beautiful the grapes appeared on the vines. Much of the fruit used here comes from the Vigna del Cancello in Casciano del Murlo, which is midway between Siena and Montalcino. These southern sites give the wine its backbone and tannins. Bibi Graetz tells me that he struggled to create the blend for this 60,000-bottle release. He decided on a final blend, only to change his mind and re-blend two and a half months later. His second stab was specifically aimed at capturing finesse and softening the wine's tannic imprint. Indeed, the wine ultimately offers more in length (with fresh fruit flavors and bright acidity) than it does in power or mid-palate. The finish is silky, long and very fine. - 94 points, Monica Larner (WA), 20th Aug 2020