Moderate ups and minor downs for the market in November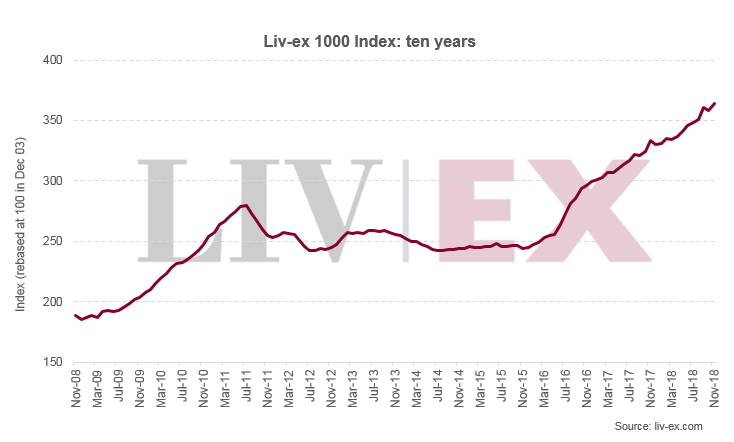 The industry benchmark, the Liv-ex Fine Wine 100, closed November on 313.37, down 0.18% on the previous month. Top movers came from Burgundy and Italy, with Sassicaia 2015 – recently named Wine Spectator's wine of the year – taking the title of the month's biggest riser, jumping 26.7%.
Domaine Armand Rousseau Chambertin 2015 – October's top mover – took second place in November with a rise of 20.1%. Masseto 2014 and Domaine Ponsot Clos de la Roche Vieilles Vignes 2015 were next, though by a lower 6.6% and 6.5% respectively. Like the biggest riser, the biggest faller came from Italy. Tignanello 2015 was down 6.5% on the previous month.
The Liv-ex 1000, however, saw positive movement, up 1.7% in November to close on 364.2. This represents a new record high for the index, which has risen 10% year-to-date. The Burgundy 150 continued its strong performance with an impressive increase of almost 8%, largely helped by Armand Rousseau and DRC.
The Rhone 100 also rose in November, by 2.1%. The index outperformed the Italy 100 and the Rest of the World 50 this month, which fell by 1.5% and 0.3% respectively. Meanwhile, the Champagne 50 dipped for the second month in a row, after peaking in September. Still, it remains the second-best performing index over the past year. The Bordeaux Legends 50, which was the biggest faller last month, rose by 0.3% in November.
Lisa Perrotti-Brown heralds 2016 'a new chapter for great Bordeaux'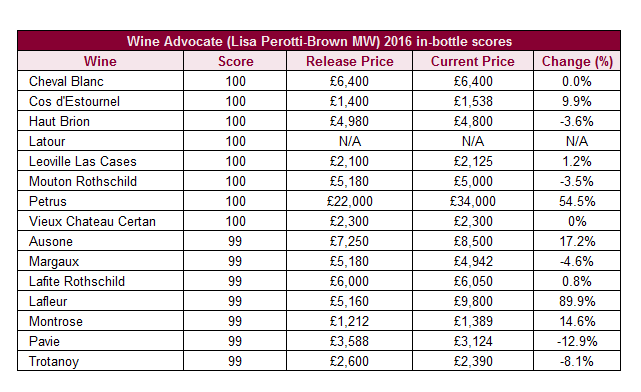 The Wine Advocate has published its hotly-anticipated in-bottle report on the Bordeaux 2016 vintage, for the first time overseen by critic Lisa Perrotti-Brown. She awarded eight wines a perfect 100 points: Cheval Blanc, Cos d'Estournel, Haut Brion, Latour Leoville Las Cases, Mouton Rothschild, Petrus and Vieux Chateau Certan. Another five received almost-perfect scores of 99 points.
According to Perrotti-Brown, "2016 is the most consistently great year since 2009 and 2010, both at the top of the market and in terms of good value wines". However, she added that "2016 is not at all like 2010, as some are comparing it … it is totally unique – an exciting new chapter for Bordeaux's greatest vintages."
Vega Sicilia Unico 2009 released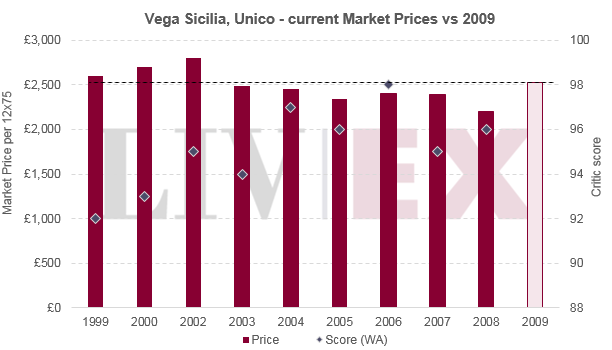 Vega Sicilia Unico 2009 is being offered pre-release at £2,520 per 12×75. James Suckling is the only major critic to have scored the wine. In his tasting notes, he described it as "a hallmark of Unico" and awarded it 98 points.
As Liv-ex notes, buyers looking for value might consider the 2006 vintage instead, which was released this time last year. It was scored an equal 98 points by Luis Gutierrez of The Wine Advocate and is currently available at a discount to today's release.
Mouton Rothschild to release limited edition cases in aid of Versailles restoration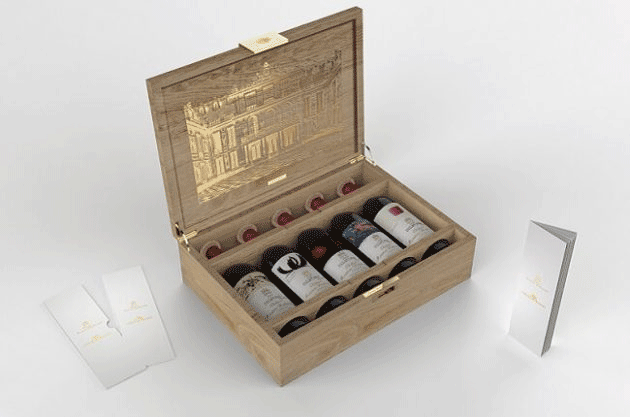 Chateau Mouton Rothschild has partnered with the Palace of Versailles to create 75 limited edition cases that will aid restoration projects at the famous ex-royal residence in Paris. Each case will contain Mouton Rothschild 2005, 2007, 2009, 2010 and 2013, each with labels designed by artists that have exhibited their work at Versailles.
The 75 cases will be auctioned by Sotheby's in 2019, across three sales taking place in Hong Kong, London and New York in April and May. Mouton said that successful bidders will be invited, along with a guest, to a private visit and tasting at Chateau Mouton Rothschild.
They will also be invited to attend the Versailles Celebration gala dinner, set to be held at the Palace of Versailles on 21 September 2019, where historic ex-cellar vintages of Château Mouton Rothschild will also be served.
Cheval Blanc co-owner Albert Frere dies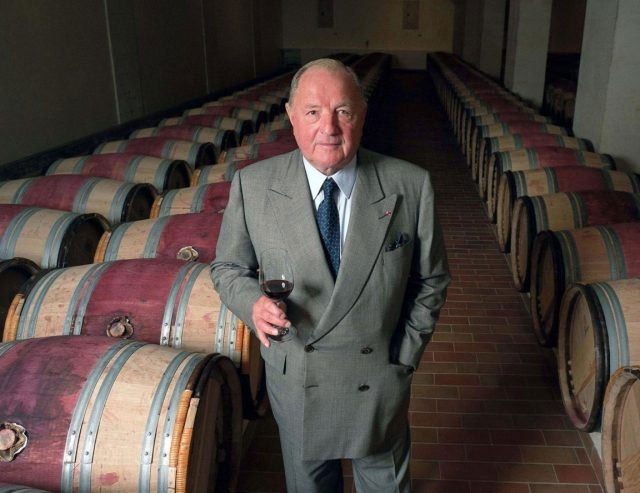 Albert Frere, the co-owner of the famed St Emilion Chateau Cheval Blanc and the richest man in Belgium, has died aged 92. A statement from his company, Groupe Bruxelles Lambert, said his "professional and human qualities have deeply marked our group".
Frere invested in the property with Louis Vuitton Moet Hennessy's CEO, Bernard Arnault, in 1998. Arnault said of his friend: "I am deeply saddened by the death of my friend Albert Frere. Albert was an extraordinary man and a truly exceptional entrepreneur.
"Throughout our 35 years of faithful friendship we forged extremely close ties, both personal and professional. Beyond his innate business sense, I will always remember Albert's passionate love of life, his great skill in unifying people and his tremendous commitment to everything he undertook to accomplish.
"I was able to appreciate his extraordinary talents first-hand when we together became the felicitous owners of Chateau Cheval Blanc in 1998. I want to extend my heartfelt condolences to his wife Christine, and to his children and grandchildren."