Key Points:
Bordeaux 2020 EP prices came higher vs 2019 but still competitive when compared to recent vintages' market prices. A selective approach is key to finding relative value within each category.

Release prices vs previous years varied by producer category – Right Bank First Growths saw a smaller rise vs 2019.

Bordeaux market as a whole is poised for onward growth as the fine wine market remains in good health.

An analytical approach to back vintages reveals attractive growth potential in many wines.
The 2020 en primeur (EP) campaign is done and dusted, with the third 'classic' instalment of the high-quality trilogy of vintages now in the open market while the wine itself matures in the chateaux. Our report at the beginning of EP said Bordeaux was not just surviving but was thriving despite the ongoing uncertainty in the global backdrop. Many of the chateaux seemed to agree, opting for higher prices than last year's campaign.
While much has been said about the release prices, they only form part of the equation of where Bordeaux goes from here. Buyers must also consider demand, supply levels and the quality of individual wines both from the new releases as well as the region's back vintages.
Overall demand for Bordeaux is healthy. With global economies continuing to reopen and US tariffs off the board for the foreseeable future, Bordeaux wines are primed for continued impressive growth figures after a strong start to the year (Liv-ex's Bordeaux 500 rose 4.25% in first half of 2021).
In terms of supply, most chateaux reported declines of 15-20% versus 2019 with several seeing much larger declines in quantity. While some chateaux hold back stock for later release, the devastating frosts that plagued Bordeaux (and other regions) earlier this year suggest the upcoming 2021 vintage may suffer in terms of quantity as well as quality, which ups the appeal of wines from the high-quality trilogy and other back vintages.
Therefore, the main takeaway from the 2020 EP campaign is that a selective approach that considers the whole Bordeaux market can uncover excellent wines at prices that offer room for appreciation. Looking ahead, we think Bordeaux can continue to play a lead role in the surging fine wine market, but growth will not be experienced evenly.
Prices up but still competitive
There is no hiding the reality that the 2020 wines came with higher EP release prices than the 2019s. The below graph of the Cult Wines EP 40 Index1 (CWEP40) shows the starting point of each EP vintage index and the subsequent performance trajectory.
Figure 1 – 2020 Release Prices Middle of the Pack
CW EP40 Index 2015-2020 (relative to 2015 EP as reference)

Release level = Ex-London open
Source: Cult Wines Ltd, Liv-ex as of 26 July 2021
Rather than this headline of higher year-on-year release prices, the focus should instead be on where the new releases came versus the current market prices. Figure 1 shows that CWEP40 2020 starting below the current market prices of all but two of these recent vintages. This indicates that the 2020 wines have by no means priced themselves out of forward growth.
Reasonable prices for First Growths and QPR producers
Price increases were not spread evenly across producer types. Overall, prices for Super Second producers and Second Wines (of First Growth producers) jumped the highest compared to recent vintages (see Figure 2). Other producer categories though saw more reasonable release prices. Notably, average prices for Right Bank First Growths were the lowest among the past five vintages despite generally impressive wines emerging from the top St Emilion and Pomerol terroirs.
Figure 2 – Lower Prices among First Growth and QPR
Average EP market release price* by vintage (compared to 2016 prices)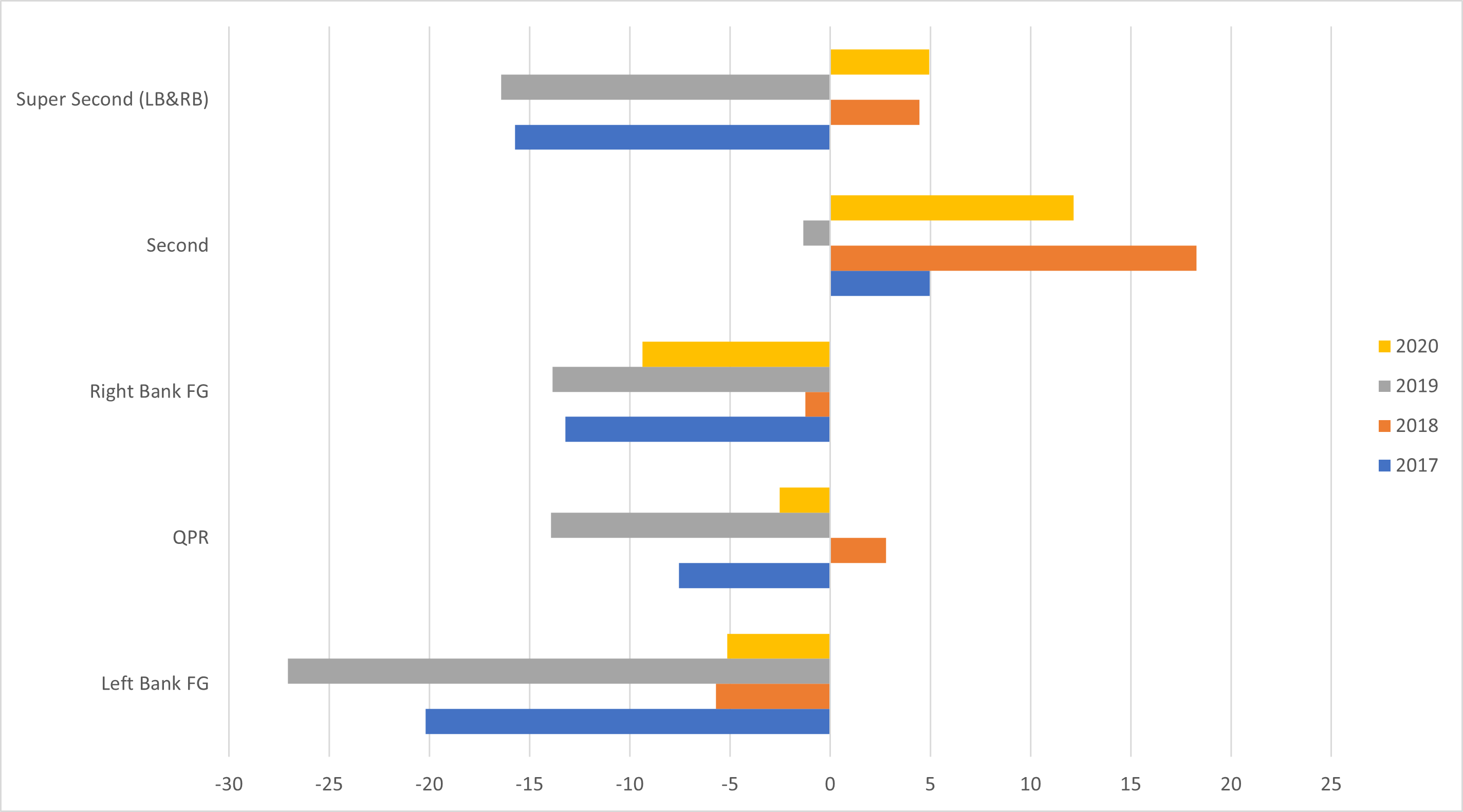 *Market release price based on ex-London RRP
Source: Liv-ex, Cult Wines Ltd as of 30 July 2021
Where are the best opportunities?
If the quality is high, great buying opportunities exist to find wines that should evolve favourably both in bottle and in price over the years from among the new 2020 releases as well as relative value opportunities among back vintages. Our selective approach to EP wines has been able to deliver strong gains in most recent vintages, including those with higher release prices such as 2018.
Figure 3 – Cult Wines' EP Selections Performance

CW EP Portfolio = Cult Wines' specific selections from each EP campaign
Source: Cult Wines Ltd, Liv-ex as of 30 July 2021
We are confident many of our selections from the 2020 release can deliver strong performance as well. Here is a small selection of the intriguing opportunities among the 2020 EP releases:
Right Bank First Growth - Cheval Blanc
Cheval Blanc marked the first big name to announce its 2020 en primeur release and hit the market at £4656 (12x75cl) on 11 May. This was below the market prices for both the 2019 and 2018 Cheval Blancs and only a small 3.5% increase over its 2019 release, which had been one of the more attractively priced wines a year ago. Although yet to receive a Wine Advocate score, all signs point to an excellent 2020 wine, similar to those from fellow Right Bank First Growths.
Left Bank First Growth - Chateau Margaux
A Chateau Margaux from a high-quality 'classic' vintage is always going to be a good thing! The best producers really showed their stuff in 2020 and, unsurprisingly, Margaux is enjoying some top scores including 97-99 points from Wine Advocate.
As the clear icon of the Margaux appellation, Chateau Margaux wines consistently rise in value with time. Margaux also released at £5,196 (12x75cl), which was a lower price increase versus 2019 compared to some of the other First Growths, creating a bit more room for onward price performance of this amazing new wine.
Super Second – Chateau Figeac
We are witnessing an exciting period in Figeac's history. Armed with a recently completed major upgrade of its winery and cellar, the Premier Grand Cru Classé B producer could earn a well-deserved promotion to the topflight Classé A in the upcoming 2022 Saint Émilion reclassification. This possibility alone could send prices of its wines soaring!
The 2020 release price of £1,872 (12x75cl) RRP came below the current market prices of the 2018 and 2019 Figeac wines as well as similarly-scored Figeac back vintages from the past decade. This was truly one of the most compelling opportunities of this year's EP!
Beychevelle benefits from an enthusiastic global fanbase, helped by owners Suntory (Japan's fourth largest brewing firm) and Castel (established relationship with China's oldest winery Changyu) driving the operations and branding.
The £691 (12x75cl) official market release price is below where we see this excellent 2020 vintage's price potential based on similarly scored back vintages. The top end of the Wine Advocate's 94–96-point score would make 2020 the top scored Beychevelle vintage ever by the publication. A great brand, a sensible release price and a superb wine – this release ticked all the boxes!
Second Wine – Carruades de Lafite
Iconic First Growth Lafite's second wine Carruades de Lafite has enjoyed a soaring rise in prominence in recent years, particularly with the all-important Asian market, helping several of its vintages deliver impressive post-release appreciation.
With strong scores once again (91-93pts WA), we think the 2020 offers excellent growth potential, helped by a release price (£2,124 per 12x75cl) below the market prices (at time of release – 11 June) for all existing Carruades.
Moving Forward with Back Vintages
In the wake of the 2020 campaign, attention will likely turn to back vintages as buyers seek new relative value opportunities amid the strong outlook overall for fine wine. Although we still believe many new 2020 wines can perform, certain back vintage stocks where value has been highlighted by the recent EP releases should benefit from increased demand. The wines that have yet to achieve their full price potential stand the best chance of outperformance amid the current favourable backdrop for the fine wine market.
From a vintage-level perspective, the high-quality 2019 wines offer ongoing performance potential. In the year since their discounted EP release, the 2019s have climbed by 16.7%, based on the CWEP40. However, this has come amid the ongoing pandemic disruption, and we think many wines can deliver ongoing gains as the macro backdrop improves. Many of the best wines from the 2017 vintage also hold intriguing growth potential, especially as they start to approach drinking windows and supply drops as bottles are drunk.
But as with the 2020 wines, the best opportunities are found when looking analytically at individual wines. Below are three back vintages Bordeaux wines that demonstrate the type of opportunities we are finding across the whole regional market.
Legends never come cheap and Mouton's new 2020 release came at £5,196, a near 45% rise over the 2019 release price. While there could still be growth potential with its WA score at 97-99 points, the release also shown light on Mouton's 2015 and 2017 vintages that currently offer tremendous relative value. Our football field analysis places fair value for the 2017 (WA 96+ points) at £4,580 vs a market price of approximately £4,000 as illustrated below. The 98-point (WA) 2015 Mouton currently trades at around £4,900 in the market whereas similarly-scored earlier Mouton vintages fetch well over £5,000 or higher.
Figure 4 – Chateau Mouton Rothschild 2017 Football Field Valuation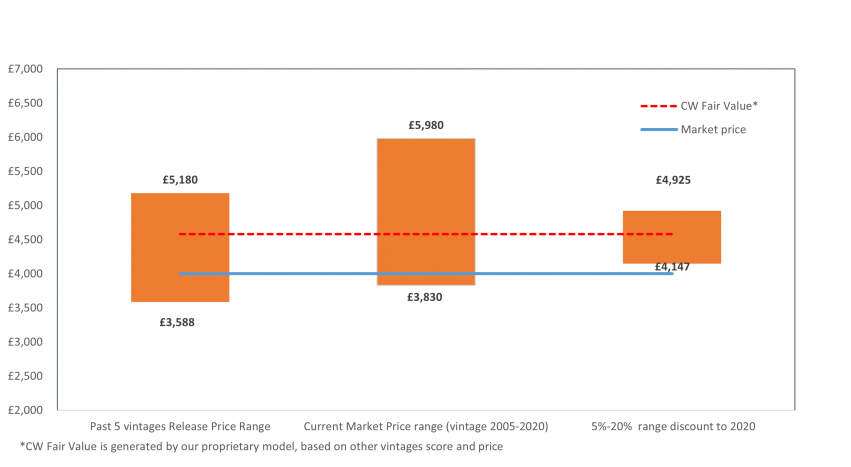 Source: Liv-ex as of 16 July 2021

Haut Brion
The recent release of the 2020 vintage from Haut Brion, an estate at the very top of its game with a record number of perfect scores in last five years, highlighted value in three of its past 100-point physical vintages, which all trade between £4,500 and £5,000. These compare to prices of £6,640 and £6,450 for the 100-point 2005 and 2009 wines, respectively. Clearly, there is room for the gap to close between these older vintages and the three recent 100-point wines with limited downside risk.
Figure 5 – Chateau Haut-Brion Prices vs Scores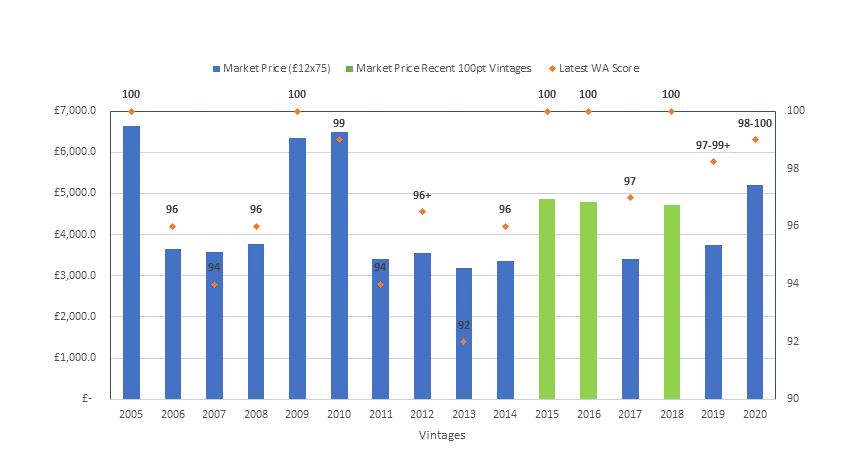 Source: Liv-ex as of 16 July 2021
Leoville Barton
Several opportunities exist among QPR category wines including Leoville Barton's 2017. This wine from one of Bordeaux's most esteemed winemakers Anthony Barton stands out as the most affordable recent vintage other than the 2013, despite being of comparable quality to the highest-rated Leoville Barton wines ever. Unsurprisingly, the current market price of £560 (12x75cl) is over 25% below where we see the fair value for this fantastic wine.
1CWEP40 is a fixed list of 40 wines from across Bordeaux that meet our liquidity criteria of being regularly traded and accessible.