A big week for Burgundy

Trade increased by both value and volume on Liv-ex this week, buoyed largely by Burgundy which saw a record weekly high of 26.9% – a large increase on the region's 14.2% average trade share for the year so far. Clos Tart, DRC, Engel and Anne Gros all performed particularly well.
Burgundy also shone at Sotheby's New York sale from the private collection of tech entrepreneur James Clark, which made US$4.1 million. Over 800 lots of top Burgundy producers, from Leroy to Robert Arnoux, were on offer, with more than 60% of lots sold above their high estimates,
There was strong bidding for Leroy, the combined wines of which made $340,132, while those of Dujac made a total of $199,888, and the wines of Robert Arnoux far exceeded their pre-sale estimate for a combined total of $84,692.
The sale's top lot was a 12-bottle case of Domaine Dujac's 1996 Clos Saint Denis, which sold for $18,600, the same as 12 bottles of Arnoux's 1985 Vosne Romanee 'Les Suchots'.
Wine Spectator crowns Sassicaia 'wine of the year'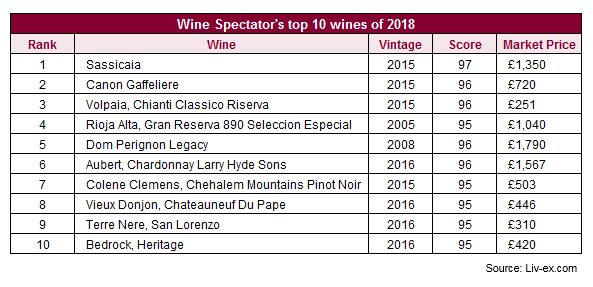 Wine Spectator gradually revealed its top 10 wines of the year this week, culminating in the big reveal of the top spot, which was awarded to 2015 Sassicaia. The wine has seen a flurry of trade activity on Liv-ex since the announcement, shooting up 25% overnight.
Canon Gaffeliere 2015, which ranked in second place, saw similar activity. Following the announcement, its Liv-ex market price moved from £650 to £870.
The top 10 rankings in total:
Sassicaia 2015
Canon Gaffeliere 2015
Volpaia, Chianti Classico Riserva 2015
Rioja Alta, Gran Reserva 890 Seleccion Especial 2005
Dom Perignon Legacy 2009
Aubert, Chardonnay Larry Hyde Sons 2016
Colene Clemens, Chenhalem Mountains Pinot Noir 2015
Vieux Donjon, Chateauneuf Du Pape 2016
Terre Nere, San Lorenzo 2016
Bedrock, Heritage 2016
Wine Enthusiast reveals top 10 investment wines

Over the past weeks, Wine Enthusiast has announced their Top 100 Best Buys of 2018 and their best of the best, The Enthusiast 100, in which Michele Chiarlo 2015 Cipressi took first place. Now the magazine has revealed the top labels for those looking to get a return on investment.
Perhaps unsurprisingly, Lafite Rothschild 2015 takes the top spot. Having last traded at £5,471, however, it may be out of budget for some. Other entries prove more affordable. In second place, for example, is Chiuse Brunello Montalcino, which last traded for £550. Pieropan Calvarino 2015, meanwhile, sits at sixth place at last traded for just £175.
The top 10 results in full, with their current Liv-ex market prices:
Lafite Rothschild, 2015 (£5,471)
Chiuse, Brunello Montalcino 2013 (£550)
Alpha Omega, Proprietary Road 2013 (£656)
Pol Roger, Cuvee Sir Winston Churchill 2008 (£1,790)
Graham, Stone Terraces 2016 (£1,500)
Pieropan, Calvarino 2015 (£175)
Jackson Estate Outland Ridge Pinot Noir 2016 (£275)
Ciacci Piccolomini, Brunello Montalcino Riserva Santa Caterina 2012 (£900)
Kistler, Cuvee Cathleen Chardonnay 2015 (£1,800)
Kracher, Trockenbeerenauslese Nr. 4, Zwischen den Seen Scheurebe 2015 (£560)
Bordeaux 'off vintages' make the strongest gains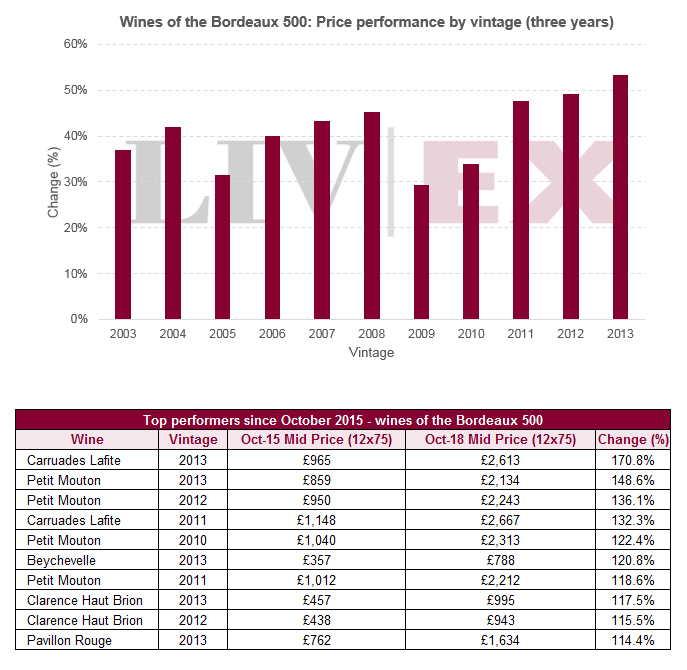 Over the past three years, prices for all Bordeaux vintages from 2003 to 2013 have risen, with a 41% mean increase of these 11 vintages. But as Liv-ex notes, there is a noticeable trend among the best performers: off-vintage Bordeaux wines have performed the best.
The vintages that have risen the most are also the cheapest. The 2013s, which have been the best performers (+53%), carry the lowest price tag on average. They are followed by the 2012s and 2011s, which have risen by 49% and 48% respectively.
At the same time, the great but costlier vintages from 2005, 2009 and 2010 have risen the least. The 2009s – up a respectable 29% – have been the slowest movers.
Carruades Lafite 2013 is the top performer, managing an increase of 177% over the past five years, from £965 to £2,613. This is followed by Petit Mouton 2013 and 2012, which have risen 148.6% and 136.1% respectively.