To kick start 2019 in style, Swiss-based private bankers Bordier & Cie. and Cult Wines decided to host a joint Fine Wine Dinner to welcome their respective VIP clients and investors into the New Year. For the occasion we booked the private room of Flutes, the fine dining restaurant of the National Museum of Singapore. What better way to start the new year than a dinner at the museum, preceded by a sundown cocktail on its terrace, surrounded by frangipani trees? Over the course of the dinner, we had the pleasure of tasting four flights (in the 'mondovino', a flight is a number of wines tasted together at once) of two comparable wines: one from a well-established wine region by one of the local leading producers, and a younger, more modern and upcoming wine to introduce new labels to our wine-lover guests.
For each flight we shared some hints about the investment qualities of the wines, in order to provide our audience with a new angle to adopt when looking at fine wines. These short and focused analyses, which I have tried to reproduce below, were much welcome by both wine connoisseurs and neophytes, and made for a perfect discussion starter among guests, once they had cheered with their straw- and garnet-coloured wine glasses! Feedback on the following day was very enthusiastic, and needless to say that everyone parted their ways with a large smile on their face… while a handful of us went on for a couple of after-dinner drinks, but unfortunately not grape-fermented this time!
My wife having had the terrific idea to follow a 'dry January', and myself being a supportive husband, and having been successful for more than half of the month, I came earlier to taste the wines before the dinner started. Flutes' Sommelier had opened the bottles and magnums a couple of hours ahead of our arrival, and had decanted the magnums following our instructions. Not being an expert on tasting notes, I thought it could be interesting to complete them with a reference to a music composer that came to mind when tasting the wines. I must confess that I have probably spent more time in my life listening to classical music than sipping wine, but still, my expertise remains focused on the latter. Therefore I will leave it to you to think about each comparison, and ideally let your mind wander as you listen to some music notes while sipping a glass of one of the wines below. And in a spirit of full disclosure, I am actually listening to Chicago House music while I write this!
Well, without further ado, let's dive in together!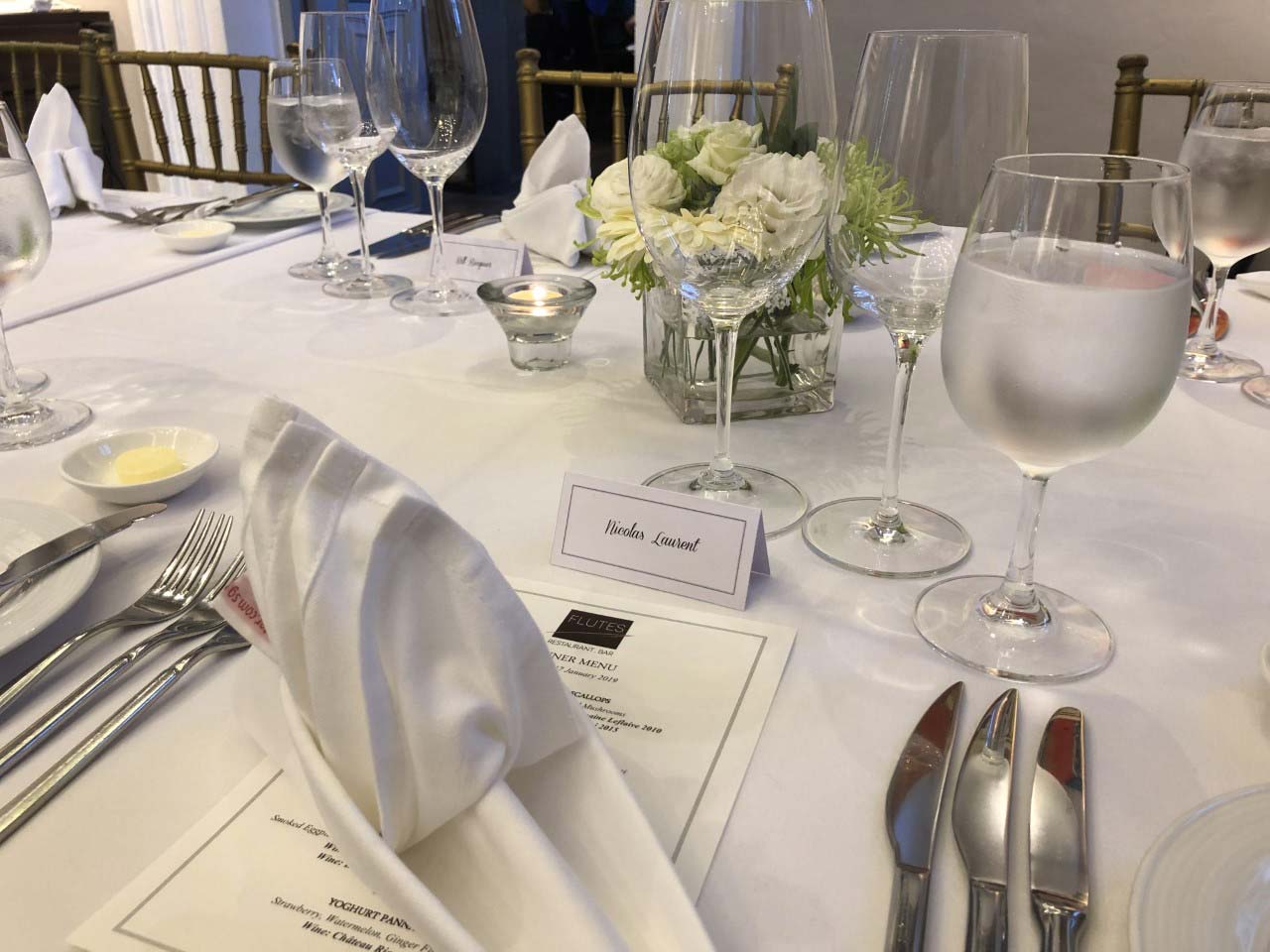 Chardonnay from the Old & New World
Domaine Leflaive's Montrachet Grand Cru is the fifth most expensive wine in the world, and the most expensive dry white wine. Among all vintages, Domaine Leflaive's Puligny-Montrachet Premier Cru "Clavoillon" was up 75% over the past 5 years, which makes it a good investment, even though it is a riskier wine to invest in than its bigger brother Montrachet, which benefits from a larger secondary market. From Santa Barbara, near Los Angeles, Sandhi's Bent Rock Chardonnay is not there yet in terms of investment, but is certainly an interesting discovery for wine lovers.
1. 2010 Puligny-Montrachet Premier Cru « Clavoillon » of Domaine Leflaive
The wine offers such a beautiful, intense, deep and ripe nose, with aromas of stewed fruits, quince, and a hint of dry honey, which all actually remind me of a Batard-Montrachet Grand Cru, with additional white flowers notes in the background. This wine is punching well above its weight… The palate has lovely intensity, with an oily sensation, but the wine is still light and elegant at first, building in depth while supported by an enjoyable bitterness. This bottle is so good! And the length of the wine… beau-ti-ful! A 2010 Clavoillon that would definitely benefit from a pairing with Hector Berlioz' music.
2. 2015 Bent Rock Chardonnay of Sandhi
The nose is smoky, flinty, and mineral at first, and then opens up to white fruits such as fresh pears, or white peaches. It is elegant as well, not sweet nor exotic at all, with kind of a refrained bouquet. On the palate, this Chardonnay gives away freshness, nicely balanced by an oily texture. This is a wine of character, marked by a hint of wood, after which the fruit comes back, with butter sauce, and finally a nice, and enjoyable finish. Without much surprise, it is less complex than Domaine Leflaive's Chardonnay, but it is still pretty well made. Igor Stravinsky came to mind while I was tasting.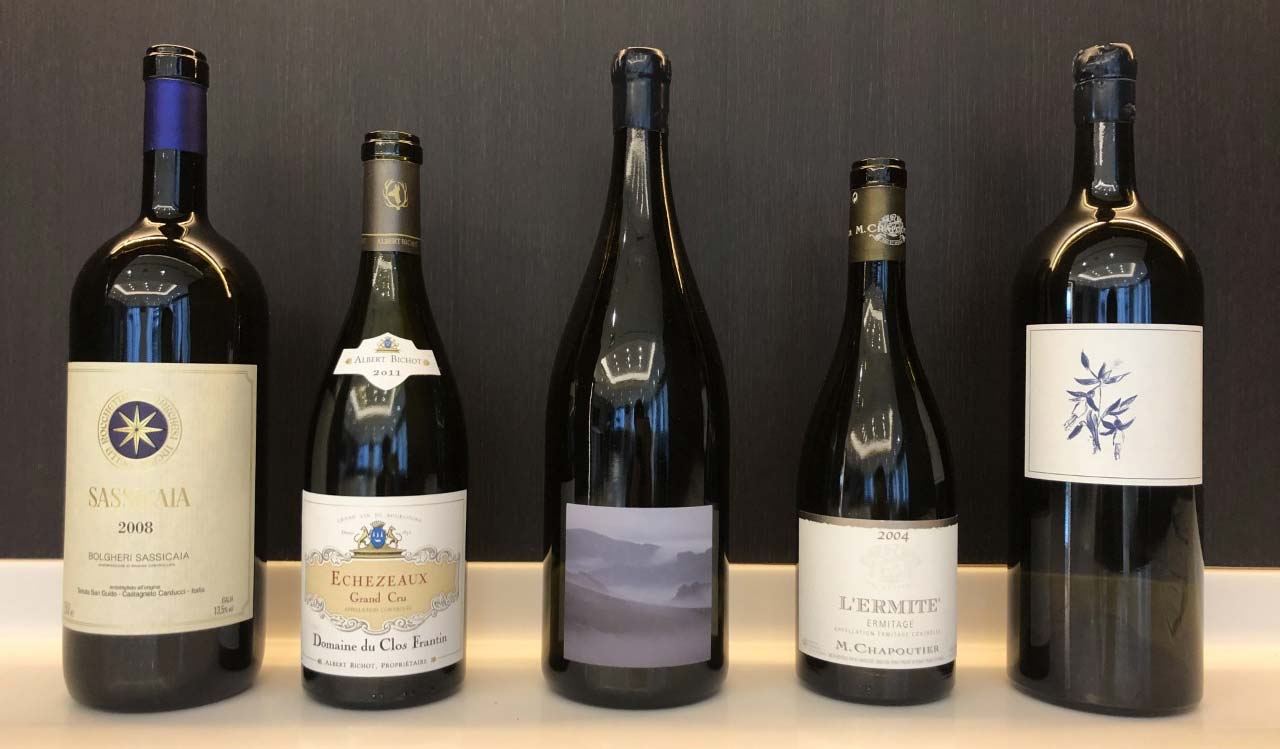 Pinot Noir from Burgundy & Germany
Domaine du Clos Frantin has been around since 1831, and currently has a small secondary market as a brand. Nevertheless, and given that it provides good quality at very attractive prices, it is certainly one of the next domaines to watch when the value filters down from the most iconic Burgundy winemakers. On the other side of the French-German border, Friedrich Becker is an old friend of Domaine de la Romanee-Conti's Aubert de Villaine, and, even though his wines are not part of the investment scene yet, they are said to offer a similar style of Pinot Noir. We are focusing here on pure drinking pleasure.
3. 2011 Echezeaux Grand Cru of Domaine du Clos Frantin
Taking me by surprise, the nose is powerful, slightly musky, gamey, spicy, intense without being too strong, and slightly smoked. Possibly a characteristic of the vintage, in a 'climat' which is not recognised as the most ethereal one. The attack is nice, and the wine builds up to a pretty serious mid palate, ending with a long finish. It is still young, and will open up in the coming years. Jacques Offenbach would be a good contender, in the company of whom to enjoy a glassful. And yes, pairing Burgundy with French composers certainly is a safe statement from my side.
4. 2013 Spätburgunder 'Kammerberg' of Weingut Friedrich Becker
This wine displays a nice, smoky and spicy nose, not so typical of Pinot Noir (Spätburgunder is the German name of the famous Burgundian grape), instead with lovely 'crunchy' aromas reminding me of bread crust, and not so much fruit. The attack is fresh, the wine elegant and with an underlying thickness at first, which gives way to a fresher mid palate, displaying a hint of hawthorn, and red fruits aromas. The finish is very long, and lovely all the way. This German Pinot Noir is a great companion, and its enjoyment would probably be enhanced with notes composed by Johannes Brahms in the background.
Bordeaux Blend from Tuscany & California
Sassicaia has been a long-standing investment stock, having been one of the first 'Super Tuscans' brought to fame in the early 1980s. The 2015 vintage was named best wine of 2018 by leading magazine Wine Spectator, boosting the performance of the 2015 vintage, while all vintages have only returned +30% on average over the past five years, which is still below an attractive threshold. That being said, if Bordeaux continues to slow down in 2019, Italy becomes the natural next step, so it is certainly an area to explore further this year. Located in Sonoma, North of San Francisco, Arnot-Roberts was founded in 2001 by two childhood friends. Our Managing Director Tom Gearing discovered their wines around 3 years ago and was seduced right away. He then got Cult Wines an allocation, and we haven't looked back since.
5. 2008 Sassicaia of Tenuta San Guido, in magnum
The nose displays much fruit; it is very charming and well built, powerful, inky, dark, deep, and 'enveloping' for lack of a better word. On the palate the attack is soft, and the wine shows a beautiful balance; it is not heavy at all, more like a male ballet dancer: straight, clean, lovely. It is for sure an elegant wine, very well made, and with a powerful after taste, followed by a long lasting finish. Giacomo Puccini would certainly be the best music composer to stand up to the beauty and panache of this magnum of Sassicaia.
6. 2015 Clajeux Vineyard, Cabernet Sauvignon of Arnot-Roberts 2015, in magnum
Note: This is my second time encountering the wines of Arnot Roberts, and I am now fully seduced by this producer, and finally understood the hype around their wines. The nose is fine grained, like displayed in high definition. Although discreet, it is not shy, but rather humble, offering meaty, cherry, fleshy, and ripe fruits aromas. On the palate? Beautiful, charming, smooth, fresh, fruity, fleshy again, elegant, are words that come to mind with this very tasty wine, ending with a lovely, long withstanding and balanced finish. Music from Philip Glass would be a terrific match.
Syrah from California & Rhone
See above on Arnot-Roberts. On the other hand, Michel Chapoutier brought his family estate to fame thanks to his Burgundy-inspired 'parcellaire' approach, as well as many 100-point ratings by leading critics. Across all vintages L'Ermite has returned +55% on average over the past 5 years, which makes it a strong investment case for the Rhone Valley, which sees its market share increasing, while providing lower volatility compared to most other investment-grade regions.
7. 2016 Clary Ranch, Syrah of Arnot-Roberts, in magnum
Descreet, shy and understated at first, but still with a hint of pepper, and little red berries in the background. The palate really outperforms the nose, thanks to a beautiful juicy attack. It is so soft and plump, like an Italian lady (think Monica Bellucci at the start of her career!). It was definitely hard to spit this wine, which is lively, spicy, still offering fruity aromas, and a nice, soft and long lasting finish. Think of a ménage-a-trois (or love triangle) with this 2016 Clary Ranch Syrah, Gioachino Rossini and… Monica Bellucci, you got it. Sigh.
8. 2004 Ermitage "L'Ermite" of M. Chapoutier
And for the last red wine of the evening, we are enjoying a powerful nose, very deep, well rounded, with some oaky influence. This is a serious wine, not at its peak yet, but kind of warming, with fruits and freshness in the background. On the palate it is inky, with a good weight, and a taste of bilberry juice that allows your mind to travel to Scandinavia. The texture is smooth, the wine full bodied without being overwhelming, and it does offer a good balance. This is the most complex red wine of all, so a perfect finale with a focus on black fruits. Carl Off would probably be a good composer to conclude these four flights.
Sweet White Wine
It is a pity that the sweet wines of Sauternes are not more understood and enjoyed by wine aficionados around the world, as they remain the most expensive wines to produce; indeed the grapes are selected berry by berry, as opposed to bunch by bunch for dry wines. To give you a practical idea, in Bordeaux, one vine usually produces one bottle of wine; in Sauternes, one vine produces one glass of wine… Don't buy Sauternes for investment, but purchase them instead to share with your nearest and dearest.
9. 2014 Château Rieussec
In order to end the evening on a sweet note, we all enjoyed together a glass of 2014 Rieussec, offering a ripe nose of raisins, and a fruity, deep but not too complex palate. I leave you to decide which composer you would like to listen to next time you taste such a delightful wine. After all, les livres les plus utiles sont ceux dont les lecteurs font eux-mêmes la moitié. »
Oh, and I forgot to mention our mystery guest, a delightful Lady who was nicely watching over us during the whole evening. With such an auspicious start, no doubt that 2019 will be a wonderful year!