Vintage Champagnes rise in price with remarkable consistency. Here, we highlight the fantastic 2008 vintage and a few of our favourite producers.
Top-quality vintage Champagne, aged to perfection, is a fine wine experience like no other. It is also a safe and lucrative investment as a supply-demand imbalance that increases with time means vintage Champagnes consistently rise in price as they age.
The imbalance starts with the fact that production volumes are limited as vintage Champagnes are not produced every year. And Champagne's status as an iconic celebration wine means bottles get consumed, often before they reach their full potential, further shrinking available supply with time.
That's why we think Champagnes from the best producers during great vintages still represent a low-risk long-term investment even after the rapid price rises posted by Champagne over the past two years. The below chart illustrates the clear correlation of time and price appreciation.
Time is on Champagne's side
All-time price returns of select vintage Champagnes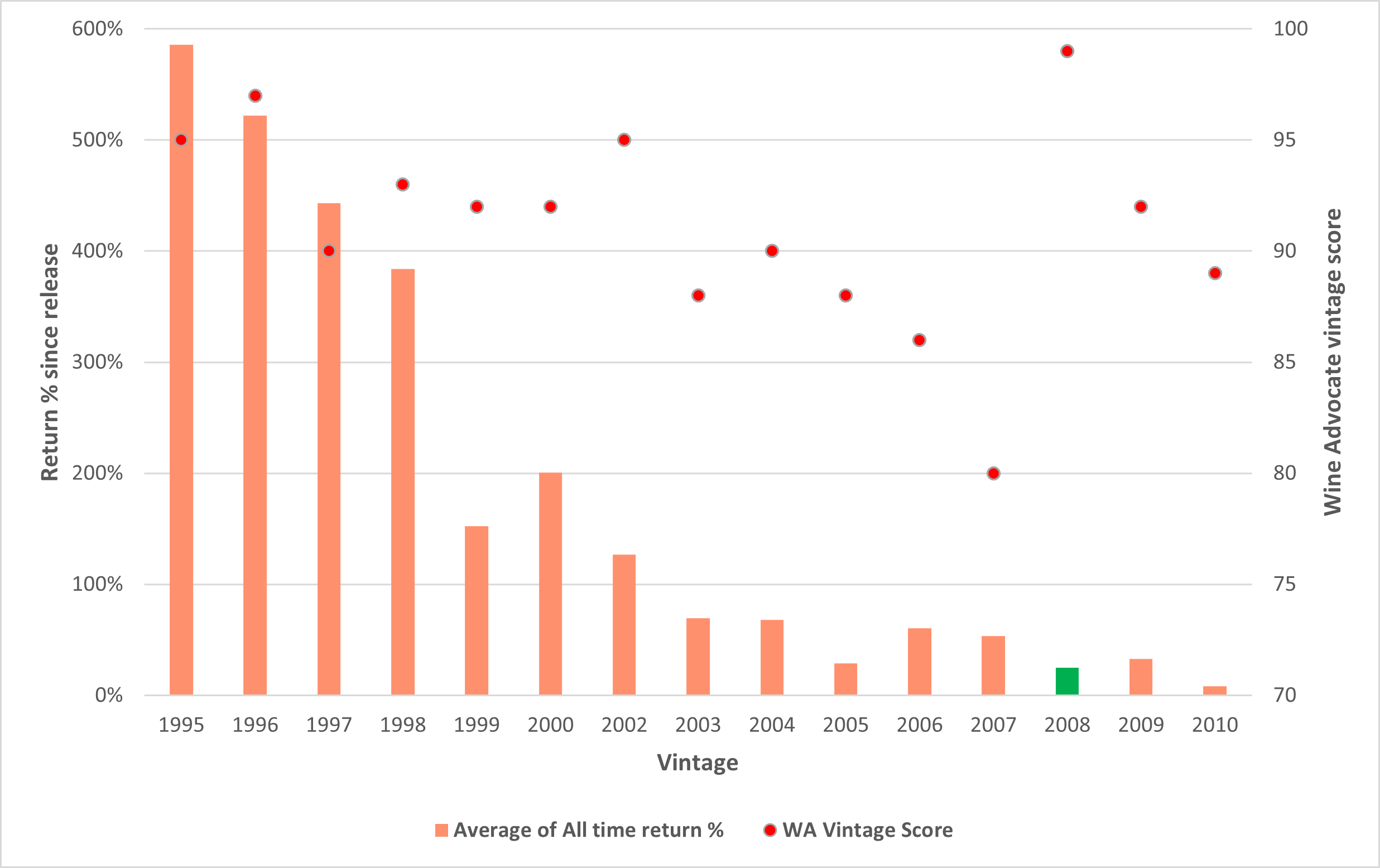 Source: Pricing data from Liv-ex as of 15 November 2021. Returns for each vintage are averaged across the following wines: Bollinger La Grande Année, Taittinger Comtes de Champagne, Jacques Selosse, Millesime, Louis-Roederer Cristal, Moët & Chandon Dom Perignon, Pol Roger Cuvee Sir Winston Churchill, Salon Le Mesnil, Krug Vintage Brut, Perrier Jouët Belle Epoque.
2008 – A vintage for the ages
Many recent releases contain outstanding wines, and the chart shows how much room there is for growth across many vintages. But 2008 ranks as one of the greatest years ever in the region, meaning it is a prime example of what vintage Champagne can offer in the bottle and in your portfolio!
Growing conditions got off to a slow start with cold, damp weather in the spring. But bright sunny days later in the summer alongside still cool temperatures were perfect for the slow ripening so desired in the region. Complex, powerful flavours balanced by electrifying acidity are the hallmark of 2008 Champagnes.
This harmony also imbues the vintage wines with long lifespans. Many wines have only been released to market recently, and their ideal drinking windows are still several years away. There remains plenty of time for onward quality and price growth.
Wine Advocate scored the vintage 99 points, noting it's still in its youth. Decanter gave it a full 5 out of 5, calling it 'something special.'
This type of praise will surely tempt many to pop the cork and experience the magnificent 2008 Champagnes in the coming years. But this only enhances their investment potential for those who can get their hands on the best examples and resist the temptation to open.
Here is a selection of the some of the 2008 Champagnes we think offer exciting long-term potential:
Dom Perignon 2008
Wine Advocate 95+ points
Dom Perignon Vintage Champagne (along with the Vintage Rosé) is among the most widely recognised high-end Champagnes in the world, which helps ensure they are safe investments as demand is always strong and widespread across global markets.
Disgorged in 2018, the 2008 has generated rave reviews. Vinous' Antonio Galloni gave it 98 points, calling it "a huge, powerful Champagne and also clearly one of the wines of the vintage." Wine Advocate's William Kelley scored it 95+ points and noted it was the "finest Dom Pérignon since 1996" with a drinking age stretching to 2050.
Since hitting the market in early 2019, Dom Pérignon 2008 has jumped over 50% in price amid the wider rally in Champagne. The iconic brand and massive vintage appeal mean this wine is one of the more secure investments and should continue to outpace the wider market, in our view.
Krug Brut 2008
Wine Advocate 94+ points
Just released last month (disgorged in late 2019), the Krug met with praise and a highly competitive market amid rising Champagne prices. Vinous' Antonio Galloni 97-point score called it "a nervy, electrifying Champagne, the likes of which has not emerged from Krug's cellars since the magical 1996." Wine Advocate (94+ points) emphasized how the wine needs considerable time before hitting its prime.
Already up by around 15% above its UK release price, the Krug 2008 has loads more potential as an investment and a top-flight vintage Champagne.
Rare 2008
Wine Advocate 93+ points
One of the most exclusive Champagnes, Rare very much lives up to its name as 2008 marks just the 11th vintage released since inception in 1976. Rare became a distinct brand in 2018 and has been headed up by Régis Camus, a legend within the Champagne world. Camus is expected to soon retire as chef de cave but his efforts have established Rare as a high quality, hard-to-find Champagne, known for its pure expressions of a particular vintage.
The 2008 was disgorged in 2019 and released a year later. Those who have got their hands on a bottle have come away impressed. Wine Advocate scored it 93+ points while noting how the 2008 "will reward a few years more on cork." With the rarity of Rare releases, this excellent 2008 forms a low-risk option over the long term.