02 March 2023
February 2023 Flash Report - Fine wine back in positive territory
Cult Wines Indices – February and YTD returns
** Correction - Data republished on 10 March 2023 to correct error in Cult Wines Global Index return figures.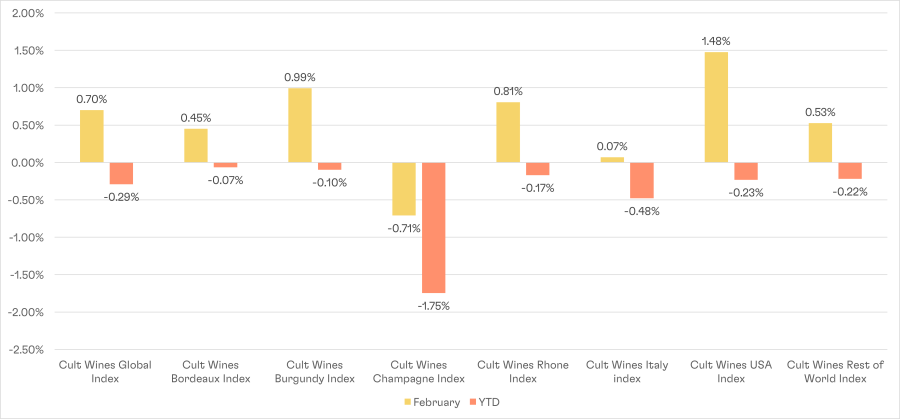 Source: Pricing data as of 28 Feb 2023. Cult Wines Indices are an objective measure of the global fine wine market based on Wine-Searcher pricing data and rebalanced annually based on strict liquidity criteria. Prices calculated in GBP and results may vary in other currencies. Past performance is not a guarantee of future results.
Fine wine markets resurrected their positive performance with a +0.70% return in February, as measured by the Cult Wines Global Index. This backs up the view that supply-demand fundamentals remain strong, and that January's dip was possibly some profit-taking and price consolidation following an extended rally.
The February recovery drew strength from better-than-expected economic sentiment in Western economies as well as a recovery in demand for fine wine in China. The end of zero-COVID policies alongside high savings rates has triggered a jump in trade sales in the region, according to Cult Wines' data.
A diverse range of a regions from Bordeaux to Chile have benefited from this resurgent Chinese demand, contributing to positive performance in all of Cult Wines Regional Indices apart from Champagne, which appears to be going through a post-bull market period of price consolidation.
Cult Wines USA and Cult Wines Burgundy Indices led the way, reversing January's declines. More on regional performance below.
Macro market summary – mixed performance as US inflation re-accelerates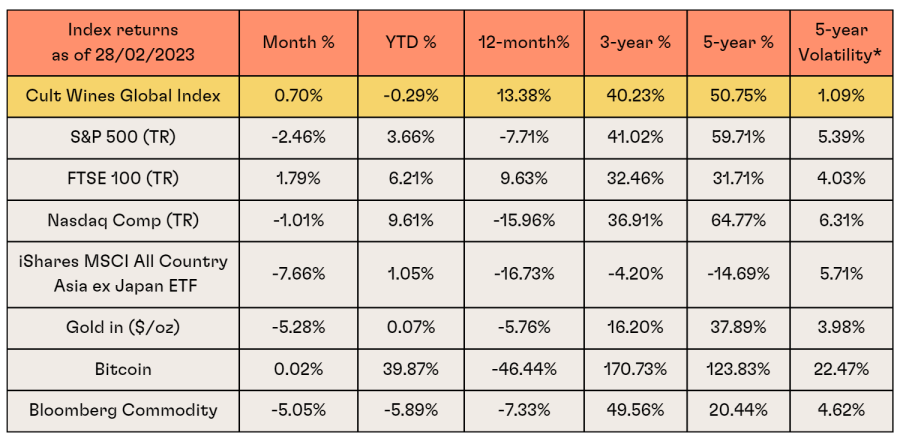 Source: Investing.com, Wine-Searcher as of 28 Feb 2023. Past performance is not indicative of future returns.
*Volatility = Rolling 5-year standard deviation of monthly returns
The global economic outlook improved on the back of waning recession fears in Western economies and hopes of a consumer-led rebound in China. However, month-on-month inflation in the US rose in January. Combined with strong labour market data, this persistent inflation means the US Federal Reserve may keep raising interest rates longer than expected. The prospect of higher rates for longer triggered a mid-month selloff in US equities and government bonds, sending yields higher.
The Bank of England struck a more dovish tone than its US counterpart, which caused the pound to decline against the US dollar. Although the economic outlook is improving in China, Asian indices fell in February amid some profit-taking following an early-year rebound.
Regional wine performance detail
The Cult Wines USA Index (+1.48%) led February's gains. Better-than-expected US economic data and rising inflation helped the region recover from a soft January. A larger proportion of US wines in the Cult Wines Indices will derive from offers within the US and are, thereby, more impacted by domestic inflation.


Stag's Leap FAY vineyard 2008 stood out with a 47.8% monthly rise. This single vineyard Cabernet Sauvignon offers a more accessible entry point to the iconic Napa Valley producer than its S.LV. and Cask 23 wines.


Low supply levels of the newly released 2021 Burgundy vintage left some buyers with less stock than desired. This exerted upward price pressure across the regional market, boosting the Cult Wines Burgundy Index (+0.99%).


Cult Wines Bordeaux Index (+0.45%) benefitted from recent praise for the 2019 and 2020 vintages. An annual tasting in Southwold, UK stirred talk that 2019 vintage was one of the best ever, while the 2020 vintage also cemented its high-quality reputation from leading critics as it gets released in bottle. However, the top performing Bordeaux wines came from older vintages (including 2007 and 2013 Clos Fourtet, Premier Grand Cru Classe B, Saint-Emilion), a sign demand is seeking out the better relative value opportunities offered by the region.


Rhone and Rest of World are two regions that also offer relative value opportunities, which likely contributed to strong February performances. Rhone claimed the top two performing wines of the month - M. Chapoutier, Cote Rotie, La Mordoree 2006 (+64.4%) and Clos des Papes, Chateauneuf-du-Pape, Blanc 2019 (+59.7%).


Cult Wines Champagne was the only index to fall in February (-0.71%). Champagne prices enjoyed a sustained rally in 2021 and 2022, and it is not surprising to see a temporary period where prices drift sideways or even slip a bit as some people take profits and others gauge if the price rises are sustainable.


2023 Wine Performance League Table – YTD Return % Across Vintages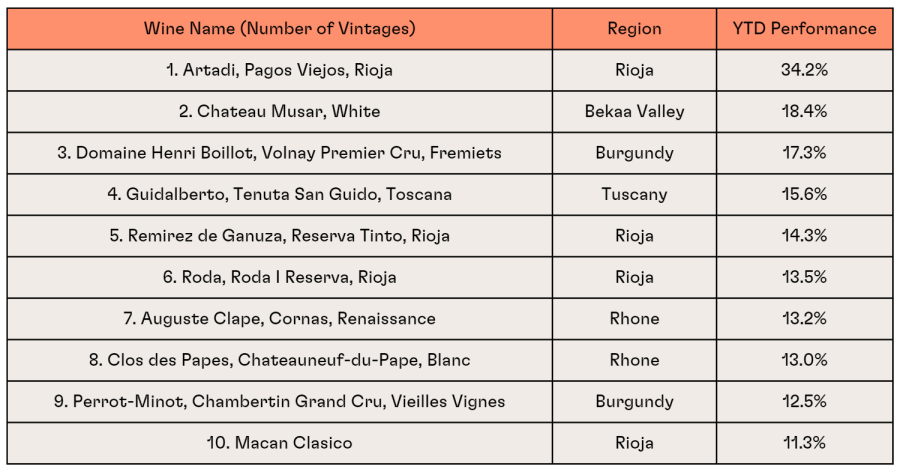 Source: Pricing data from Wine-Searcher as of 28 Feb 2023. Based on average across all vintages of wines contained in Cult Wines Indices, which are rebalanced regularly based on strict, objective liquidity criteria. Prices calculated in GBP and results may vary in other currencies. Past performance is not a guarantee of future results.
Two months into 2023 and a diverse set of names still feature in the top performing wines league table. Although the sample size is small, the trend seems to support our view that lesser-known wines that offer relative value could step up performance amid the challenging macroeconomic backdrop.


Rioja is well represented in the top 10, which isn't surprising due to the region's outstanding quality-price ratio. Artadi Pagos Viejos is leading the way so far. This deep, brooding old vine Rioja regularly fetches scores in the mid-high 90s but still comes with accessible price tags in the mid double digits (GBP).


An age-worthy white wine from Lebanon's most famous producer – Chateau Musar – in the number two position hints at how global demand is stretching beyond traditional regions.


Even within more established regions, the trend seems to favour relative value. Burgundy's top YTD performer, Domaine Henri Boillot, Volnay Premier Cru, Fremiets, comes from our Up-and-Coming producer category. In Italy, Tenuta San Guido is best known for iconic Sassicaia, but its second label Guidalberto is among the top five so far this year.
---
Launched in December 2022, the Cult Wines Global Index and Cult Wines Regional Indices form benchmark measurements of the global fine wine market performance with historical data, powered by Wine-Searcher, going back to the beginning of 2014. The Indices are separate from Cult Wine Investment Performance which tracks wines purchased by Cult Wine Investment.
Past performance is not indicative of future success; the performance was calculated in GBP and will vary in other currencies. Any investment involves risk of partial or full loss of capital. The results depicted here are not based on actual trading and do not account for the annual management fees that may be charged to a Cult Wine Investment customer which range from 2.25% to 2.95% depending on the size of the portfolio, and there is no guarantee of similar performance with an investor's particular portfolio.