04 April 2023
March 2023 Flash Report - Mixed direction for fine wine market
Cult Wines Indices – Returns as of 31 March 2023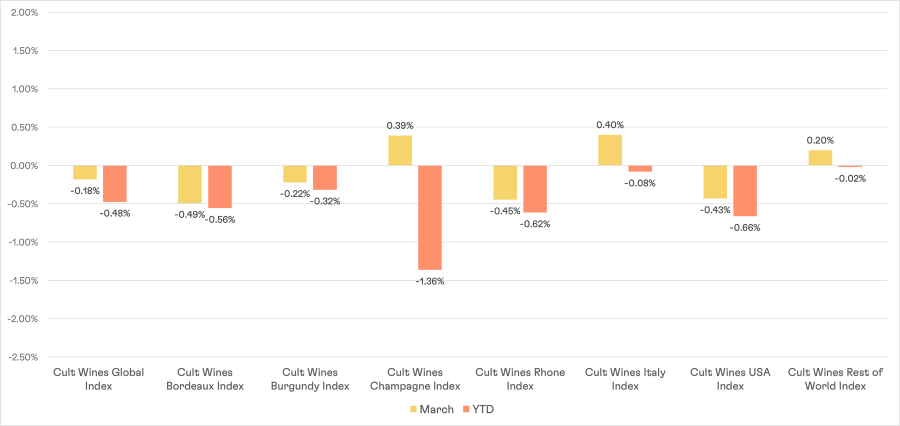 Source: Pricing data as of 31 Mar 2023. Cult Wines Indices are an objective measure of the global fine wine market based on Wine-Searcher pricing data and rebalanced annually based on strict liquidity criteria. Prices calculated in GBP and results may vary in other currencies. Past performance is not a guarantee of future results.
Fine wine markets edged lower in March, as measured by the Cult Wines Global Index, to conclude a choppy first quarter in the wake of the long rally in 2021-2022. After a January decline, wine prices rebounded with a strong February (+0.70%) before sliding back again slightly in March.
Regional performance reflects this mixed direction. Some regions (Champagne, Italy) saw healthy gains in March while others declined, often in a reversal of their performance in February.
The choppy performance is likely due to some increased buyer selectivity as people gauge the sustainability of the price rises of the past few years. It also suggests relative value across regions and individual producers is playing a greater role; regional drops are quickly followed by a rebound and vice-versa.
Macro market summary – Strong finish overcomes volatile month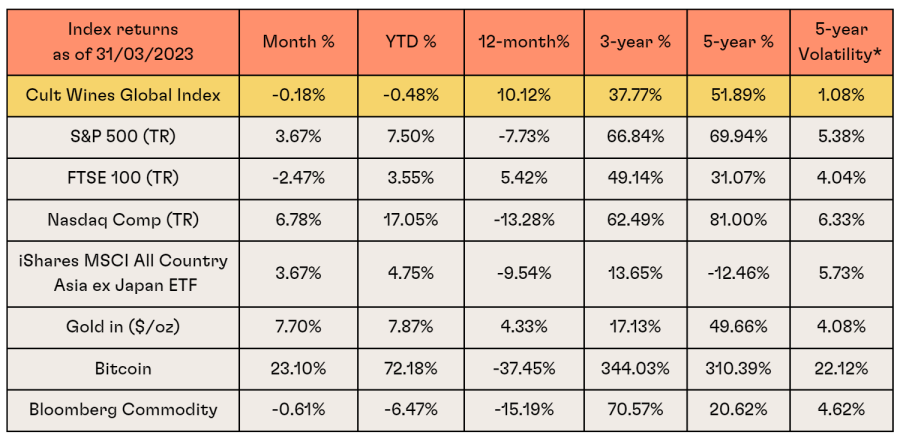 Source: Investing.com, Wine-Searcher as of 31 Mar 2023. Past performance is not indicative of future returns. *Volatility = Rolling 5-year standard deviation of monthly returns
Concerns of a banking crisis triggered a renewed bout of financial market volatility in March. The failure of Silicon Valley Bank and another US regional bank sparked fears of contagion, sending equities and other risk assets globally to multi-month lows. Bond markets rallied amid the flight to safety.
The situation had calmed by month's end, allowing equity markets to recover. Sentiment also improved as the February US inflation release showed the year-on-year rate had eased. This boosted optimism that the Federal Reserve could pause its tightening cycle in the coming months.
The British pound ended the month stronger against the US dollar, partly due to expectations that the Fed would ease its monetary policy. Additionally, better-than-expected UK economic data suggest the country may avoid a technical recession. However, the banking sector turmoil as well as year-on-year inflation escalating in February meant UK stocks underperformed.
Regional wine performance detail
2023 Wine Performance League Table – YTD Return % Across Vintages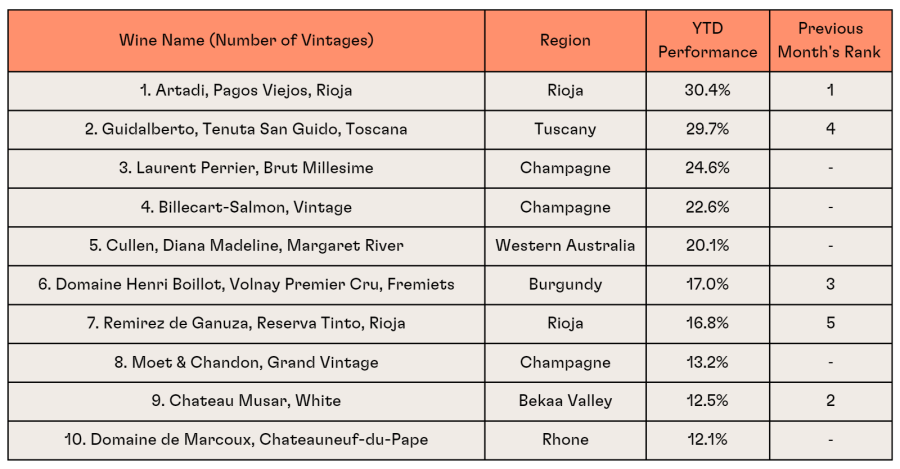 Source: Pricing data from Wine-Searcher as of 31 Mar 2023. Based on average across all vintages of wines contained in Cult Wines Indices, which are rebalanced regularly based on strict, objective liquidity criteria. Prices calculated in GBP and results may vary in other currencies. Past performance is not a guarantee of future results.
A handful of excellent, good-valued wines continue to feature among the best year-to-date performers, indicating that a focus on relative value opportunities is paying dividends in the current market.
Artadi Pagos Viejos remains the top performer after one quarter, while Remirez de Ganuza Reserva also continues to appreciate, demonstrating the potential of Rioja.
However, Guidalberto closed the gap in March, helped by attention around the recent release of the high-quality 2021 vintage. This Tuscan Merlot-based wine of Tenuta San Guido is generating more appreciation as a serious, age-worthy wine in its own right rather than just a second label to Sassicaia.
However, up-and-coming names aren't the only drivers of the 2023 market. Three Champagnes leapt into the top 10 in March amid the rebound in the region. Strong market fundamentals based on a persistent supply-demand imbalance for vintage Champagne remain intact, demonstrated by the impressive YTD performance of Laurent Perrier, Brut Millesime and Billecart-Salmon, Vintage wines.
A surprise appearance came from Cullen's Diana Madeline, a Bordeaux-blend from Margaret River that has seen critic scores steadily improve over the past decade.
---
Launched in December 2022, the Cult Wines Global Index and Cult Wines Regional Indices form benchmark measurements of the global fine wine market performance with historical data, powered by Wine-Searcher, going back to the beginning of 2014. The Indices are separate from Cult Wine Investment Performance which tracks wines purchased by Cult Wine Investment.
Past performance is not indicative of future success; the performance was calculated in GBP and will vary in other currencies. Any investment involves risk of partial or full loss of capital. The results depicted here are not based on actual trading and do not account for the annual management fees that may be charged to a Cult Wine Investment customer which range from 2.25% to 2.95% depending on the size of the portfolio, and there is no guarantee of similar performance with an investor's particular portfolio.