Wine production in the revered French region of Bordeaux is massive in both size and scope. With more than 125,000 hectares under vine, and more than 7,300 chateaux producing well over 10,000 different wines, the area's offerings run the gamut from mass-produced bottles of supermarket-bound everyday wine, to some of the finest, most exclusive and highly sought-after wines on the planet.
Of Bordeaux's 60-odd appellations – known as Appellation d'Origine Controlee (AOC), which indicate the geographical origin, quality and (generally) the style of wine – some are particularly well-known for these higher quality, investment-level wines. Here, we'll take a look at these distinct appellations, the regions in which they're located, and the key characteristics of the fine wines they produce.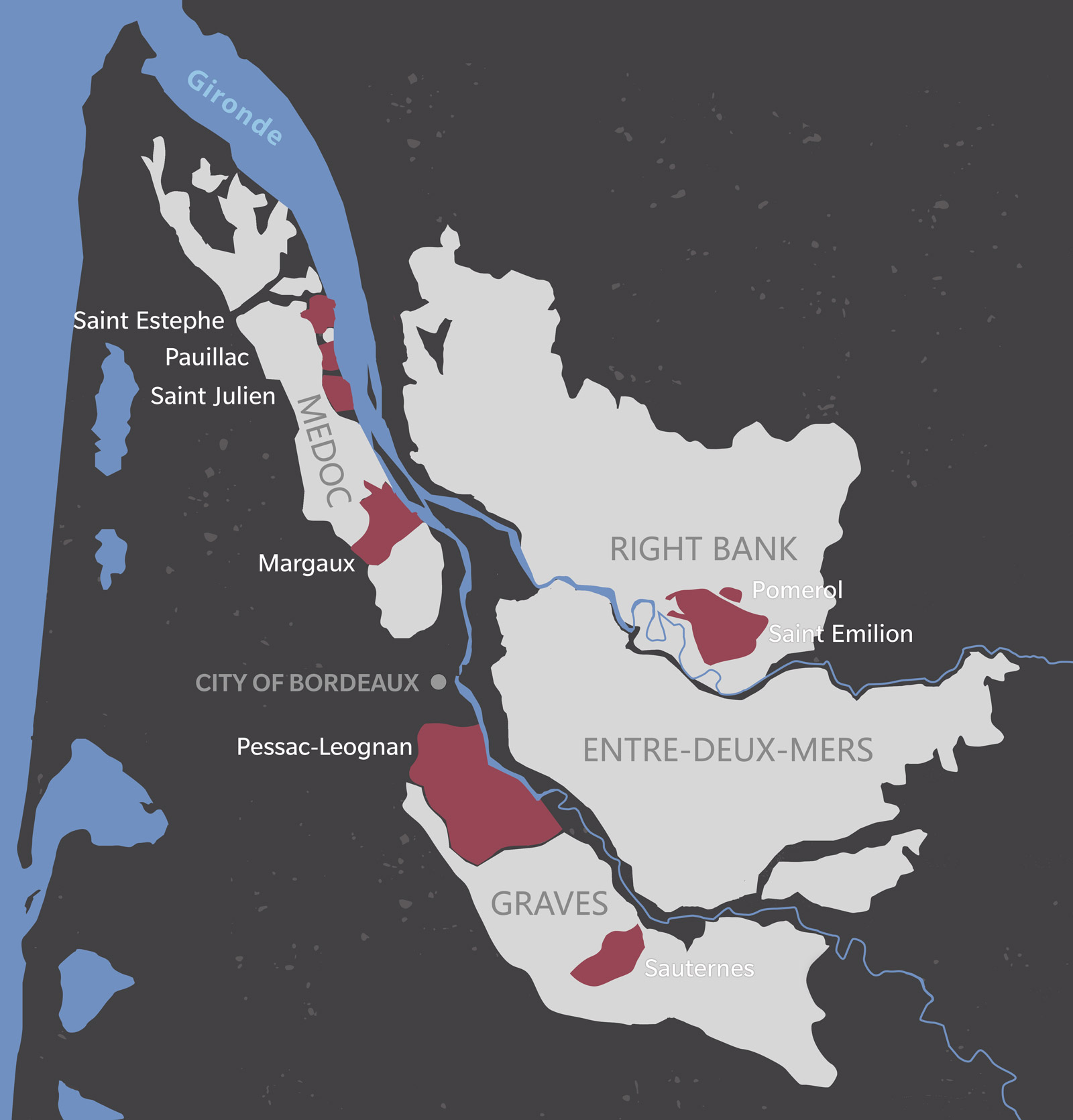 Fine wine appellations in the Medoc
Located in the Left Bank, between the Atlantic Ocean and the Gironde estuary in south-western France, the Medoc has a relatively hot and humid climate, bathed in light, sun and ample air circulation. This microclimate protects vines from late spring frosts and fungal diseases, helping to produce some of the boldest and most tannic wines in all of Bordeaux. Appellations producing some of the region's finest wines include:
Pauillac
Pauillac is perhaps the most famous Bordeaux wine-producing commune in the Medoc, home as it is to three of Bordeaux's five First Growth chateaux: Chateau Lafite Rothschild, Chateau Latour and Chateau Mouton Rothschild. To the north of the appellation there are high elevations and deep gravel on top of sand, marl and limestone; to the south a greater concentration of larger, gravel rocks and stones with more clay in the sub-soils. The finest chateaux incorporate both to create wines with delicate aromas of black cherry, liquorice, creme de cassis, sour cherry, rose, iris, cedar, smoke, and incense – 'classic' Bordeaux, in other words.
Top chateaux: Lafite Rothschild, Latour, Lynch Bages, Mouton Rothschild, Chateau Pichon Baron, Chateau Pontet Canet
Saint Estephe
As is typical of appellations in the Medoc, Saint Estephe is home to a rich mixture of rocks, clay, limestone and gravel, although you'll find more clay here than you would in Pauillac, Saint Julien or Margaux. Its location not far from the River Garonne, with its slopes and elevations, also helps to create a variety of microclimates. The appellation's wines are powerful, rich, full-bodied and designed to age, offering a purity and intensity seldom found in other Bordeaux wines.
Top chateaux: Calon-Segur, Cos d'Estournel, Chateau Montrose, Phelan Segur
Saint Julien
The smallest of the major Bordeaux appellations in the Medoc, Saint Julien's terroir comprises soils mixed with gravel, sand, limestone and clay, so wines from this region have as much to do with the winemakers and growers and they do the land, although the best vineyards have gentle slopes with access to the Gironde estuary, which helps create a microclimate. Top Saint Julien wines have intense and complex notes of blueberry, blackcurrant, plum, tobacco and liquorice.
Top chateaux: Chateau Ducru Beaucaillou, Leoville Barton, Chateau Talbot
Margaux
Margaux is the southernmost appellation in the Medoc and boasts many soil types, including limestone, chalk, clay, sand and gravel, meaning the style and quality of Margaux can vary significantly. However, archetypal Margaux wines tend to be deep ruby in colour, perfumed and floral with soft, silky tannins. Margaux wines are typically more refined and elegant than those from other regions of Bordeaux.
Top chateaux: Margaux, Palmer, Giscours, Chateau Rauzan-Segla
Fine wine appellations in Graves
Graves – the original name for the Pessac-Leognan appellation – is a Left Bank region located just to the south and east of Bordeaux city, characterised by and named for its unique gravel soils (graves). Unique among Bordeaux's sub-regions, Graves is equally respected for both its red wines as for its whites. Historically, however, Graves is seen as the birthplace of Bordeaux's highest-quality reds, and it was from here that Bordeaux wines earned their shining global reputation. Collectors with a nose for investment-worthy wines should pay attention to the following appellations:
Pessac-Leognan
Pessac-Leognan became its own appellation in 1987. It's is well-suited to the production of red, white and sweet Bordeaux wine, although this can make things difficult for growers who must remain vigilant as the soils can be too warm for white wines and slightly too cool for reds. This situation requires extreme care and attention to detail, making wines from Pessac-Leognan some of the highest quality in Bordeaux. Reds are supple, firm, and rich with blackberry notes, while whites are powerful, round, and lively with floral, fruity aromas.
Top chateaux: Chateau Haut Bailly, Haut Brion, La Mission Haut Brion, Domaine de Chevalier
Sauternes
Sauternes is a unique appellation in the Graves region of Bordeaux, primarily producing sweet whites known the world over for their intense fruity, floral and vanilla aromas. Located just 25 miles south east of Bordeaux city, Sauternes has five communes, each with their own unique terroirs comprising a variety of chalk, limestone, sand, clay and gravel, and gentle rolling hills aside steep elevations. It's the most expensive wine to produce in all of Bordeaux.
Top chateaux: Climens, Guiraud, Suduiraut, d'Yquem
Fine wine appellations on the Right Bank
While the Left Bank is famed for its gravelly soil, cool climate and wines with high acidity, tannins and immense aging potential, the Right Bank is better known for soil rich in clay and limestone, warmer weather and smooth, 'drink me now' wines – predominantly Merlot, as opposed to the Left Bank's domineering Cabernet Sauvignon. There's immense variety to be found here, and the Right Bank provides an excellent jumping off point for collectors looking to create a varied, diverse portfolio of Bordeaux wines. However, two appellations in particular stand out, especially in terms of investment potential.
Saint Emilion
Saint Emilion, in Bordeaux's Libournais region, is said to be the oldest active wine-producing appellation in Bordeaux, with a history that dates back to the times of the ancient Romans. Now one of the biggest producers in Bordeaux, the appellation can be roughly divided into three distinct terroirs: the limestone plateau, the slopes closest to the plateau and the flats. This of course leads to some variation in wine taste and style across the area, but the finest chateaux will produce generous, full-bodied wines with a velvety tannic structure and aromas of red fruit, sweet spices and smoky vanilla.
Top chateaux: Angelus, Ausone, Canon, Cheval Blanc, Figeac, Pavie, Chateau Troplong Mondot
Pomerol
What Pomerol lacks in size – it's the smallest of all Bordeaux's major wine-producing appellations – it makes up for in reputation, producing as it does some of the most expensive, collectible and sought-after wines in the world. And yet curiously, it is the only major Bordeaux appellation that has never been classified. Like Saint Emilion, its terroir can be divided into three parts, with the best estates located on the 'Pomerol plateau', home to different clays, gravel and iron deposits in the soil. Wines from Pomerol are typically refined, powerful, intense, and sensual, with aromas of violet, red berries, truffles and game.
Top chateaux: Chateau Clinet, Chateau Lafleur, Chateau Le Pin, Petrus, Vieux Chateau Certan