13 June 2022
Bordeaux QPR: 5 On-the-Rise Names to Watch in 2021 and Beyond
Cult Wine Investment has always prioritised building a diverse portfolio including different producers at different category levels.
For Bordeaux, we've broken down our producers into four categories – First Growths, Super Seconds, Quality-to-Price Ratio, and Second Wines. Our 2021 EP Report contains a more detailed description of the categories.
Here, we highlight the Quality-to-Price Ratio category.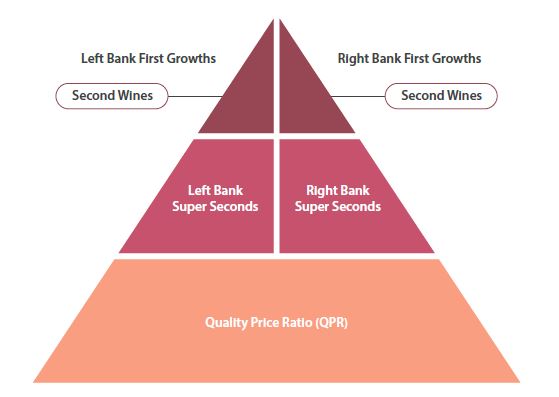 Bordeaux producers in the Quality-to-Price Ratio category can form a stable foundation of an EP allocation. Far from generic Bordeaux wines, QPR producers are typically classified growths that, as the category name suggests, deliver excellent quality wines at accessible prices. As such, their prices hold less downside if buyers maintain a selective approach.
This low downside element is especially important in the current environment. The top names in fine wine, led by Iconic Burgundy, have posted soaring growth recently. But now, the troubled economic backdrop could see buyers focus more on the quality-to-price ratio when making purchasing decisions.
However, selectivity is more important in the QPR category than with First Growths and Super Seconds. If a wine doesn't impress in a certain year, its performance is more likely to remain flat as QPR names do not always see the consistent global demand enjoyed by the global icons.
But Bordeaux is a dynamic wine region with many châteaux in all categories investing in winery improvements and skilled vineyard teams, which helps promote quality and precision even during difficult vintages such as 2021. A selective approach that looks at wine quality, brand profile and price can identify fantastic QPR Bordeaux wines, either among EP releases or back vintages, that possess growth potential.
QPR producers have outperformed Bordeaux 500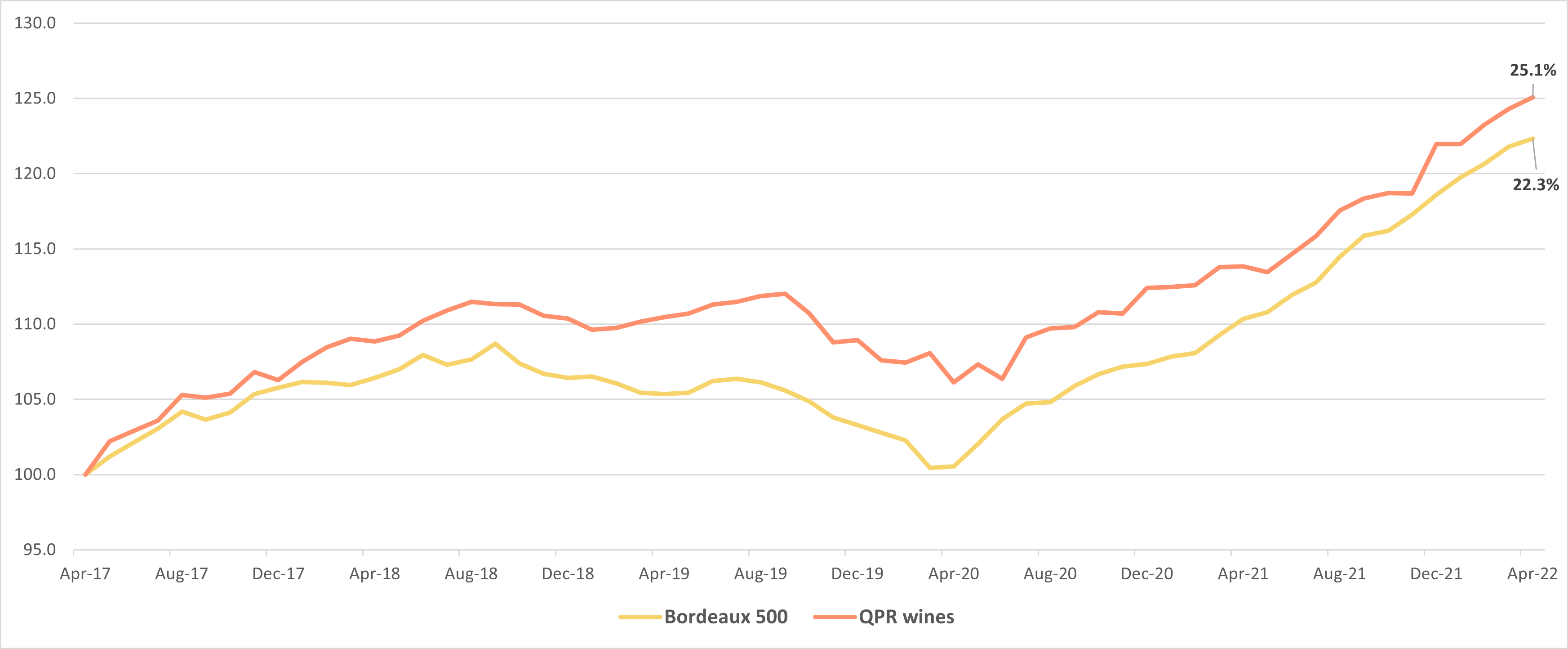 Source: Pricing data from Liv-ex as of 30 Apr 2022. Analysis by Cult Wine Investment. Past performance does not guarantee future returns. QPR index = vintages 2006 through 2015 of CWI's QPR producers
Here, we profile a handful of excellent QPR producers than we believe offer great wines with onward performance potential.
This Third Growth was once part of the same estate that encompasses Lafite and Latour and boasts centuries of winemaking history. Although Calon-Ségur has long been associated with good value, its quality has shot to new levels since new ownership came on in 2012. Whereas critic scores in the low-mid 90s had been the norm, Calon-Ségur now regularly sits in the upper 90s with quality rivalling those of much more prominent (and expensive) estates.
2021 is a case in point. Calon-Ségur's 95-96+pts puts it in 10th place in the Wine Advocate rankings, the top QPR wine according to the publication. Results such as this should keep Calon-Ségur's recent growth going strong.
Calon Segur 5-year Price Growth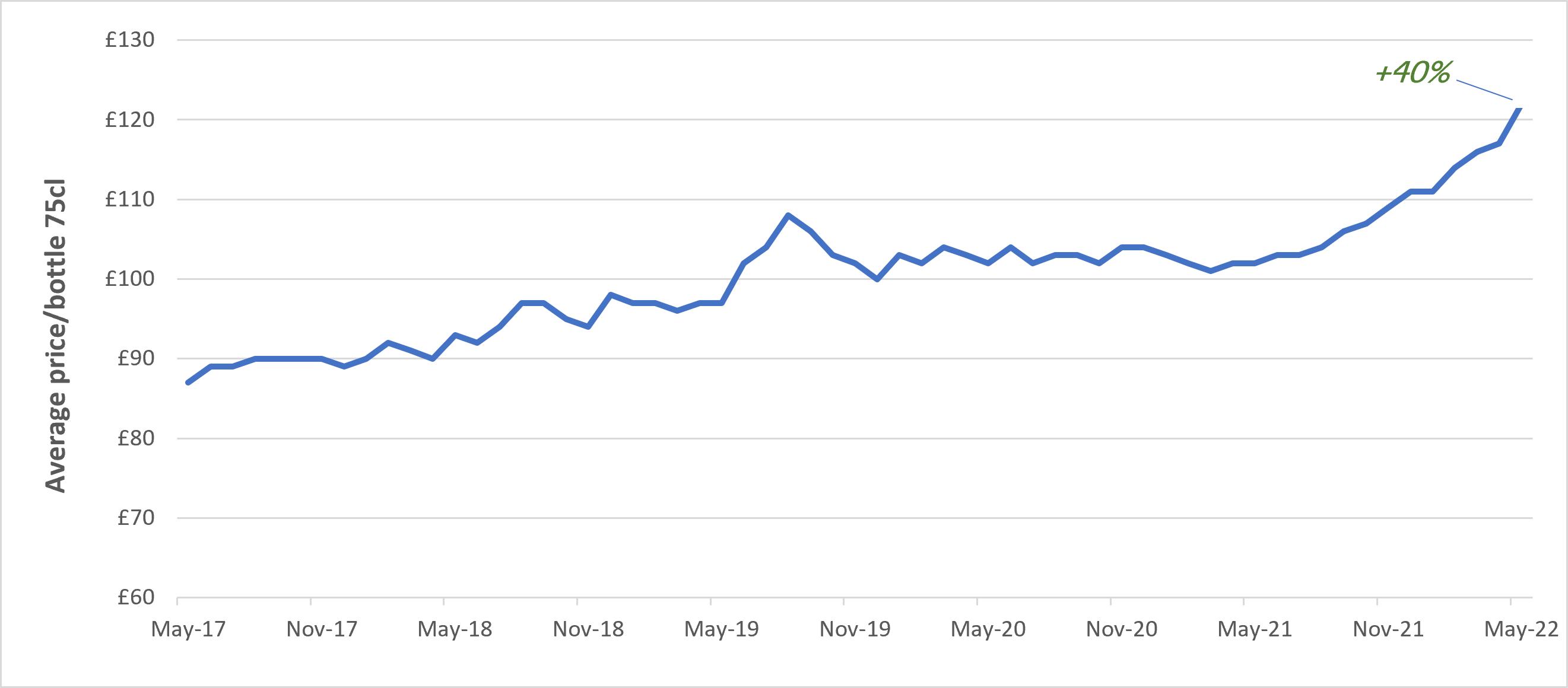 Source: Wine Searcher as of 31 May 2022.
Wine Advocate 2021 score: 95-96+pts
Vinous 2021 score: 94-96pts (Galloni); 95-97pts (Martin)
Performance: 40.2% (average all-vintage 5-year return, Wine Searcher)
2

Château Les Carmes Haut-Brion
A beautiful new winery and cellars symbolise Les Carmes Haut Brion's rise in recent years to one of the top Pessac-Leognan estates. The sleek facility rests seamlessly amid the natural surroundings in the leafy Bordeaux suburbs and has helped the team achieve incredible precision in recent vintages, even during the challenging 2021.
Les Carmes differentiates itself with a higher portion of Cabernet Franc than other Pessac Leognan wines as well as the use of a high percentage of whole bunches, a technique more common in Burgundy.
"Technical director Guillaume Pouthier has crafted one of the wines of the vintage. The 2021 possesses mind-blowing intensity and stunning persistence… I don't think I have ever tasted a young Carmes with this level of precision." – Antonio Galloni (Vinous).
Les Carmes Haut-Brion 5-year Price Growth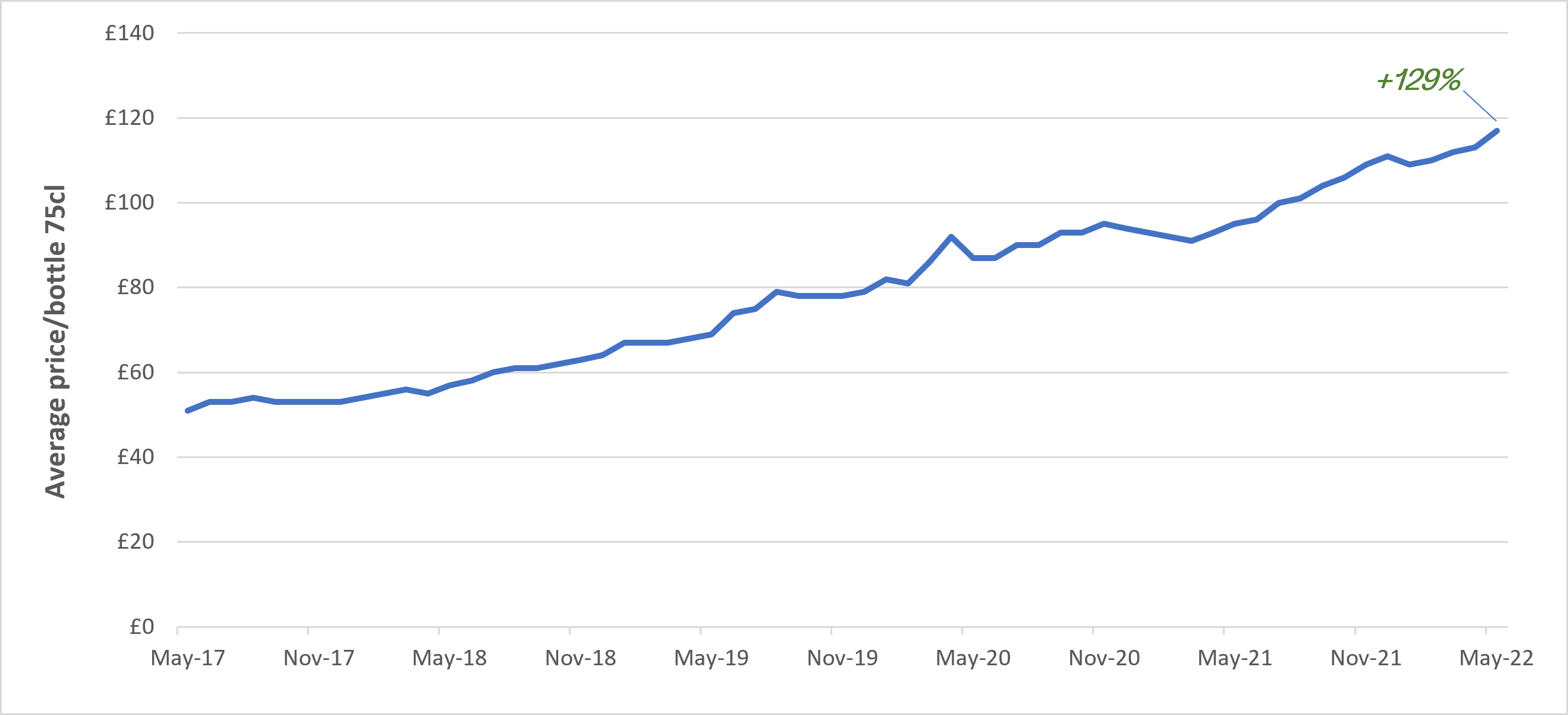 Source: Wine Searcher as of 31 May 2022.
Wine Advocate 2021 score: 94-97pts
Vinous 2021 score: 96-98pts (Galloni); 93-95pts (Martin)
Performance: 129.4% (average all-vintage 5-year return, Wine Searcher)
3

Château Léoville Barton
In addition to another great wine, the 2021 Léoville Barton is a collectible vintage, representing both the 200th year of ownership by the Barton family, of Anglo-Irish origins, and the first vinified in a new winery.
Léoville Barton's greatness will always be linked to winemaking legend Anthony Barton, who sadly passed away last year. Since taking the reins at the estate in the 1980s, Anthony established Léoville Barton's reputation for extremely complex and concentrated Saint Julien wines with long ageing profiles. These traits, alongside approachable prices, make this wine one of the safest purchases in the Medoc.
Wine Advocate 2021 score: 93-95pts
Vinous 2021 score: 92-94pts (Galloni); 93-95pts (Martin)
Performance: 17.3% (average all-vintage 5-year return, Wine Searcher)
Beychevelle is a perfect example of a château hitting new heights on the back of recent investments in its facilities. This Fourth Growth estate is owned by Suntory (Japan's fourth largest brewing firm) and Castel (established relationship with China's oldest winery Changyu), a partnership that has boosted Chateau Beychevelle's brand image in Asia.
A brand-new winery in 2016 also helped its global image, as critic scores took a notable step forward at the same time. This combination of strong international brand and rising quality point to a QPR wine with long-term growth potential.
In our view, a handful of Beychevelle back vintages, including the 94-96pts 2020 still offer price appreciation potential. The 2021, though, came with an attractive release price (ex-London RRP £353.40 per 6x75cl) below the current market price of all other Beychevelle vintages. Although it's scored slightly below recent back vintages, a rescoring at the higher end of its range in bottle would make this a compelling growth option.
Wine Advocate 2021 score: 91-94pts
Vinous 2021 score: 92-94pts (Galloni); 91-93pts (Martin)
Performance: 25.9% (average all-vintage 5-year return, Wine Searcher)
5

Château Smith Haut-Lafitte
Daniel and Florence Cathiard have spearheaded an inspiring rejuvenation of Smith Haut Lafitte since taking over the Château in 1990. A focus on nature and biodiversity sits at the heart of everything they do, and the estate has adopted a unique 'bio-precision' approach in the vineyard and cellars.
This dedication helped Smith Haut Lafitte go from an afterthought in Pessac Leognan to one of its stars in a very short time in the 1990s. A perfect 100 points in 2009 from Robert Parker (Wine Advocate) firmly put the property on the global fine wine map, but the Cathiards have not let up in their desire to improve, obtaining organic certification in 2019.
After the 2020 wine garnered a potential perfect score (98-100pts, Wine Advocate), the challenges of the 2021 vintage tested the estate, which prioritised maintaining quality through rigorous grape selection. The low volumes of this "brilliant" wine mean sourcing it could be difficult when it's bottled, boosting its price appreciation potential.
Wine Advocate 2021 score: 93-95pts
Vinous 2021 score: 92-94pts (Galloni); 91-93pts (Martin)
Performance: 47.3% (average all-vintage 5-year return, Wine Searcher)
* Past performance is not indicative of future success; the performance was calculated in GBP and will vary in other currencies. Any investment involves risk of partial or full loss of capital. The Cult Wine Investment Performance is a hypothetical tool. The results depicted here are not based on actual trading and do not account for the annual management fees that may be charged to a Cult Wines customer which ranges from 2.95% to 2.25% depending on the size of the portfolio, and there is no guarantee of similar performance with an investor's particular portfolio.