I love this time of year. As the seasons change, so do our drinking habits and a cold November evening is a great excuse to pull out the 'big reds'. So we did just that, and Cult Wines HQ was the setting for a group of fellow wine lovers to gather and taste what can only be described as a true 'Cult' winery: Sine Qua Non (SQN).
It promised to be a great event and with 8 wines over 4 vintages on offer. I'm pleased to report we over delivered in every category - 8 wines became 14, 4 vintages became 6 and we even threw in a complementary head-ache the following morning.
For those unfamiliar with SQN, Manfred and Elaine Krankl launched the winery in 1994, sourcing fruit from a variety of leading 'Rhone-ranger' vineyards. Each year a unique pair of flagship wines are produced, one Syrah based, the other Grenache, complete with different labelling and bottle shapes. The 2007 'Labels' stands out as a personal favourite – if Banksy was let loose in the cellars of Haut Brion, this is what I expect would be produced!
Mr Parker once described the SQN as a "Mad Max- junkyard dog sort of a winery". Clearly a fan of dogs, Bob has issued 16 perfect scores to the estate and has helped to cement Manfred's reputation as one of the world's leading wine makers. Tasting the wines it is clear to see why.
Following our staple palate cleanser, the well-crafted Gusbourne 2013 Blanc de Blanc, we proceeded with an unexpected surprise. The Boss was in town and decide a bottle of 1986, Maison Leroy Puligny Montrachet was fit for occasion (thank ya, Mr Gearing). Rich and golden in the glass, with honeyed fruit, roasted nuts, caramel and minerals on the finish. A very impressive start.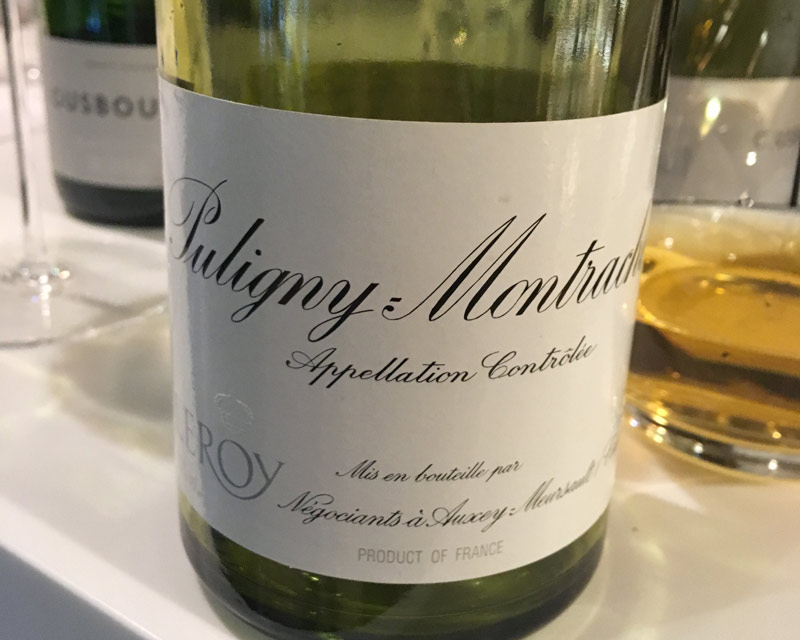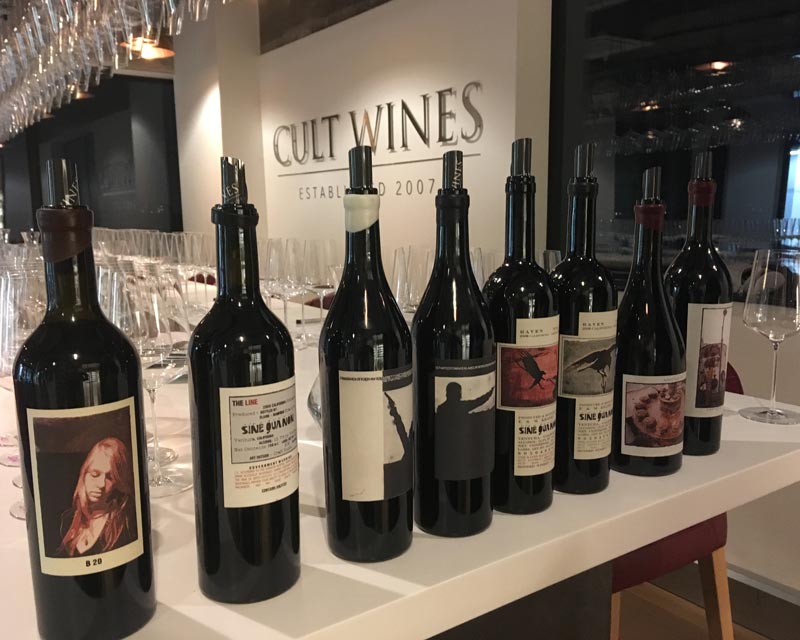 So, a quick nibble on the ubiquitous bread stick and we launch into the first SQN flight, kicking off with the 2005 Atlantis Syrah and Grenache. Like a blackberry infused cannon-ball it powers into the nostrils with some serious muscle. Rich and ripe, the nose is incredibly aromatic and layered, with floral notes, fruit and minerality all following through on to the palate. The Grenache was perhaps more suited to my palate, but both are seriously impressive wines with a finish that seemed to last for days.
The 2006 'Raven Series' Syrah and Grenache followed along with the 2007 'Lables'. More kirsch and iron-minerality on the '06s, with the Grenache giving a lingering, spicy finish. The 2007s showing more of the same, with a touch more depth than the 2006. In both pairs, gamey and meaty characteristics were starting to show and although they lacked the pure power of 2005, they carried a little more freshness.
My tasting notes started to get a little sketchy from here on in - the 15% ABV was kicking in, good conversation was flowing and simply enjoying the wines seemed just as important as trying to dissect them. However, the 2008 'The Line' Grenache was very memorable - a striking nose of flowers, sweet liquorice and spice. The palate was long and fresh and simply superb. All these wines have incredible depth, yet despite the high alcohol and ripe style they retain great acidity and freshness. The 2008 vintage was a striking end to the SQN flight - but not the evening…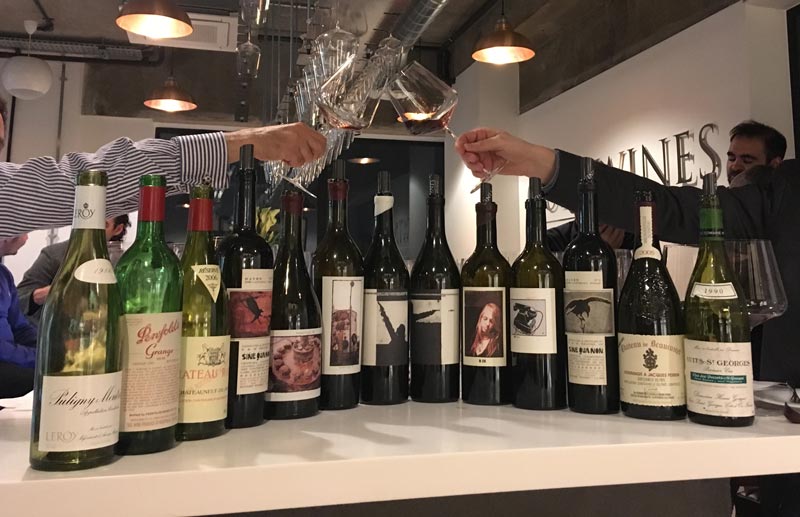 Having tasted the best Californian 'Rhone' wines, it seemed only fair to size up the competition. A rummage in the cellar and our fearless leader appears with a few more treats: 1990 Grange, 2005 Hommage and 2006 Rayas. If the Grange was a little short on the finish the Hommage was super-concentrated and long, but it was the Rayas that stole the show. Savoury, complex and supremely elegant, this wine had a balance and finesse that almost silenced the room.
Others did follow. 1990 Gouges, Nuits St George and 1985 Leoville Las Cases were sampled, purely for 'academic' purposes, of course, but the Rayas had charmed palates and stolen hearts. It felt wrong for the WOTN not to be awarded to an SQN wine, but who can argue with pure class?
As bottles emptied and decanters drained, the evening wound to an end. An incredible showing for this iconic estate, and tasting the finest Syrah and Grenache from the 'new' and 'old-world' side-by-side is an experience I'd encourage any wine lover to seek out. As ever, thanks again to our fantastic clients and friends for providing such fitting company to the wines, I hope you enjoyed the evening as much as we did.