08 June 2022
Bordeaux Super Seconds: 5 Key Wines for a Bordeaux Allocation
Cult Wine Investment has always prioritised building a diverse portfolio including different producers at different category levels.
For Bordeaux, we've broken down our producers into four categories – First Growths, Super Seconds, Quality-Price Ratio, and Second Wines. Our 2021 EP Report contains a more detailed description of the categories.
Here, we delve into the Super Second category.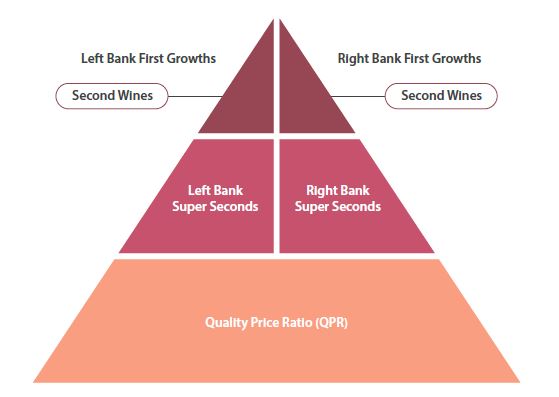 Super Seconds hold a unique position in the Bordeaux market, offering some of the safest purchases in terms of consistent high quality at often accessible prices. This trait means they could form the most important part of a Bordeaux allocation amid the current challenging macro backdrop.
Bordeaux Super Seconds (not to be confused with second wines of First Growths) are producers who officially sit outside the First Growth classification but consistently deliver wines on par, or sometimes better, than these top names while still coming with lower price tags.
As the global economic outlook deteriorates, we think fine wine buyers will become more selective, favouring wines offering relative value and defensive characteristics in terms of price performance. This should shift attention back to the Bordeaux market overall, as the steady stalwart of fine wine has posted the lowest long-term volatility of any region, even if its recent returns haven't equalled those of Burgundy.
The lowest volatility in all fine wine
Annualised standard deviation of monthly returns of Liv-ex indices (31 May 2012 – 31 May 2022)

Source: Liv-ex as of 31 May 2022. Past performance is not necessarily indicative of future results.
Within Bordeaux, Super Seconds offer some of the most attractive risk-reward profiles for investment-minded buyers. This means many wines from this category appear best placed to deliver the low-risk defensive characteristics that buyers are looking for as well as exciting long-term upside potential.
We saw this characteristic on display in 2020 when the COVID-19 outbreak caused havoc with the macro backdrop. Compared to other Bordeaux producer categories, Super Seconds experienced a softer downturn followed by a stronger recovery.
Super Seconds weathered the COVID storm
Performance of Bordeaux producer categories (31 Dec 2019 – 30 Apr 2022)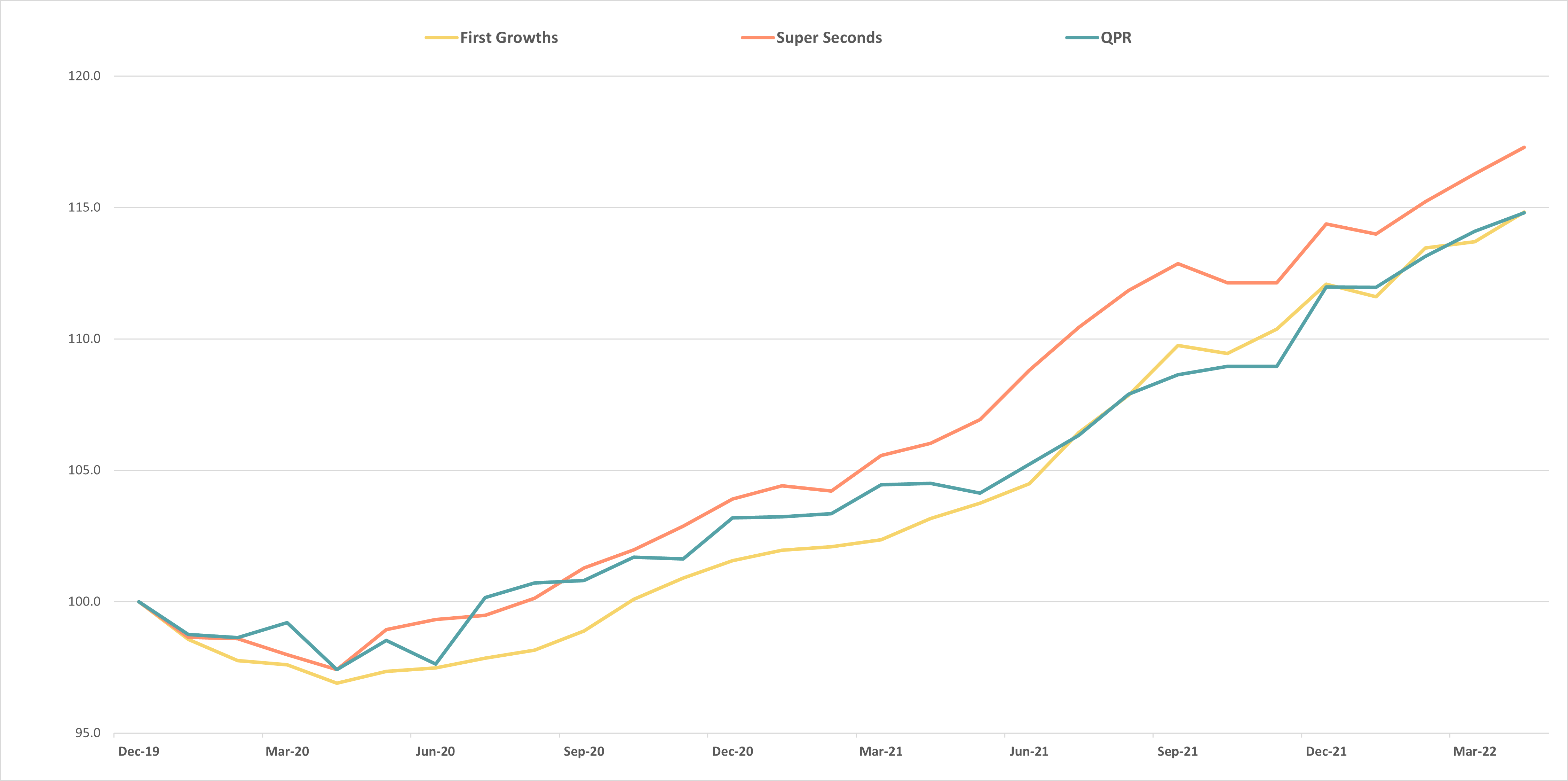 Source: Pricing data from Liv-ex, includes vintages 2006-2015. Analysis by Cult Wine Investment.
The current macro backdrop is very different than in 2020 but Super Seconds still stand out as excellent long-term wines with lower downside risk to prices, in our view.
Here, we highlight five Super Seconds that delivered some of the best wines in 2021.
Château Figeac has long been one of our favourites as its quality and brand profile have soared over the past decade. Its promotion to the top echelon of the Saint-Émilion rankings - Premier Grand Cru Classé A - is almost assured in this year's scheduled reclassification. Even though the Saint-Émilion classification is in disarray at the moment, Figeac's credentials for an upgrade are well-established.
Although Figeac has delivered impressive price performance in recent years, most of its wines still trade at a discount to current Classé A names, indicating Figeac remains a low-risk purchase.
Figeac delivered an excellent 2021 wine despite the challenging vintage, benefitting from an amazing new winery facility. This should enhance Figeac's precision and consistency long into the future, boosting the upside for this estate that rightly sits among the top Right Bank wines.
Wine Advocate 2021 score: 94-97pts
Vinous 2021 score: 93-95pts (Galloni); 95-97pts (Martin)
Performance: 81.9% (average all-vintage 5-year return, Wine Searcher)
Château Canon is on fire. Over the past decade, the Saint-Émilion estate has churned out wines that never fail to fetch critic scores in the mid-90s and sometimes even touch 100. Still, Canon prices sit comfortable below those of other top Saint-Émilion names, pointing to continued growth in the coming years. Canon is a candidate for a Classé A promotion this year, which would certainly give its profile a boost.
Canon's rise began in 1996 when Alain Wertheimer and Gerard Wertheimer, owners of the iconic luxury goods brand Chanel, purchased the estate two years after they bought Château Rauzan-Ségla in Margaux. The Wertheimer brothers oversaw a series of modernisations and vineyard improvements in the ensuing years in addition to bringing in skilled winemaker Nicolas Audebert in 2014. Canon's scores took a noticeable jump around this time, cementing the estate as one of the most attractive Super Seconds in all of Bordeaux.
Wine Advocate 2021 score: 94-96pts
Vinous 2021 score: 95-97pts (Galloni); 92-94pts (Martin)
Performance: 54.2% (average all-vintage 5-year return, Wine Searcher)
3

Château Léoville Las Cases
Château Léoville Las Cases often gets called 'first among the Super-Seconds', as it stands out as the crème de la crème of Saint-Julien. Its vineyards border those of Chateau Latour to the north on the divide between Saint-Julien and Pauillac, and Las Cases wines often receive comparisons to its First Growth neighbour.
Las Cases' Grand Vin boasts an average Wine Advocate score of 96.5 points for vintages after 2010 and hit a new level of excellence in the mid-2010s with scores regularly in the high 90s. The estate excelled again in 2021, overcoming the challenging growing conditions to produce a wine that William Kelley called "One of the wines of the vintage, the 2021 Léoville Las Cases is reminiscent of a hypothetical blend of the 1999 and 1996—only better."
Wine Advocate 2021 score: 95-97pts
Vinous 2021 score: 94-96pts (Galloni); 94-96pts (Martin)
Performance: 23.6% (average all-vintage 5-year return, Wine Searcher)
4

Château Pichon Longueville Comtesse de Lalande
Pichon Lalande sits in a great Pauillac neighbourhood next to Château Pichon Baron and First Growth Latour. But its fantastic wines deserve Bordeaux lovers' full undivided attention.
Pichon Lalande attained Second Growth status at the 1855 Classification, but it established itself as a true "Super Second" under the stewardship of May Eliane de Lencquesaing, who inherited and ran the estate from 1978 to 2007. In 2007, the Rouzaud family, owners of Louis Roederer Champagne, purchased Pichon Lalande and implemented a series of modernisations to the winery and vineyards and brought in winemaker and general manager Nicolas Glumineau in 2012.
A sign of a true Super Second is success even during difficult vintages and Pichon Lalande's 2021 is impressive. It matches the top score (96-98pts) from Vinous' Antonio Galloni, who called it "epic" and "one of the great wines of the vintage."
The estate prioritised quality over quantity, meaning volumes of the 2021 are well down versus averages. This scarcity boosts the long-term performance potential of this stellar wine.
Wine Advocate 2021 score: 94-95+pts
Vinous 2021 score: 96-98pts (Galloni); 93-95pts (Martin)
Performance: 42.3% (average all-vintage 5-year return, Wine Searcher)
5

Château Ducru Beaucaillou
With a magnificent château and excellent terroir overlooking the Gironde, Ducru-Beaucaillou embodies prestige, luxury and top quality. With roots in the 17th century when it was part of the then much larger Chateau Beychevelle, Ducru Beaucaillou's rise really began when Borie family acquired the estate in 1941.
Today, Ducru-Beaucaillou a byword for quality and one of the most established Super Seconds that enjoys a strong global following, demonstrated by the array of national flags donning the Château's perimeter.
The riverside terroir performed very well in 2021, garnering praise from critics including a (tied) top score from Antonio Galloni, while William Kelley comment that "it's a true classic, reminiscent of a modern-day version of Ducru's brilliant 1996."
Wine Advocate 2021 score: 94-96pts
Vinous 2021 score: 96-98pts (Galloni); 94-96pts (Martin)
Performance: 32.2% (average all-vintage 5-year return, Wine Searcher)
* Past performance is not indicative of future success; the performance was calculated in GBP and will vary in other currencies. Any investment involves risk of partial or full loss of capital. The Cult Wine Investment Performance is a hypothetical tool. The results depicted here are not based on actual trading and do not account for the annual management fees that may be charged to a Cult Wines customer which ranges from 2.95% to 2.25% depending on the size of the portfolio, and there is no guarantee of similar performance with an investor's particular portfolio.