Investing with us
Make your smartest investment yet
We enjoy and appreciate wine, and we know how to invest in it. We do that by combining our passion, deep knowledge of wine and data-driven investment expertise.
Investing with Cult Wines
1
Tell us how much you plan to invest
You can start investing in a balanced, personalised wine portfolio from as little as £25k.
2
Share your investment parameters
Knowing your investment objectives, risk appetite, and term will help us recommend a portfolio best suited to your needs.
3
Fund account & asset allocation
Once agreed on your portfolio, you are required to fund your account.
Next, we allocate the wine into your name in our bonded warehouse.
4
Access account & enjoy benefits
You receive a login to the Client Portal. With it, you can monitor your investment.
All investors gain access to a suite of exclusive benefits from events, to access to rare wines, to curated vineyard tours, and much more. The more you invest, the more you can unlock.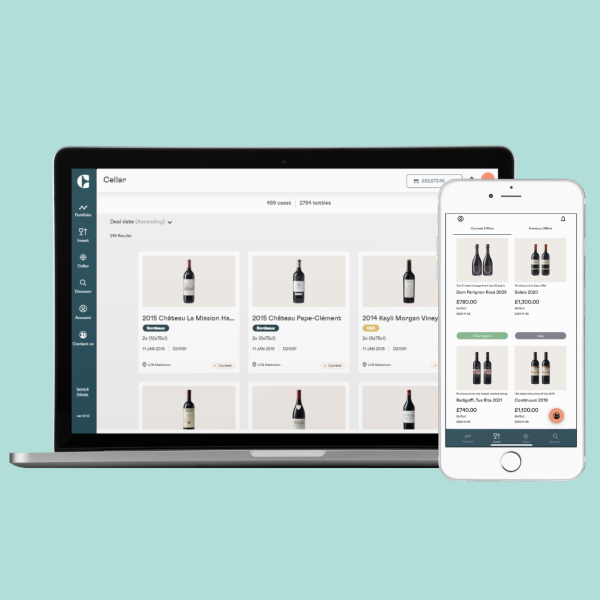 Wine management made simple
With the Client Portal, it's easy for you to track your portfolio performance - every day.
Check historical transactions, current P&Ls, storage account information, and stay informed about live market pricing.
You can also track and request to sell your assets whenever you decide.
More than just investment
At Cult Wines, we are lucky to work with the greatest winemakers in the world. Their true understanding and passion for the trade is infectious. You can get a sense of the entire wine experience for yourself through bespoke events we organise together with renowned producers.
Exclusive tastings
Private visits to estates
Access to early releases
Do you already have a wine portfolio?
If you already invest in fine wine with another company, you can easily transfer the management and storage of your portfolio to Cult Wines.
Our process
We make investing in wine as effortless as drinking it. You don't have to become a wine or financial expert to do it.